Enoch Hagenbuch: Early Family Historian, Part 1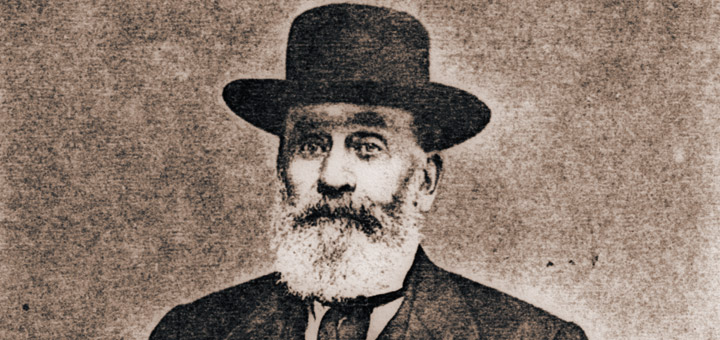 Enoch Hagenbuch was a great grandson of Andreas Hagenbuch (Andreas b. 1711, Michael b. 1746, Jacob b. 1777, Enoch b. 1814). In 1884 he wrote a manuscript detailing what he knew of the Hagenbuch family in America. It is a testament to his keen interest in the Hagenbuch genealogy and its preservation. His listing of names, dates, and places is a genealogist's treasure trove. His memories and stories breathe life and interest into the listings. Although lengthy, it is important enough to include the complete manuscript as four installments. It is shared with our readers exactly the way he wrote it over 130 years ago, though a few footnotes have been added for clarification.
---
History of the Hagenbuchs in America (Part 1)
To the Hagenbuchs and their friends up and down this wide land into whose hands this little memorial may fall: I have for several years been thinking of getting up a paper, all about our family – not to laud their virtues, not to denounce their failings, but that we may be better posted with regard to each other's families, and that we may be induced to correspond with one another more frequently, and in this and other ways do each other good. The Hagenbuchs are not among the distinguished men and women of our beloved land. They are, nevertheless, almost among our best citizens. I never have been able to find the name on prison or pauper catalogue, and it is to be hoped that none will ever so disgrace the name, coming to us untarnished from past generations. The author – Enoch Hagenbuch
The first Hagenbuch who landed in America was ANDREW HAGENBUCH1. He came from the Kingdom of Wurtemburg, Schwabenland, Germany2 in the year 1737. He settled down in what was known then as old Mangel3, but at the present time known as Albany, Berks Co., PA. He there spent the remainder of his life. He was born the 19th of April, 1711. No record is left to tell when he departed from this life4. To him sons and daughters were born. One daughter married a Mr. Kistler and lived near Jerusalem Church, Berks Co., PA5.
But his son, Michael, at his father's death took charge of his father's farm6. Four sons and three daughters were born to him – Christian, Henry, Andrew, and Jacob. The three first brothers moved to Columbia, Co., PA in the year 1801. Christian had five sons – Joseph, Reuben, Elias, Caleb, and Michael. Henry was born the 15th of November, 1772 and died the 5th of October, 1850; aged 77 years, 10 months, 21 days7. His wife, Mary, was born the 3rd of February, 1774, and died the 5th of October, 1844; aged 70 years, 8 months, 2 days. To them were born four sons – Isaac, Samuel, William8 and Benjamin. Andrew had three sons born to him – Aaron, Henry and Peter9. One of Michael's daughters, Margaretta, married Jacob Moser. She was born the 23rd of October, 1779. They moved to Center Co., Penn's Valley, PA in the year 1800. She died there the 15th of June, 1851; aged 71 years, 7 months, 22 days. Another of Michael's daughters married Daniel Oswalt. They moved to Pickaway Co., Ohio. Still another of Michael's daughters, Magdalene, married Abraham Greenawald. She died in the eightieth year of her life. Michael's son Jacob, at his father's death, took charge of the old home farm. He was born on the 13th of January, 1777. He married Magdalena Wolf.  She was born the 20th of April, 1770. Six sons and four daughters were born.  His first wife died the 22nd of December, 1817; aged 38 years, 7 months, 23 days. He married again, Magdalena Knepper. She was born the 16th of December, 1789. They had two sons and two daughters. He died the 8th of January, 1842; aged 64 years, 6 months, 25 days. He had seventy-six grandchildren. His second wife died the 24th of January, 1840, aged 57 years, 11 months, 8 days.
Grandfather Michael was a tanner by trade and was born the 17th of September, 1746. Died the 2nd of March, 1809. His wife, Eve Elizabeth Kunz, died in July, 1825 at the age of eighty. Jacob was also a tanner by trade. His children were the fourth generation. The eldest, Timothy, was born the 9th of October, 1804. Died the 12th of May, 1852. He taught school and died unmarried.
The second son, Michael, born the 20th of December, 1805, was a tanner and also taught school10. After his father died he took charge of the old homestead. (This was the fourth generation it had been in the family, over 120  years.) Married the 25th of December, 1829 to Abigail Stebleton. Eleven children were born. He died the 9th of August, 1855. His wife died the 8th of February, 1883. Her aged as 71 years. A daughter of Jacob, Esther, was born the 28th of May, 1807. She died unmarried the 2nd of July, 1867. Amos, son of Jacob, born the 29th of August, 1808. In the year 1859 he moved to Mason County, IL. He married Sarah Bailey the 1st of January, 1831. Nine children were born, three boys and six girls. He died the 2nd of June, 1868. He was a stout and well-built man. He died of heart disease. Anna, another daughter of Jacob, was born the 20th of December, 1809.  Married Daniel Stitzel the 5th of September, 1836. Six children were born. He died the 22nd of June, 1871. He was ruined by going security for his brother. His wife lives near Hamburg, Berks Co., PA.  Nathan, son of Jacob, born the 4th of April, 1811.
---
Enoch's "History of the Hagenbuchs in America" will continue in the next installment as he lists his immediate family's names and dates; and adds very interesting stories about their lives homesteading in Ohio, Indiana, and Illinois.
Notes to Enoch's history:
Andreas Hagenbuch. Andrew is the English version of Andreas.
Most recent research names Cleebron, Lomersheim, and Grossgartach in Germany as the villages where Andreas and his parents and grandparents lived after they emmigrated from Switzerland. These villages are now incorporated into the greater area of Stuttgart which, in the 1700s, was Schwabia and Wurtemburg.
Enoch references "old Mangel" which in German he means "Allemangel" and can be translated into several meanings. However, "old" is not correct. Enoch was mixing up the German word "alle" (meaning all) and "alte" (meaning old). See: Andreas Hagenbuch Acquires Land in Berks County.
Andreas died in 1785.
Christiana Hagenbuch born 1759 married Jacob Kistler. They are buried at Jerusalem Red Church east of Andreas's homestead.
Michael Hagenbuch born 1746 and died 1809; inherited the homestead from his father, Andreas. He is the gggg grandfather of Mark Hagenbuch.
Henry Hagenbuch born 1772, son of Michael and grandson of Andreas, is the ggg grandfather of Mark Hagenbuch.
William Hagenbuch born 1807, son of Henry and great grandson of Andreas, is the gg grandfather of Mark Hagenbuch who moved from Columbia County to Montour County near Oak Grove Lutheran Church in 1853.
Peter Hagenbuch born 1819 and died 1875; moved to Milton, PA and owned land in Union and Northumberland Counties. He served in the Civil War. His story will be told in a future article.
Michael Hagenbuch, born 1805, great grandson of Andreas, was the last Hagenbuch to own the homestead. Upon his death the farm was sold into what is now the Trexler family.