A Day Trip Through Hagenbuch Country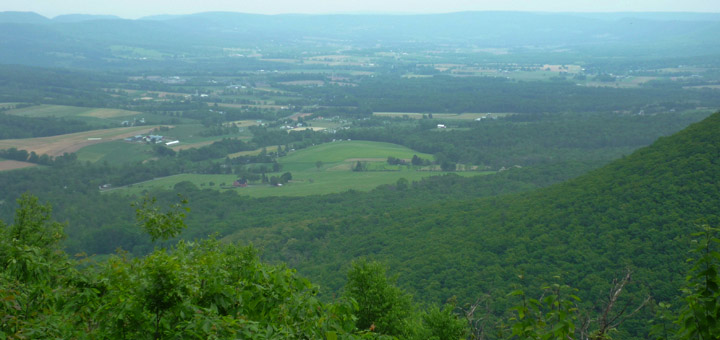 A few weeks ago, I traveled from California to Pennsylvania to visit with family. One of the highlights of the trip was a day spent with my father and website co-author, Mark O. Hagenbuch.
Pennsylvania is Hagenbuch country, especially the central part of the state. It is, of course, where Andreas Hagenbuch landed with his family in 1737 and established a homestead in Berks County. In the following decades, the family grew quickly and eventually put down roots in other areas of Pennsylvania, including just to the north in Columbia County.
During our day together, my father and I set out to visit specific areas and locations that were important to the Hagenbuch family. Our travels took us through parts of Union, Northumberland, Montour, and Columbia Counties.
Our first stop of the day was at Dreisbach Church, located outside of Lewisburg, PA. In the church cemetery, we located the graves of Andrew Hagenbuch (b. 1786) and his wife Mary "Weikel" Hagenbuch (b. 1786). Andrew was a great grandson of Andreas Hagenbuch (b. 1711). His father was Michael Hagenbuch (b. 1746).
From there, we went in search of several properties belonging to Andrew's son, Peter Hagenbuch (b. 1819). Peter served in the Union Army during the Civil War. He was married to Julia "Landbach" Hagenbuch (b. 1815). Our research indicates that Peter owned at least two farms: one in Union County near the west bank of the Susquehanna River and another in Northumberland County along the east bank. Peter also held property in Milton, PA and outside of Montandon, PA.
It was during our search for one of Peter Hagenbuch's farms that we made the most exciting discovery of the day – the former home of Hiram Hagenbuch (b. 1847). Hiram Hagenbuch was married to Mary Ann "Lindner" Hagenbuch (b. 1853), and he was a gg grandson of Andreas Hagenbuch.
The property was identified using an old family photograph labeled as the home of Hiram Hagenbuch. This matched a farm house just north of Milton. In a future article, we'll explore Hiram Hagenbuch's farm, and its connection to the landholdings of Peter Hagenbuch.
Next, we stopped to see my great aunt, Ellen Hagenbuch (b. 1926). During our visit, Aunt Ellen told us how she and her sister, Mary "Hagenbuch" Taylor, took a cross country road trip to California in the 1950s. As Aunt Ellen told the story, she paused and her eyes lit up; then she exclaimed, "We really did something!"
After leaving Aunt Ellen, we visited the graves of William Roat (b. 1872) and his wife, Kathryn "Hagenbuch" Roat (b. 1879). We also traveled to Oak Grove Lutheran Church in Montour County by way of Mexico Road. Along the way, we passed many farms that had once been owned by Hagenbuchs and associated families.
Oak Grove is a Hagenbuch church, and in the cemetery are buried many family members from my line. These include William Hagenbuch (b. 1807) and his wife, Rebecca "Muffley" Hagenbuch (b. 1816); Hiram Hagenbuch and Mary Ann "Lindner" Hagenbuch; Clarence Hagenbuch (b. 1889) and Hannah "Sechler" Hagenbuch (b. 1889); and my grandparents, Homer Hagenbuch (b. 1916) and Irene "Faus" Hagenbuch (b. 1920).
Upon leaving the church, we visited Harold Sechler (b. 1923), a first cousin to my grandfather, Homer Hagenbuch. We had with us a box of unlabeled, old photographs to show Harold, and we wanted to see if he could recognize anyone. He did know several faces, though some went unidentified. When handed a photo he didn't recognize, Harold would simply reply, "I couldn't say. That's before my time."
Sadly, if it was before Harold's time, it was definitely before the time of my father and myself! Our visit underscored the necessity of labeling photographs with names and dates. Without these, there will inevitably come a day when there is no one left to put a name with a face.
Our journey then took us to Hidlay Church near Bloomsburg, PA in Columbia County. This area was where Andreas's grandsons, Henry Hagenbuch (b. 1772) and Andrew Hagenbuch (b. 1786), settled after leaving the Hagenbuch homestead in Berks County. John Hagenbuch (b. 1763), the youngest son of Andreas, also settled here.
While driving, we passed former Hagenbuch homes and farms. Research indicates that much of the land around Hidlay Church was once owned by Hagenbuchs and related families. Unfortunately, our exploration of this area was cut short due to a thunderstorm that even included hail.
Our day ended with a brief stop across the river in Catawissa, PA. There we located the boyhood home of a friend, Paul Grimes, who now resides in California. As we headed home on Route 11, we couldn't pass up a chance to pull into May' s Drive In Restaurant: a regional favorite since the 1950s. There, I enjoyed a teaberry milkshake, a flavor you just can't find in California!
Pennsylvania is Hagenbuch country. The Susquehanna river, rolling farm fields, and forested mountains stand in stark contrast to the West Coast that I now call home. Traveling through these places while listening to my father's stories really brings to life our family's history.
Genealogy is more than just written words and old photographs. It is real people, actual places, and true experiences. Knowing where we come from adds more depth to our knowledge of the past and helps to grow a lasting appreciation of it.