Discovery: An Historic Hagenbaugh Rock Carving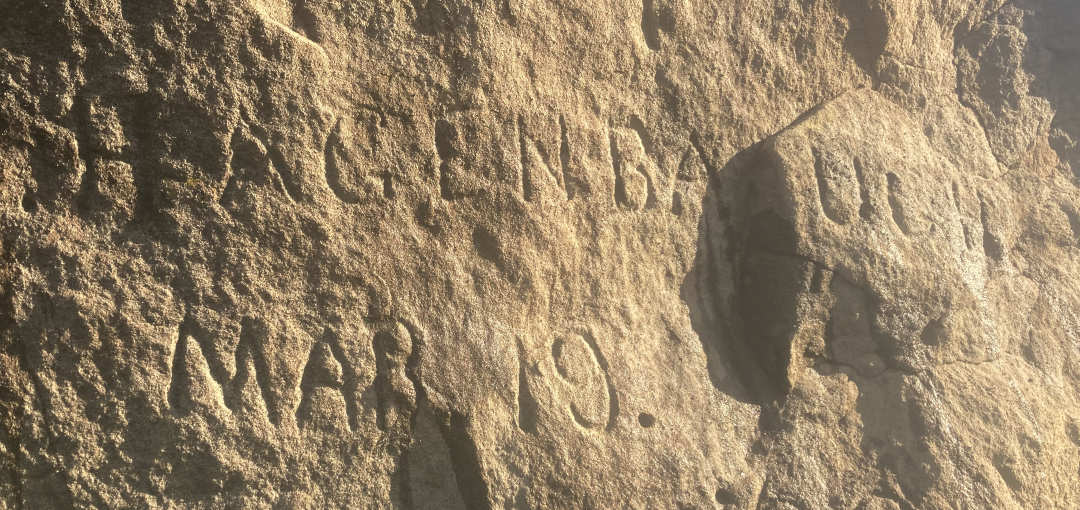 At the end of a long day of traveling, a young man searched for a spot to camp among an outcropping of boulders. Night was falling on this, the last day of winter, 1899. The air felt cool, but not frigid—typical weather for coastal California. In short order, he found a small cave for shelter, laid out his blanket, and started a fire. The flickering light of the flames danced across the rocks beside him.
He was two days shy of his 21st birthday with his whole life ahead of him. The fire crackled, mixing with the sounds of the night. He reached into his bag and pulled out a rrailroad spike—just something he had found along the way. He went over to the rock face and pushed the metal tip into the gritty sandstone. It was soft and crumbled away with ease. Then he got an idea.
Over the next hour, he carved his name and the date into the stone. As he worked, he imagined who might discover his handiwork one day and what they might think of it. Maybe it would never be found? When he finished, he stepped back to admire the completed inscription. It read, "W. Hagenbaugh Mar. 19. 1899"
---
In March of this year my father, Mark, and I received a message from Dan Moyer. Dan had been hiking a trail through the Santa Susana Pass near Corriganville, California and found a curious rock carving that included a name and date. Behind the rock was a small cave and inside were several old railroad spikes. These appeared to be the right size to etch the stone surface. (View on Google Maps)
The Santa Susana Pass lies to the northwest of Los Angeles and connects the Simi Valley to the San Fernando Valley. While many people would have looked at the rock scrawling and continued on, Dan snapped a picture in hopes of identifying the person who had left it. That person's name was W. Hagenbaugh and the date was March 19, 1899.
In our initial exchange, Dan included a picture of the carving and pointed to an article on this site about family migrations. He wondered if William A. Hagenbaugh (b. 1850) could have been the individual whose name was one the rock. While a possibility, William A. wasn't the only William Hagenbaugh living near Los Angeles in 1899. Rather, there were three:
William A. Hagenbaugh (b. 1850, d. 1919)
William Allen Hagenbaugh (b. 1855, d. 1937)
William Louis Hagenbaugh (b. 1878, d. 1943)
William A. Hagenbaugh had moved with his family to Los Angeles around 1890. Research shows that during this time he worked as a salesman for Niles Pease, which sold furniture and carpets. He did some traveling for work too, going as far north as Santa Barbara. Santa Barbara is around 100 miles northwest of Los Angeles and could be reached by rail. However, this wouldn't have taken William A. through the Santa Susana Pass, since the railroad connecting the Simi Valley and San Fernando Valley wasn't completed until 1904. As a result, the person who left the inscription must have been on foot or on horseback and had some other reason to head this way. Thankfully, there were two other William Hagenbaughs to consider.
As part of a previous article, cousin Carol Pilch shared that her great grandfather, William Allen Hagenbaugh (b. 1855), moved his family to Santa Paula, CA in 1893. Santa Paula is situated north of the Simi Valley and only 30 miles from the Santa Susana Pass. William Allen's son, William Louis (b. 1878), also lived for a while in Santa Paula too. Might one of these men have carved his name upon the stone?
After much thought, we believe that William "Will" Louis Hagenbaugh was the one who etched his name into the rock in 1899. Unlike his father—who had a family, grew apricots, and raised Belgian Hares—William Louis was a young man with few obligations and a desire for adventure. In November of 1896, at the age of 18, he joined the California National Guard and was sent to Los Angeles for training. He returned home by early 1897 when the above picture was taken.
Then, in May of 1898 at Los Angeles, Will enlisted in the California Volunteers, 7th Infantry Regiment, Company E, in order to fight in the Spanish-American War. His unit went by train to San Francisco, CA and was stationed at the Presidio. Throughout the summer, they would move camp several times, become sick with the German measles, and eventually be sent home without seeing any overseas combat. Will was discharged on September 15, 1898 and appears to have returned to Santa Paula. He was 20 years old.
What did he do during the next several months? We know that his sister, Fannie Belle (b. 1880), was living in Los Angeles and working as a telephone operator. He may have gone to visit her, as well as looked for work. There were plenty of ranches, orchards, and farms along the way. The railroads were booming too. In 1899, construction of a new line through the Simi Valley and Santa Susanna Pass had begun. Was it here that Will picked up a few railroad spikes and placed them into his bag?
Regardless, it is easy to envision this young man—almost 21 years old—camping among the boulders and contemplating what he would do next. A few weeks later he would make his decision. The following was published in the Ventura Free Press on April 14, 1899:
Will Hagenbaugh seems to have planned out for himself a new career in life. He is desirous of joining the navy and serving his country as a marine.
Will enlisted in the United States Navy and, by 1900, was living in San Francisco. There he worked as a sailor aboard the USS Pensacola, a navy training ship that was harbored at the U.S. Naval Training Station on Goat Island. Today, Goat Island is known as Yerba Buena Island. By 1903, he had attained the rank of chief yeoman (a petty officer) and married Ida May James.
Yet, Will thought of himself as a creative person, and in 1904 he listed his occupation as "artist" for the San Francisco City Directory. No doubt, he was honing his skills as a painter at this time. Will and Ida's only child together, William Raymond, was born that same year. The young family survived the disastrous 1906 San Francisco earthquake and relocated across the bay to Oakland, CA.
In May of 1907, Will was discharged from the navy. He and his family moved south to Los Angeles, and he joined the Los Angeles Police Department in August of 1907. By 1911, he and Ida had separated. When the divorce was finalized in 1912, he married Lillian Louise Norquist. Together they would have three children: Dorothy Louise (b. 1913), Mildred Lois (b. 1918), and Robert Louis (b. 1921). Will retired from the police force in 1931 and took up a number of hobbies including painting, collecting American Indian artifacts, and genealogy. A newspaper article from 1938 described him as "an outdoor man" and who traveled the United States, Canada, and Mexico. William "Will" Louis Hagenbaugh died on February 19, 1943 after a long illness and was buried at Inglewood Park Cemetery in Los Angeles.
One thing that stood out to me while writing this article was just how unique it is that we, as Hagenbuchs, can quickly match a family member to a century-old carving on a long-forgotten rock. We are able to tell this person's story and place it within the broader context of historical events too. None of this is by coincidence. Since the 1700s, our family has been lucky enough to have a number of dedicated genealogists within its ranks. These individuals documented the who, what, and where of the Hagenbuchs, enabling us to appreciate our roots. One of these genealogists was Will Hagenbaugh. Through his work and that of many others, we are now able to identify him as the man who scrawled his name in the Santa Susana Pass on the last day of winter 1899. How neat is that?