Family On The Move: 1840–1900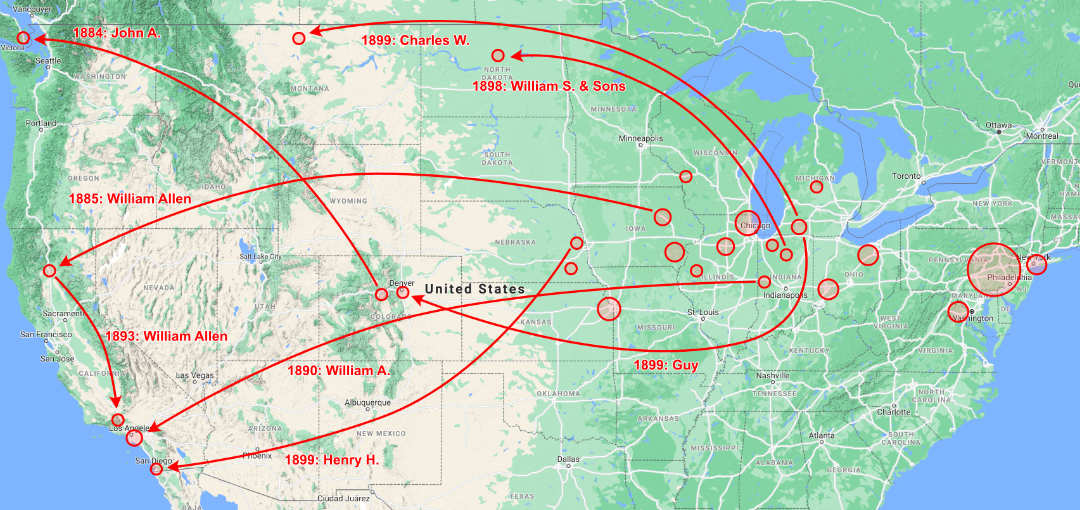 Like many Americans, our Hagenbuch family story is about leaving one place for another, often in search of a better life and new opportunities. The first part in this article series followed our family's story from 1500 to 1800, as our ancestors moved from Switzerland to Germany and then to America. The second part examined the period between 1800 to 1840, when the descendants of Andreas Hagenbuch (b. 1715) left southeastern Pennsylvania for land in the north of the commonwealth and the states of Ohio, Indiana, and Michigan.
Now, in the final part, we will explore family migrations from 1840 to 1900 with the Hagenbuchs pushing westward to the Pacific Ocean. As before, letters, deeds, written histories, and census records have been used to track family movements. It should also be noted that smaller relocations, such as to neighboring counties within the same state, are omitted for the sake of brevity.
Midwest Expansion: 1840-1860
By 1840 it appears that our ancestors had traveled as far west as Indiana. This changed around 1849, when John (b. 1818) left Northampton County, PA and arrived in Calhoun County, Illinois with his young family. He is believed to have been the grandson of Henry (b. 1736).
Other Hagenbuchs left Berks County, Pennsylvania for Illinois during the 1850s. These included Charles (b. 1819), his brother Amos (b. 1808), and Amos' son, Solomon (b. 1831). Charles and Amos joined their brothers Daniel (b. 1816) and Enoch (b. 1814), who in the early 1850s left Delaware County, Indiana for Illinois. Enoch, Daniel, and Charles acquired land in La Salle County, Illinois, while Amos and Solomon found land in Mason County, Illinois.
Indiana and Ohio were still destinations for those leaving Pennsylvania too. Charles (b. 1807) and his son, William (b. 1840) went from Tioga County, PA to La Porte, IN around 1859. There they joined Charles' brother, William (b. 1809), who had moved there around 1839. About 1849 another brother, Henry (b. 1812), left Tioga County, PA for Champaign County, OH and in 1858 a cousin, William (b. 1811), relocated from near Dayton, OH area to Vermillion County, IN.
Civil War Movements: 1860–1870
During the decade of the American Civil War, the Hagenbuch family continued to move, though with a few notable changes. For example, in 1863 John "Finis" Phineas (b. 1812) moved his family from Allenwood, PA to Winchester, Virginia, below the Mason-Dixon line. This unique move from the North to the South may suggest his sympathies with the Confederacy. Other Hagenbuchs relocated to growing urban centers. Around 1869, Reuben (b. 1803) left the Dayton, OH area to run a hotel in Chicago, Ill, while William Henry (b. 1846) moved from Easton, PA to Piscataway, New Jersey, just outside of New York City.
Nevertheless, most Hagenbuchs seeking land opportunities looked to the west. In 1869, Benjamin (b. 1818) and his son Eli Thornton (b. 1843) moved from Columbia County, PA to Mount Pleasant, Iowa. Likewise William S. (b. 1836), who was one of the last to be born at the Hagenbuch homestead in Berks County, PA moved to Marshall County, IN around 1866.
In 1865, Caleb (b. 1810) left Medina County, OH for Branch County, Michigan. About 1869 Henry H. (b. 1843)—a son of Charles (b. 1807)—migrated from La Porte, IN to Fort Calhoun, Washington County, Nebraska, while Daniel (b. 1816) picked up once again and moved from La Salle County, Ill to Black Hawk County, IA in 1865. Daniel's son, Gilbert (b. 1852), appears to have left home by 1869 and, following the path of the transcontinental railroad, moved to Albany County in the Wyoming Territory. There, he lived with another family and worked as their servant.
Charles (b. c. 1840) also followed the transcontinental railroad west. According to the 1870 census, he was living in Winnemucca, Nevada and worked as a brakeman for the railway. Census data shows that he was born in Pennsylvania and raised in Ohio, though more research is needed to discover the names of his parents.
Looking East and West: 1870–1880
During the 1870s, several Hagenbuchs that had pushed west then retreated east. Gilbert (b. 1852) left the Wyoming Territory to start a family in La Crosse, Wisconsin. Charles (b. c. 1840) appears to have abandoned Nevada and relocated to Meade County, Kansas, where he was unmarried and working as a "herder." Given this area's proximity to the Western Trail, a path used to herd cattle north from Texas, Charles may have been a cowboy.
Other Hagenbuchs continued to leave Pennsylvania for the West. Brothers Charles H. (b. 1827) and George (b. 1833), who were great grandsons of Henry (b. 1736), migrated from Allentown, PA to Eudora, KS. In 1874, John Vance (b. 1845) migrated from Columbia County, PA and settled on land near Lincoln, Nebraska. Finally, John Andrew (b. 1857), who has been written about extensively on this site, relocated from Columbia County, PA to Breckenridge, Colorado.
An outlier to the above patterns was Dennis "Nick" (b. 1851). Instead of moving west, around 1870 he headed north, relocating from Branch County, MI to Montcalm County, MI.
To The Pacific: 1880–1900
By the late 19th century, much of the best land in the West had been claimed. Yet, some Hagenbuchs still saw the chance for a better life there, especially along the Pacific Coast. In 1884, John Andrew (b. 1845) moved from Colorado to Victoria, British Columbia, Canada. He married and started a family, though his wife would die tragically in 1899.
William Allen (b. 1855), son of Daniel (b. 1816), moved from Iowa to Redding, California in 1885. The location of his homestead was examined in a previous article. William would later take his family from Redding to Santa Paula, CA in 1893. Coincidentally, William A. (b. 1850), son of William (b. 1811), relocated from Vermillion County, IN to Los Angeles, CA in 1890. Both William Allen (b. 1855) and William A. (b. 1850) are buried in the same cemetery, which has made tracing their family lines especially difficult! Rounding out family moves to California, Henry H. (b. 1843) left Fort Calhoun, NE for San Diego, CA around 1899.
Other Hagenbuchs settled in the far north of the country. In 1898, William S. (b. 1836) left Marshall County, IN and moved to Towner County, North Dakota, along with his sons Mahlon (b. 1869) and William H. (1877). In 1900, Charles W. (b. 1862) was working as an Army Engineer at Fort Assinniboine, Montana. It is believed he came from Michigan, though his death records states he was born in Ohio. More information is needed to determine his exact parentage. About the same time, Guy (b. 1875) left Michigan for Denver, CO. His father was Herman (b. 1842), who was the son of Caleb (b. 1810).
As was stated at the beginning of this three-part series, our Hagenbuch family story is one of movement. From country to country, state to state, and town to town, the migrations of our ancestors reveal important information not captured by the names, births, and deaths of people. Yes, we already know a substantial amount about these individuals. However, as we have also seen, there are still numerous gaps in our knowledge, new family lines to research, and much more to discover about the lives of those who came before us.