Locating William A. Hagenbaugh's California Homestead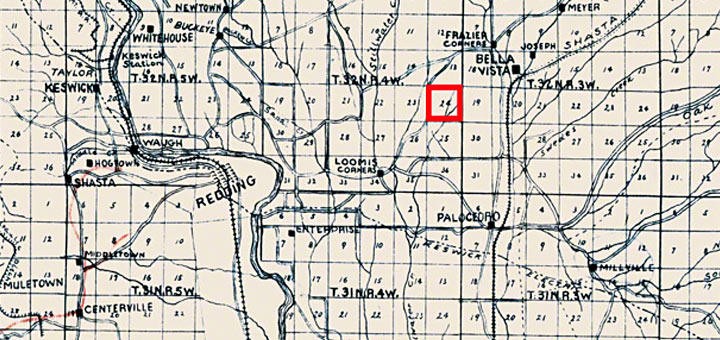 As my father, Mark Hagenbuch, and I continue to work on Hagenbuch.org, we often return to earlier articles and fill in pieces of information that were previously unknown. Recently, one such piece of information was discovered—the location of William A. Hagenbaugh's homestead in northern California.
Late in 2018, my father worked with our cousin, Carol Pilch, to write an article about her Hagenbuch family line. Carol traces her ancestry through William Allen Hagenbaugh (b. 1855, d. 1937) who was born a Hagenbuch but eventually changed this to Hagenbaugh. Then in January of 2019, I visited Carol at her home in California.
During my visit, she mentioned that she had a copy of the 1892 patent granting William 160 acres of land in northern California. Carol later sent me a scan of the document, which contained coordinates describing the parcel's location. However, I was unable to make sense of these or locate the homestead. I put the document aside.
California was on my mind, and by spring I began work on a series of articles about Jack and J. C. Hagenbuch's adventures down the Klamath River in 1905. While researching this, I found a 1904 map of Siskiyou County, CA in order to examine towns along the river. Curiously, the map was overlaid with a numbered grid.
I kept looking at the map while working on the article series, until one day it dawned upon me. This wasn't just any grid. It was used to map the location of land grants! A square on the grid represented a one mile by one mile area. When a square was divided into four quarters, each equaled about 160 acres—the amount of land granted by the United States to a settler as part of the Homestead Act of 1862.
Using this knowledge, I returned to William A. Hagenbaugh's land patent, which was issued on May 26, 1892. In order to receive a patent for the land claim, William was required to live on the parcel for at least five years and improve it. This timeline made sense as, according to Enoch Hagenbuch's history, William moved to California on March 17, 1885. He appears to have established his homestead within a year or two of arriving.
The patent document was issued through the Land Office at Redding, CA, and it mentions the coordinates of the parcel as:
… the North East quarter of Section twenty four in Township thirty two North of Range four West of Mount Diablo Meridian …
Redding is found in Shasta County, not Siskiyou County, and I quickly found another 1904 map showing the land grant grid for this area of California. Using the map and the above coordinates, I pinpointed "T.32N.R4W" or "Township 32, North Range, 4 West." One square section within it was labeled "24," meaning that in the northeast quarter of this was where William A. Hagenbaugh established his 160 acre homestead.
To examine if the homestead still existed, I placed the 1904 map over modern Google satellite imagery. This process revealed that the parcel was situated just outside of Redding, CA near Old Alturas Road (View Map). There were several homes within the bounds of the property, as well as visible surface water. Then, like now, water would have been a valuable commodity in California's dry, Central Valley region. According to Carol, William's family used these resources to grow apples.
One question still dogged me, though: Was the original farmhouse still there? This is a challenging question to answer from Pennsylvania. Although, using Google satellite and street view imagery, I was able to take a look around. Unfortunately, the homes on the property appear to be modern, and as a result, it is not believed that William's farmhouse is still standing.
While disappointing, this doesn't detract from the importance of locating William A. Hagenbaugh's homestead. By finding the exact location of where he settled in California, we are able to better understand the life of this family, as well as the broader story of how the Hagenbuchs migrated westward to California in the 1800s.