Family Connections Across the Divide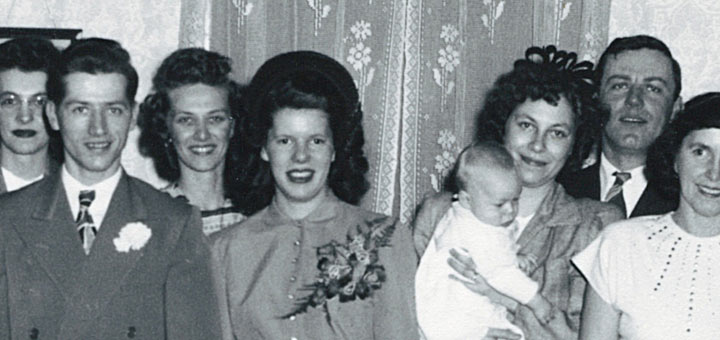 In January of this year, my wife Sara and I traveled to California where we had lived for nearly a decade. Along with seeing some of our old haunts, we looked forward to visiting with friends and family—many of whom have inspired articles on this site.
During the trip, we stopped to see my great aunt, Gloria (Felix) Faus, in southern California. Aunt Gloria is the sister-in-law of my paternal grandmother, Irene (Faus) Hagenbuch (b. 1920). Visiting with Aunt Gloria is always a lot of fun, and we enjoyed several days of staying at her home.
Inside her living room, Aunt Gloria has a number of family photographs on display, including her wedding photo. It's a lovely image from 1949 and contains many people from the Faus, Felix, and Hagenbuch sides of the family.
Prior to our trip to California, I had been talking to my aunt, Barbara (Hagenbuch) Huffman, who appears as a young girl in Aunt Gloria's wedding photo. Aunt Barb remembered who most of the faces were in the image, but a few were just guesses.
Later, while sitting with Aunt Gloria, it occurred to me that she was the only one who could, as of today, recall each person in the wedding photo. As we have discussed regularly on this site, it is important to label photographs and write down the names of the people in them. Without this, such information can be easily lost.
After talking with Aunt Gloria about the image, she identified the people in her wedding photograph, most by name, and even presented me with a copy of it—a treasured gift.
Our January trip also included a visit with Robert and Carol Pilch in northern California. As detailed in a previous article, Carol is a descendant of William Allen Hagenbuch/Hagenbaugh (b. 1855), who changed the family name to Hagenbaugh upon moving to California in the late 1800s.
It was a great pleasure meeting Carol, my fifth cousin once removed. While we had been communicating via email for some time, we had never been able to meet in person. Carol's collection of family artifacts is extensive and even includes a number of original paintings by her great uncle, William Louis Hagenbaugh (b. 1878).
During our visit with Carol, we looked through old family albums (labeled with names and places), shared family history, and discussed some of our present genealogical research topics. It was wonderful to bring together two branches of the Hagenbuch family tree, which had split after our last common ancestor, Michael Hagenbuch (b. 1746).
Family connections come in many forms: parents and children, brothers and sisters, aunts and uncles, cousins and grandparents, the list goes on. Maintaining our connections often requires crossing boundaries and spanning divides. To see my California family, I flew over the Continental Divide, something that once frustrated our ancestors as they journeyed west. There are divisions in time as well, challenging us to connect across the generations and to preserve the memories of those who came before us. There are even divisions in personal ideologies, which can be some of the most difficult to bridge.
Family is our first connection. It is one given to us at birth, one that we did not willingly choose. To cross the divisions that separate us from family is more than just an exercise in connecting with others. It is an exploration of one's self through the people, places, and stories that have made us, at least in part, who we are.