Remembering James H. Hagenbuch: Final Thoughts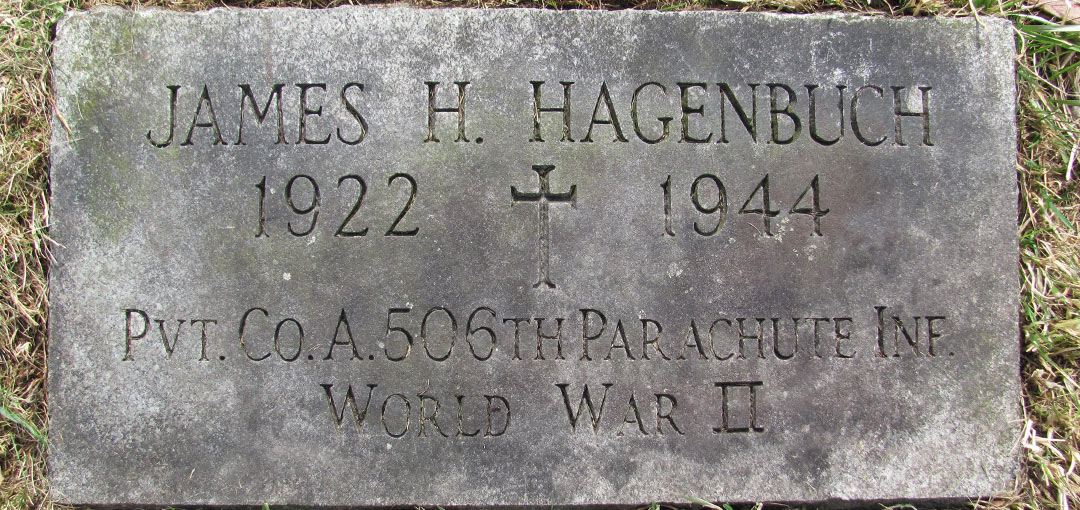 In late 2018, I stumbled upon the Find-A-Grave page for Private James H. Hagenbuch (b. 1922). That evening I wrote to my father:
Hey Dad,

While working on my article I found what is probably a great grandson of Charles C. through Dr. James H. Hagenbuch (Charles's son).

Died June 7, 1944 – around D Day. Says he was a paratrooper. . .
Often, this is how an article begins. We find a gravestone, or an obituary, or a picture. Then we file it away for future investigation. With James, it would be over a year and a half until we started digging deeper into his story.
In Part 1 of this series, my father explored the family line of James H. Hagenbuch and reported on his initial research into James' military service. Using what he found, I pieced together more of James' story and told this in Part 2, Part 3, and Part 4. Examining the last two days of James' life was a long process that involved a good amount of reading, emailing with World War II experts, and plotting troop movements on maps.
Writing an article for this site occasionally leads to an exciting "ah-ha" moment. One of these happened when I realized that Joseph C. Hagenbuch (b. 1924) was the older brother of James. You see, around five years ago I first stumbled upon Joseph's artwork online and noticed he lived in Michigan. At that time, my father and I weren't sure how he was related, but we surmised he was probably connected through one of the Hagenbuch lines who settled in Michigan during the 1800s. Our hunch was wrong.
While researching the life of James Hagenbuch, my father contacted Judy Cahoon Egan, who maintains James' page on Find-A-Grave. Judy wrote back and explained how she had spoken with James' younger brother, Joseph, in 2014. She attached several pictures of James that Joseph had provided. She also described how Joseph was an accomplished portrait artist who lived in Michigan. Ah-ha! We connected the dots and were able to finally place Joseph, the artist, on our family tree alongside his brother, James.
Sadly, Joseph died in 2016. The thought has crossed my mind several times: what if we had known about James sooner and had been able to interview Joseph before his death? What else might we have learned? Such is the excitement, and the disappointment, of genealogy.
We owe a great deal of gratitude to Judy, who collected what she could from Joseph Hagenbuch. She also had the foresight to print a copy of Donald Burgett's amazing story about his chance meeting with Joseph in 2004. After Burgett died in 2017, his website was shutdown and all of its content apparently lost. Her printout was all that remained of the encounter, until it was republished on this site a few weeks ago.
Human memories are fleeting. Abraham Lincoln understood this when he wrote in the Gettysburg Address, "The world will little note, nor long remember what we say here. . ." Thankfully, Lincoln was wrong, and we still appreciate his words and the sacrifice of those who died in the battle.
We often hear the phrase "never forget" when discussing lives tragically lost. It's a well-meaning sentiment, but in practice what does this really mean? Here, I believe we can learn from my great aunt, Gloria (Felix) Faus.
One of my lasting memories of her house is the framed picture of her older brother, Maurice E. Felix (b. 1921), that hangs on the wall. He is wearing his Army uniform and is smiling. Along with the picture is a handwritten letter from Maurice and his Purple Heart. Like James Hagenbuch, Maurice was killed in action in France during the summer of 1944. He was buried in Normandy—an ocean away from the town of Montgomery, Pennsylvania where he grew up.
Aunt Gloria was only 13 years old when her big brother died, and this loss left a lasting impression upon her. The small memorial to Maurice is near the front door of her home. It's one of the first things visitors see when entering and is a frequent topic of conversation. At Aunt Gloria's house, the memory of Maurice is alive and present. He has not been forgotten.
During the past few months, I've spent a lot of time thinking about James Hagenbuch, his life, and his death. On the surface, it's easy to celebrate James' courage in battle. Although, when doing so, one must be careful not to glorify war itself. Perhaps, then, it is more appropriate to honor James' sacrifice, which was significant.
When he volunteered for the Army, James willingly gave up the security of home to defend his country from fascism. When he joined the 101st Airborne as a paratrooper, he consciously put his life in jeopardy to jump from a plane into the darkness of night. And, when he was shot and killed in Normandy, James Hagenbuch ultimately sacrificed his future—one where he might have fallen in love, laughed with dear friends, and grown old alongside family. He did all of this so that we, the living, could enjoy the freedoms he gave up.
If there is one thing James Hagenbuch's story can teach us, it is that one person's actions, no matter how seemingly insignificant, can make a real impact. While James played only a small role in the war effort, his deeds were magnified by the millions of others who also sacrificed some part of themselves during World War II. Together, in aggregate, they changed the course of history for the chance of realizing a better future.
How do we honor those who sacrificed their freedoms during our country's most trying times? What might we give up to protect that which we value in the midst of a global pandemic? How can we work together, as Americans, to realize the future imagined by our ancestors? To truly remember James H. Hagenbuch, each of us must carefully ponder these questions.
Still, memories fade and blur with time, leaving us with only impressions of what was: a young man from Pennsylvania, sitting in a pub, somewhere far away from home. He lifts his glass as if to make a toast, then smiles. "Never forget," they say.