Remembering James H. Hagenbuch, a Screaming Eagle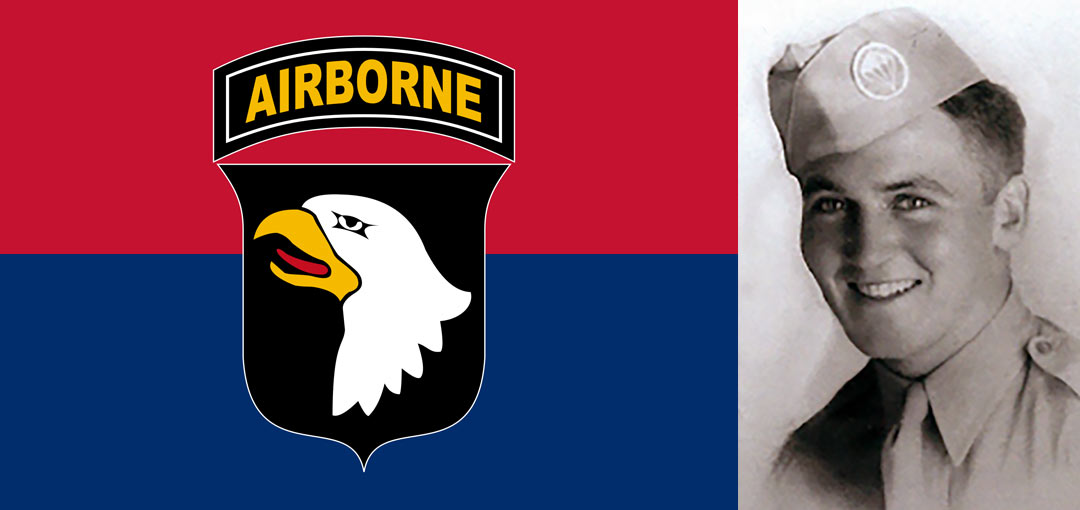 As I have continued adding people to Beechroots, I have run across loose ends and interesting people. Memorial Day came and went. As I kept recording Hagenbuchs, I found several who had served in World War II, and I knew there should be some articles written about their service between those crucial years of 1941 to 1945. Andrew and I have written articles about Hagenbuchs who served in the Civil War and I wrote several articles chronicling the service of Andreas Hagenbuch's sons in the Revolutionary War. But, few mentions have been made about the service of our family in WW II of which this year is the 75th anniversary of its end in 1945.
It was then that Andrew reminded me that several years ago he had sent me information about the grave site of James H. Hagenbuch, who died on June 7, 1944 in Normandy, France. This was the day after the crucial date of D-Day, June 6th. Not only did we not know James' story, but we also did not know who his parents were so as to connect him into our Hagenbuch family tree.
After a bit of nosing around online I could pinpoint James' line and some of his story. It is a story that needs to be told, and we have gotten deeper and deeper into it. James H. Hagenbuch was born on November 13, 1922. We would expect this was in Mahanoy City, Schuylkill County, Pennsylvania as that is where his family line hails from, but the 1930 census lists his birthplace as "American Citizen Born Abroad." No explanation can be found for this.
James's family line is: Andreas (b. 1715) > Christian (b. 1747) > John (b. 1785) > Robert (b. 1808) > Charles (b. 1835) > James (b. 1862) > Joseph (b. 1890) > James (b. 1922). James's family were druggists and have been written about in two other articles. His grandfather, Dr. James Hervey Hagenbuch, was a pharmacist in Mahanoy City as was his father Charles before him. The business was taken over by Dr. James's son, Joseph, and he is listed in the 1920 census as a druggist in Mahanoy City. Joseph married Alice Mulvey in 1921 and in 1922 James was born. Following on his heels was the birth of another son, Joseph Charles (his middle initial is sometimes listed as "S." though), in 1924.
There is some curious information about James's father, Joseph (b. 1890). He is listed as arriving in New York City as a passenger on a ship which had departed in May of 1920 from Boulogne Sur Mer, one of the ports used in World War I for troops going in and out of France. He is listed as a veteran of WW I and in his wife's 1978 obituary Joseph is listed as a Captain during the First World War. With the war ending in 1918, was Joseph still in France up until May of 1920 treating wounded soldiers?
As mentioned, Joseph married Alice Mulvey in 1921, but tragedy struck in February, 1929 as Joseph died of tuberculosis. One would think that the informant listed on the death certificate would be Joseph's wife, Alice. Oddly, the informant is Joseph's father, Dr. James Hervey Hagenbuch! Suspicions arise that possibly Joseph and Alice had separated after 1924. We do know that sometime after the birth of her son, Joseph (b. 1924), and maybe even before the death of her husband, Joseph (b. 1890), Alice married again, sometime after 1950. This was to George N. Schmidt, who appears to have had a son, George. Little else is known of Alice, her second husband, or their son George Schmidt.
More mysteries surround this family. The 1930 census lists the boys James and Joseph Hagenbuch, ages 7 and 5 respectively, living in Mahanoy City in the household of their maternal grandmother, Mary (Coyle) Mulvey. Along with grandmother, Mary, and the two Hagenbuch grandsons is a James Mulvey (probably an uncle to James and Joseph), four Coyle family members, and James Beerman. Alice Hagenbuch, mother of James and Joseph, is nowhere to be found.
Ten years later in the same house (501 East Centre St.), many of the same people are living there, but this time there are more—12 total. Again, Alice is not present. Yet, she is listed as the mother of Joseph on his 2016 death certificate as "Alice Schmidt." Andrew and I have talked this over. Possibly Alice was working away from home and living someplace other than with her Mulvey family in Mahanoy City. It was during the Great Depression after all, and times were tough.
In August of 1942, James enlisted in the Army, and he became a paratrooper in the 506th Parachute Infantry Regiment (PIR), 101st Airborne. His brother, Joseph, enlisted in 1943. At this time, Joseph's record is not known, though it is documented that he received a medical discharge in September 1944 because of a heart problem and "ptosis of the eyelid"—a drooping eyelid. Joseph is listed several places as Joseph Charles, but his burial spot at the South Florida National Cemetery lists his middle initial as "S." Joseph died on December 5, 2016. Nothing can be found about whether he was married or had children. But, since we know from her 1978 obituary that his mother, Alice, died in Florida, it is surmised that she was living with Joseph there. More research is currently being done on Joseph.
Many people know of the 506th PIR through the memories of Lieutenant Dick Winters (later Major) which were told in the 2001 television series Band of Brothers. The term "band of brothers" is actually part of the famous speech from Shakespeare's Henry V. This was delivered by that English King on St. Crispin's Day before the Battle of Agincourt in 1415:
And Crispin Crispian shall ne'er go by, From this day to the ending of the world, But we in it shall be remembered —We few, we happy few, we band of brothers; For he today that sheds his blood with me shall be my brother.
Private James Hagenbuch was part of that band of brothers, although he was not in Lieut. Dick Winters' Easy Company. Rather he was assigned to Able Company of the 506th Parachute Infantry Regiment. Winters and Hagenbuch may have rubbed elbows at Camp Toccoa in Georgia, which is known for its proximity to Currahee Mountain. Here, 5,000 enlisted men volunteered for the grueling paratrooper training, though only 1,800 were ultimately selected. Then it was on to Camp Mackall in North Carolina where the paratroopers received further training before shipping overseas to England in 1943 for even more preparation.
On June 6, 1944 shortly before thousands of men hit the beaches at Normandy, James H. Hagenbuch parachuted behind enemy lines along with the hundreds of other paratroopers of the 506th PIR. About 36 hours later he was dead at the age of 21. Don Burgett, a member of the 506th, published his book, Currahee!: A Screaming Eagle at Normandy, in 1967. Burgett makes several references to James in his book and serves as a invaluable primary source of information about James' final hours.
In addition, Andrew and I are working to assemble a timeline of James' last moments, after he parachuted into France on D-Day. The next article in this series will share our findings, to remember James' life, and to honor his sacrifice. To be continued…