Andreas Hagenbuch's Soldier Sons: Part 3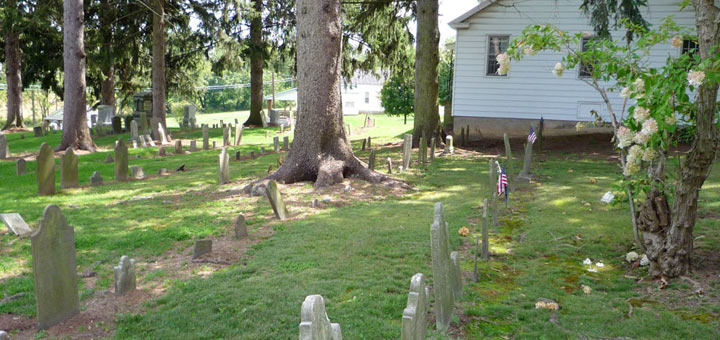 Think of it: a family of soldiers. Four brothers who were serving their state of Pennsylvania and also serving their country which had only just adopted the name of the "United States of America." These four sons grew up under the tutelage of the same father, and at the beginning of 1776 were the ages of: Henry – 40, Michael – 30, Christian – 29, and John – 13. Previous articles have explored the service of Henry, Michael, and Christian. Now, the next in this series will examine that of John whose military service is very curious.
Andreas Hagenbuch's youngest son, John Hagenbuch was born in 1763 and died in 1846. We are certain that he served in 1782 as a private, 6th Battalion, Northampton Co. Militia under Capt. Mathias (Nathaniel) Probst (Brobst) and Col. Henry Geiger. On the roster he is listed as "John Hagenbuck." John was only 18 at the time that he began to serve in the militia. For sure, there was no military action in any of the thirteen new United States then, although the British army still occupied New York City until the next year, 1783.
John may have continued to serve in the military after the Revolutionary War. An entry in the Pennsylvania Archives, 6th Series, Volume 4 has John Hagenbuch listed in 1794 as an Ensign, 4th Regiment, 6th Company of the Northampton Militia. The Captain is Adam Dreisbach.
John was married to Maria Magdalena Dreisbach around the year 1787, as his oldest son Simon was born in July of 1788. John and Maria's next two sons, Johann Conrad and John, Jr., were born in 1790 and 1791. However, would John have been serving in the military, even the lowest grade officer in the militia, while he was married with three young sons?
It must be taken into account that John was serving with a Dreisbach who may have been his brother-in-law. John's wife, Maria Magdalena, had a brother Adam Dreisbach who was born in 1761 and died in 1842.
Another possibility, though unlikely, is that this John is Capt. Henry Hagenbuch's son John who according to church records was born in 1762. Research has shown that this John (grandson of Andreas) may have died early in life, as Henry has another son John who was born in 1776.
Therefore, the bulk of evidence points to Andreas's youngest John, b. 1763 as serving in 1782 in the Northampton Militia and then joining the Northampton Militia after the war serving as an ensign. It is another mystery to be solved!
But here a larger one rears its head. Whereas the 6th Series of the Pennsylvania Archives lists the militia units, the 5th Series lists the Pennsylvania Line units, the regular army. Appearing in the roster of the 6th Company of the "New Eleventh Regiment" (it was reformed in 1779 from the "Old" Eleventh) is "Hans Hagaboough."
Hans is a German name for John, so this listing is certainly for John Hagenbuch. The only John that fits here is Andreas's youngest son John, born in 1763, meaning he was 16 years old at the time. The new 11th was part of General Edward Hand's brigade and was under command of Colonel Adam Hubley, Jr. The 6th Company's captain was A.G. Claypole.
On June 25, 1779, the 11th Regiment was at Sunbury, Pennsylvania (Fort Augusta) heading north to be engaged in the Sullivan Expedition against the Iroquois Indians. While at Sunbury, rosters of each company were created and a description of most of the soldiers was included. The descriptions included height, trade, where they were born, and when they enlisted.
Unfortunately, there is no description for "Hans Hagaboough." This is curious. If this is Andreas's youngest son John, then he not only has given a different first name, maybe even mumbled his last name, but has worked it that no description was listed for him. Is there a reason that he may have wanted to hide his identity in joining up with a regular army regiment?
Since the 11th Regiment was a regular army unit, they were issued a uniform, which is described by Mollo and MacGregor in their 1975 book Uniforms of the American Revolution. The uniform coat was blue with scarlet collar and cuffs, a white waistcoat (vest), and buckskin breeches. The head gear is listed as a light infantry cap (sort of like a baseball cap with the brim pushed up).
Hans shows up again in Volume IV, 5th Series of the Pennsylvania Archives; this time as "Hans Hagaboe." He is in a list of soldiers in 1781 who received depreciation pay. Payment of American troops during the Revolutionary War was rare due to the financial difficulties of the government. Therefore, soldiers who served in regular army regiments during the years 1777-1780 were paid in bills of credit. This credit depreciated. The men who received these were awarded a substantial sum in Depreciation Pay Certificates, which were both interest bearing and negotiable.
If Andreas's son John is the same as "Hans" who saw action with the 11th Pennsylvania in Sullivan's Expedition, the same John who was in the Northampton Militia, the same who was a runaway apprentice in 1785, received his father Andreas's prized religious book True Christianity, married into the well known Dreisbach family, served as a military Ensign in 1794, purchased 500 acres of land in what is now Columbia County, Pennsylvania, and there raised 8 sons; well, there is much more to this son of Andreas that needs to be written!
To conclude, we know that Andreas provided patriotic service during the American Revolutionary War. His four sons, and possibly a grandson, also served. This information not only enables all of Andreas's sons' descendants to join the DAR or SAR, but it should also give all of us pride to know that in the earliest years of American history, our ancestors were serving their country. Furthermore, it should be noted that several of Andreas's daughters had husbands who also served.
Stay tuned, as this means there will be a future article in this series that will be entitled: Andreas Hagenbuch's Soldier Son-in-Laws!