The Mystery of John, John, John, and John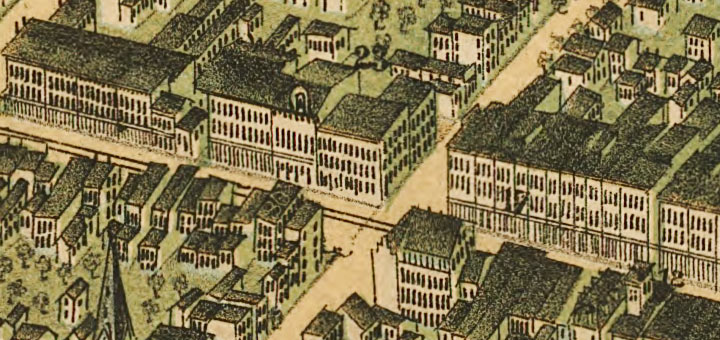 When researching family history, one is bound to encounter mysteries. The quest to answer these is actually one of the reasons I began working with my father, Mark Hagenbuch, on Hagenbuch.org in 2014. Our work together has often been fruitful, though occasionally it can be quite the frustrating endeavor.
My father's more than fifty years of research into the Hagenbuch family has provided answers to many questions. These were shared during the 1980s and 1990s in the Beech Grove newsletter. This site has gone on to answer even more including:
Nevertheless, some Hagenbuch family mysteries have continued to dog us. One of these is the confusing number of John Hagenbuchs found in the first few generations of Andreas Hagenbuch's (b. 1711, d. 1785) tree. Andreas had a son named John, as did three of Andreas's sons: Henry (b. 1736, d. 1803), Christian (b. 1737, d. 1812), and John (b. 1763, d. 1846).
Keeping these Johns straight is challenging. In fact, one of the only methods for doing this requires accurately locating each of their birth dates. With this information, we can better identify which John is listed in a census record or noted in other genealogical documents.
For example, when researching the article about runaway John, we were able to determine that this was Andreas's son, John Hagenbuch. Only this John's birth date matched the age of the runaway mentioned in the old newspaper clipping.
Differentiating between Andreas's son John and Henry's son John has been difficult. The primary reason for this is that Henry's son John was actually born first. According to the New Bethel Church baptism records, this John Hagenbuch was born on August 4, 1762 and Andreas's son John was born just over a year later on October 4, 1763. John (b. 1762) was Henry's eldest son, while John (b. 1763) was Andreas's youngest.
Though confusing, all of this appeared perfectly sensible, that is until my father and I read Henry Hagenbuch's estate proceedings. Henry died in 1803 without a will and, as a result, a judge was tasked with dividing up his estate. In the court documents, it was recorded that Henry's son Jacob (b. 1765, d. 1811) was actually the eldest of his five sons. These were listed as follows: Jacob, Christian, John, Joseph, and Henry.
But how could this be, we wondered. Wasn't John (b. 1762) actually the eldest? Were the documents wrong or was there something else?
After much debate, the most logical answer to the mystery was that Henry's eldest son, John, had died young. The John Hagenbuch listed in the 1803 court document was actually another son, also named John, who was born sometime after Jacob.
Curiously, there was a John Hagenbuch buried in Howertown, Pennsylvania not far from Allentown where Henry resided. According to the gravestone, this John was born in 1776 – a date that worked perfectly with the birth order provided in the estate documents. Christian was born in 1773 and Joseph in 1778, thus placing John right in between them.
Yet, my father and I remained uneasy about declaring the mystery solved. For one thing, this meant that Henry had named two of his sons John, the second being named as such after the first one died. We knew of no precedent for doing this, that is until we began reading Daniel Schumacher's baptism records.
Daniel Schumacher baptized several of Andreas Hagenbuch's children, including one named John (recorded in German as "Johannes"). However, this is not the runaway John Hagenbuch who was born in 1763. Rather, this is a still another John who appears to have been born and baptized on January 1, 1756.
Little else is known about this John, except what can be inferred from a fascinating note left by Schumacher. He writes that John received an "emergency baptism." In other words, this John was born sickly and may have died shortly thereafter. Andreas and his third wife, Maria Margaretha, would go on to have more children, the youngest of which was born in 1763 and again named John.
Thanks to the records of Daniel Schumacher, it can be definitively shown that parents would sometimes reuse a name should one child die early. Interestingly, this proof is also connected with the name John.
What was it about that name which so captivated Andreas and his son Henry? One theory is that the name John was given in honor of Andreas's father, Hans Michael Hagenbuch (b. 1685, d. 1735). As discussed in a previous article, Hans is a shortened version of the name Johann (John).
After uncovering the above naming precedent, my father and I feel confident in stating that Andreas and his son Henry each had a son, John, who died at a young age. Both then reused the name and christened another child John as well. As odd as this may seem, it is currently the only plausible explanation for the seemingly contradictory birth dates and other information.
To conclude, between years 1756 and 1776 there were four John Hagenbuchs born in Pennsylvania. Two would not survive childhood, while the other two would reach adulthood, marry, and raise children of their own. Future articles will continue to explore their descendants.
The four Johns discussed in this article were:
John Hagenbuch (b. 1756, d. 1756)
Parents: Andreas and Maria Margaretha Hagenbuch
John Hagenbuch (b. 1762, d. before 1775)
Parents: Henry and Anna Magdalena Hagenbuch
John Hagenbuch (b. 1763, d. 1846)
Parents: Andreas and Maria Margaretha Hagenbuch
John Hagenbuch (b. 1776, d. 1843)
Parents: Henry and Anna Magdalena Hagenbuch