The Family Bible: Part 1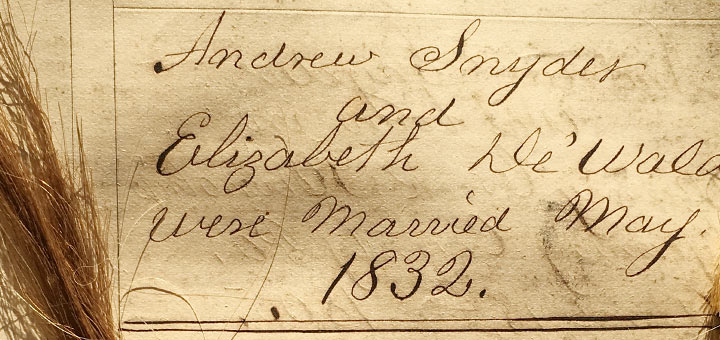 Family Bibles are interesting pieces of memorabilia. They often have other pieces of memorabilia stuck between their pages, such as dried plants, braided hair, noted verses, and funeral cards. My mother's Bible always lay on a small table beside her chair in the living room. My father's Bible could be found back on his bedroom dresser. Grandma Hagenbuch – Hannah (Sechler) Hagenbuch (b. 1889, d. 1967) – had a note at the beginning of the New Testament in her Bible that read, "when I reach here I will have read the Bible through 4 times." This Bible is in the possession of my cousin, Kathleen (Robb) Shuler.
I am fortunate to own, what I categorize as, 12 family Bibles. In brief they are: a small Bible I used until 1965 which was owned by my father; my mother's Bible embossed with her name; my father's Bible embossed with his name; my father-in-law's Bible embossed with his name; my Bible embossed with my name which I received on Christmas Day, 1964; a Living Bible given to my wife Linda and me by my parents; my maternal grandfather's Bible embossed with his name; my great great grandfather Israel Lindner's Bible; two Bibles exactly alike which were owned by two of my great aunts: Kathryn (Hagenbuch) Roat and Minnie (Keefer) Hagenbuch; the Bible of my great grandparents, Hiram and Mary Ann (Lindner) Hagenbuch; and a German Bible once owned by the Andrew Snyder family.
Parts 2 and 3 of this article series will describe in detail eleven of those Bibles. This article will describe the Bible which is not specifically a Hagenbuch family Bible – the one owned by the Andrew Snyder family.
In June of 1967 my grandfather, Clarence Charles Hagenbuch, died. His wife, my grandmother Hannah (Sechler) Hagenbuch, had died the previous January. After the funeral for my grandfather, the family went back to their house which was also the home of their daughter, my aunt Ellen Hagenbuch. I was a boy of thirteen, but I remember that day and one incident distinctly. Disinterested in the conversation of the relatives, I began looking at books on a shelf when I came across a very old Bible. Even at that young age I was curious about old books; well, books of any kind. Opening it, I saw it was written in German script and the publishing date was 1867.
I had already been bitten by the family history bug so I assumed it was a family Bible. However, upon further scrutiny I could not find any reference to Hagenbuchs. Instead, it had been owned by Andrew Snyder whose name was written twice on the fly leaf with a date of 1876. I continued to flip through the Bible to check for other names and came to the family register which was located before the New Testament.
Written there was the text: "Andrew Snyder and Elizabeth Dewald were married May, 1832." On the next page of the register was written: "Andrew Snyder was born in Muncy Creek Township, Lycoming County Pa, April 18th, 1805." The register did not contain any other information.
Even at the age of thirteen, I knew my family history quite well. No Andrew Snyder welled up in my memory as being part of the family. I flipped through the holy tome. As mentioned, Bibles often contain other bits of information that the owner saved between the pages. My eyes grew wide as I found, stuck between the pages, three hanks of hair. Two of these were about six inches long and braided. One was light brown and the other was blonde. The third hank was about three inches long, blonde, and wrapped in a piece of material.
I believe it was at about this instant that my Aunt Ellen walked past me (as I was sitting on the floor with this old Bible perched across my legs and looking very intent). She asked me what I had, and I excitedly showed it to her. Understanding my deep interest, she said I could have the Bible and it went home with me that day.
I kept it all these years, never knowing who Andrew and Elizabeth (Dewald) Snyder were or if they had a connection to our family. A few weeks ago, my sister, Barbara, asked if I wanted our mother's Bible and I thankfully accepted it. It made me think about the other family Bibles I have acquired over the years, which led to my thinking about the Snyder Bible and what it meant to me. You see, that Bible put me on the road to collecting books, old and new, of any subject and of any type. That Bible piqued my interest at the young age of thirteen. It instilled in me a curiosity of the German language and gave me a voracious appetite to collect; and not just books, but all sorts of ephemera and many other items!
The Snyder Bible measures 6 by 9 inches and is 3 inches deep. As stated, the three hanks of hair are located between the pages. My guess is the braided two are of girls', and the hank wrapped in cloth is a boy's. Four small markers of paper: lace, cloth, and string are inserted at the following locations: 2 Samuel: 21-22; 1 Kings: 21-22; 1 Chronicles: 12-14; and Psalms: 79-83.
In addition there are two newspaper clippings. Unfortunately, neither has a date inscribed on them. The first clipping is entitled "Gas Main Fire Disrupts Traffic in the East 90's" and is about an incident in New York City. The second clipping has two stories. The top is about a "bold attempt…to swindle Messrs. Dreifuss and Bros. by means of a bogus check". A man identified as William Wilson from near Turbotville tried to pay for goods at the Dreifuss clothing store in Milton with a check made out to a W. E. Smith. When the owner, Wolf Dreifuss became suspicious, Mr. Wilson fled on foot. No other information is in the article. The bottom portion of the clipping reports that "the city councils of Williamsport have imposed a license of one hundred dollars a year upon the skating rinks", and goes on to explain why this licensing fee is unfair.
So, the question is still there: why was this Bible on the shelf of my grandparents? What relationship did Andrew and Elizabeth Snyder have with the Hagenbuch family? Fortunately, one can always turn to Ancestry.com, Findagrave.com, and other sources now at our fingertips to search for answers.
First, I researched Andrew Snyder and his family in the census records on Ancestry.com. However, I found that Findagrave.com gave the most concise information as I searched for Andrew Snyder born 1805 in Lycoming County, PA. Sure enough, his records and his family appear on the site. He and his wife, Elizabeth née Dewald, are buried at Turbotville Cemetery in Northumberland County, PA, near where I grew up, and where our Hagenbuch family lived. In fact, it is noted that Andrew Snyder died in Limestone Twp., Montour County, close to where the Hagenbuchs and Grandma Hagenbuch's Sechler family lived.
My son, Andrew, and I are always discussing how research of one mystery leads to the discovery of several more. Questions seemingly lead to more questions. That's the pleasure or maybe the curse of genealogy! On the surface, the Andrew Snyder Bible does not seem to have a family relationship with the Hagenbuchs or Sechlers, other than location. However, this mystery encourages one to delve deeper to locate a relationship.
Andrew Snyder died in 1886 and his wife Elizabeth died in 1900. They had nine children, none of whom seem to have a relationship to the Hagenbuchs or Sechlers. That said, they did have one daughter, Hannah (b. 1840, d. 1890), who was married to William Mohr.
Could Hannah (Snyder) Mohr have been a friend of my grandmother Hannah (Sechler) Hagenbuch's parents: Samuel and Mary (Davis) Sechler? And, might my grandmother have been named for Hannah (Snyder) Mohr? Most likely not, as Grandma Hagenbuch had three ancestors with the name of Hannah: Hannah (Hervicott) Sechler, Hannah (Parker) Davis, and Hannah (Davis) McWilliams.
More likely, a descendant of Andrew Snyder was friends with my grandfather or grandmother and gave them the Bible as a gift. William and Hannah (Snyder) Mohr had four children: Matilda (Mohr) Marshall, Willis Mohr, Joseph Mohr, and Ella (Mohr) Lovett. Is it possible that one of these children had inherited the Andrew Snyder Bible from their mother and then passed it on to my grandmother? More research is being conducted on the Andrew Snyder family to solve the mystery of the reason the Snyder Bible was in the house of my grandparents.
Although the Andrew Snyder Bible, published in 1867, seems to have no direct family relationship to the Hagenbuch family, it is still an important piece of my genealogical journey. It became the impetus for my strong interest in family, in things of old, and in the German language. It is a lesson to learn: never leave any stone unturned, no matter if it is just a pebble.