White Hall, Pennsylvania: East, North or West?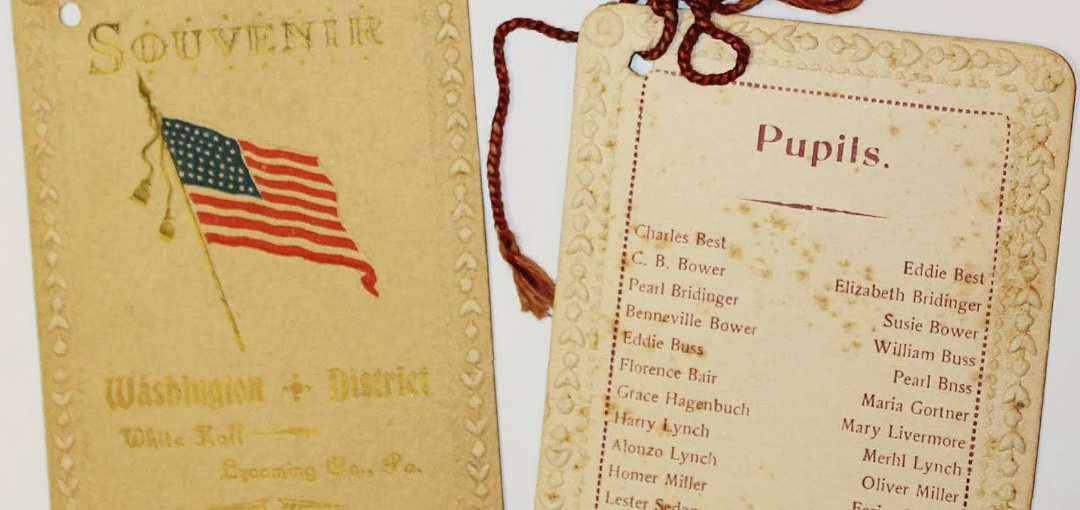 Before our articles are published, Andrew and I proofread each others' writings. Two weeks ago when I wrote the article about documents, one of the accompanying pictures was two pages from the marriage booklet of my maternal grandparents, Odis Guy and Minnie Mary (Hilner) Faus. Andrew noticed that Grandma Faus was listed as being from "White Hall." He emailed me with the question, "Isn't White Hall in Lehigh County?" Andrew's confusion stemmed from his knowledge that Grandma Faus was from Montour County. The fact is she was born in a different White Hall, Pennsylvania which is at the foot of the Muncy Hills, 100 miles northwest of Whitehall in Lehigh County.
After emailing back and forth about this and finding that there are several places in Pennsylvania named White Hall or Whitehall, I googled "White Hall" just to check on the exact location where Grandma Faus lived her early life as a Hilner. I found White Hall in Anthony Township, Montour County, as well as the White Hall School in Union County near Elimsport, PA. The White Hall School information comes from a blog named "Valley Girl View" written by Heather Truckenmiller, who lives near the Warrior Run Church in Northumberland County, PA. (Heather's husband, Dan, is a first cousin to my first cousin Leon's wife, Gayle [Truckenmiller] Hagenbuch). In an article on her site, Heather mentions the White Hall School and provides a list of students from 1899—one of whom was Grace Hagenbuch. My curiosity had gone almost full circle: from Whitehall, which is east of where I live in Dillsburg, to Grandma Faus' White Hall which is north of me, to the White Hall School which is to the west!
After some checking and scratching my head, I found Grace Hagenbuch in my paper records and also in Beechroots where she is listed as Edna Grace Hagenbuch. "Grace" was born in 1888 at Maple Hill, Lycoming County, PA. She was the daughter of George Eli Hagenbuch (b. 1849) and his first wife, Rebecca Gartner. This family has been mentioned in previous articles but not fully fleshed out.
George Eli Hagenbuch's line is: Andreas (b. 1715) > John (b. 1763) > Johann Conrad (b. 1790) > Johann Phineas "Finis" (b. 1812) > George Eli (b. 1849). In the 1900 census, George is listed as a farmer with his second wife Henrietta (Kitchen) Hagenbuch. George's first wife Rebecca died in June of 1889, one year and two months after Grace was born. He married Henrietta in 1891. George and first wife Rebecca had five children: twins who died as infants (b. 1872), Frank Emmerson (b. 1877), William Solomon (b.1880), and Edna Grace (b.1888). George and his second wife, Henrietta, had one child: son Mark Lamont (b.1893). George Eli Hagenbuch died in 1915 and Henrietta died in 1963. George and his two wives are buried in the Muncy Cemetery, Muncy, Pennsylvania.
Frank Emmerson Hagenbuch married Edith Stewart in 1905 at Moberly, Missouri. In 1908, their daughter Elizabeth was born in Buffalo, New York. The 1910 census has Frank, Edith, and three-year-old Elizabeth living in Kiowa, Kansas. There, Frank was an editor of a local newspaper. He continued in that career until 1940, when he can be found living in Minturn, Arkansas and working as a teacher. Frank died in 1958 and is buried in West Plains, MO. He and his family certainly moved around. In 1929, Elizabeth Hagenbuch married Russell Berger in Detroit, Michigan. In 1930, they were living in Royal Oak, MI. Russell was working as a teller in a bank there. By 1940, Russell and Elizabeth (Hagenbuch) Berger had divorced. Russell remarried in 1941 to Mabel Cooke. It's not known what happened to divorcee' Elizabeth (Hagenbuch) Berger after that.
George and Rebecca's second child, William Solomon Hagenbuch, was born in 1880. Around 1920, he married Lucy Andrews from Chester County, PA. By 1930, they were living in St. Augustine, Florida, and William was working as a clerk in the post office. They had three sons together: George Andrew (b. 1921), Donald Andrews (b. 1927), and Robert Andrews (b. 1932). In all the research I have done, George's middle name is "Andrew" whereas his brothers' middle names are the maiden name of their mother, Lucy. William died in 1957 and Lucy died in 1966. They are buried in Saint Augustine, FL. William, Lucy, and their sons were mentioned in an article from January of 2018 which featured the half brother of Frank, William, and Grace—Mark Lamont Hagenbuch (b.1893).
Grace married Harry Waltman around 1906. In the 1920 census, Harry is listed as a farmer living at Muncy Creek, Lycoming County, PA. Grace and Harry had eight children: Wilmer (b. 1907), Lois (b. 1909), Rebecca (b. 1911), Emily (b. 1913), George (b. 1919), Henrietta (b. 1921), Joseph (b. 1923), and Harriet (b.1927). Edna Grace (Hagenbuch) Waltman died in 1969 and Harry died in 1974. They are buried at Muncy Cemetery.
The descendants of Harry and Grace (Hagenbuch) Waltman are quite numerous. Wilmer (b. 1907) married Geraldine DeWald, and they had two children: Mark (b. 1933) and Nancy (b. 1936). Lois (b. 1909) married Henry Holzworth, and they had one daughter, Henrietta (b. 1942). Rebecca (b. 1911) died as a child in 1921. Emily "Jane" (b. 1913) married Raymond Voneida, and they had two children: Diane and David. She was well known in Hughesville, PA, since she operated Voneida's Little Market from 1946 to 1975. George (b. 1919) married Mary Walker and divorced; George later married Emily Regelman. It is believed there were no children from either marriage. Henrietta "Betty" (b. 1921) married Carl Poust, and they four children: Donald, Steven, Joanne and Barbara. Joseph (b. 1923) married Rebecca Bryan, and they had six children: Jeffrey, Rebecca, Heidi, Amy, Thomas, and Bradley. Finally, Harriet "Dolly" (b. 1927) married Charles Winder. The couple had a large family, seven children in all: John, James, Peter, Phillip, Judith, Carol, and Joanna.
This story began with a little girl from Maple Hill, near Elimsport, Lycoming County, PA. In a roundabout way, we are able to add her siblings and descendants to our family tree. Edna Grace (Hagenbuch) Waltman was found because of the confusion over three similarly named Pennsylvania locations. As a result, the Hagenbuch/Waltman family has now become more than just a question mark on our family tree.