E.T. Write Home!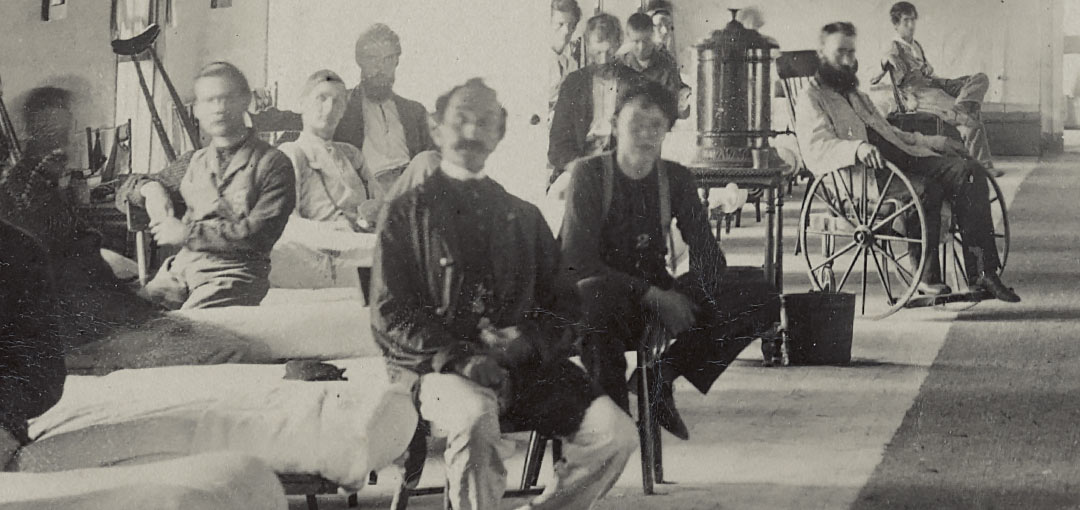 It is Sunday, January 19th, and I just got off the phone with Gayle (Hagenbuch) Ticen, a descendant of Eli Thornton Hagenbuch. It was a warm and informative conversation with a cousin whom I have never met.
If you read the articles about her family, you will remember that her sister, Shirley, was interested enough in our family history to attend the Hagenbuch reunion back in 1983 and kept in contact with me for several years. Upon her death in 2014, Shirley's collection of family photos and memorabilia went to Gayle. Gayle is now in the process of going through those photos and will be sharing information with us in the future. In the meantime, more information about Shirley and Gayle's great grandfather, Eli Thornton, will appear through the sharing of excerpts from his Civil War letters.
E.T. was a private in the 25th Iowa Infantry between 1862 and 1865. Most of this time he spent as an orderly at the regimental hospital in Cairo, Illinois. E.T. writes to his Thornton cousins in 1863 that there were 70 patients in the hospital coming "up from Vicksburg." At the end of April 1863 the regiment was being moved to Vicksburg, Mississippi to take part in the siege there. E.T. also writes:
Oh, what a joyful time it will be to some but tinctured with sad remembrances of the past with others when this cursed rebellion is crushed and their emblem of treason trampled under foot.
The siege of Vicksburg ended on July 4, 1863 which is also when the battle at Gettysburg, Pennsylvania concluded. Interestingly, E.T. writes on May 26th:
We have good news now. Vicksburg is undoubtedly ours but by hard fighting—our loss is remarkably small . . .
This is certainly premature as it shows that he was receiving news in the hospital that was not quite correct. It would be more than another month until this important city was taken by the Union forces. E.T.'s letter written on June 29, 1863 relates that he finally received the right news about the fighting around Vicksburg.
I have been thinking of returning to my regiment soon. I have about come to the conclusion that I will stay where I am until after the hot months of July and August. It will be very unhealthy at Vicksburg at that time. I received a letter from a member of my Company the other day. The 1st and 2nd Sergeant and two privates have been killed in the last siege of Vicksburg.
In this same letter E.T. writes:
Fruit is plenty here, the strawberries are all gone but have been very plenty. . . . Dinner just over and I resume writing again. We had baked beans, potato soup, and a regular soldiers bill of fare which is as good as can be expected and much better fare than in the field.
As discussed previously, Eli Thornton rejoined his regiment on February 18, 1864. Before leaving, he wrote to his cousin Martha.
Post Hospital, Cairo, Ill., Sunday, Jan. 31st, 1864

Dear Cousin Martha,

It is with a great deal of pleasure I take the present opportunity of answering yours of the 14th instant. It found me enjoying the best of health. The weather is very warm here now and rainy. We have had very little cold weather this winter. The thermometer was 15 degrees below zero for about three days, had very little snow. I have not seen a sleigh this winter. Riding in the mud is not very pleasant as I have been accustomed to sleighing so much in the winter season. I suppose this has been the hardest winter the people of the Northern states have witnessed for several years. It is raining now, the roads are almost impassable, soon will be if it continues so wet.

Sunday evening still raining and "Oh, what mud." I really do not know what we are going to do. We are anticipating a very high flood here this spring. If the water gets as high as it was two years ago, we will have to do all of our traveling in boats. The citizens tell the water was deep enough to row a boat to any part of the city at that time, but enough of this.

Wouldn't it have been pleasant if our circumstances would have been such as to admit of our spending the last Christmas and New Year together. I think we could have enjoyed ourselves very much. I think the time is fast approaching when we will again be permitted to go to our homes rejoicing over the triumphant victorious and ever emblem of freedom, The Star Spangled Banner.

I have not heard from Chet W. for sometime. Expect he is moving and has not time for writing. Last intelligence from home state all well, except Mrs. Taggart who is in poor health. I feel very uneasy about her. Dr. Taggart is still here. He is well and sends his best regards to all. We have about ninety patients in our hospital now. Some very sick men. The mortality list is very light, I think, considering the number treated. Out of one hundred and four admitted this month, there have been eight died. With my love to all of you and hoping to hear soon and often, I remain you aff. Coz. Thornton Hagenbuch
Although much of this letter seems mundane, there is information in it that gives one a "feel" for the times and the thoughts of a Civil War soldier who is having a different experience than those on the front lines. However, a few weeks after this letter was sent, Eli Thornton would be experiencing the same things that Chester W. had already experienced. Chester Willits (b. 1845, d. 1908) was the brother of E.T.'s uncle, Charles Willits. Charles was married to E.T.'s mother's sister, Rachel. E.T.'s father was Benjamin (b.1818), his mother was Larina (Thornton) Hagenbuch (b. 1820) whose sister was Rachel (Thornton) Willits. All of these folks were originally from Columbia County, Pennsylvania.
Chester Willits was a member of Company K, 102nd Illinois Infantry. The 102nd saw action in late 1863 against the Confederate army which was ranging through Tennessee. When E.T. wrote this letter to his cousin Martha, Chet Willits' regiment was gearing up for participation with General William Sherman and his March to the Sea. By the time E.T. writes his next letter to cousin Martha on March 3, 1864 he has been reassigned to join his Iowa regiment which was also in that same campaign.
A future article will detail that March 3, 1864 letter of Eli Thornton's which was written from Woodville, Alabama. In the meantime, if readers are interested they can do more research about the different regiments that Hagenbuchs and their friends served in. The letters written home by soldiers such as E.T. makes the American struggle of the Civil War all the more poignant and personal.