Family Foods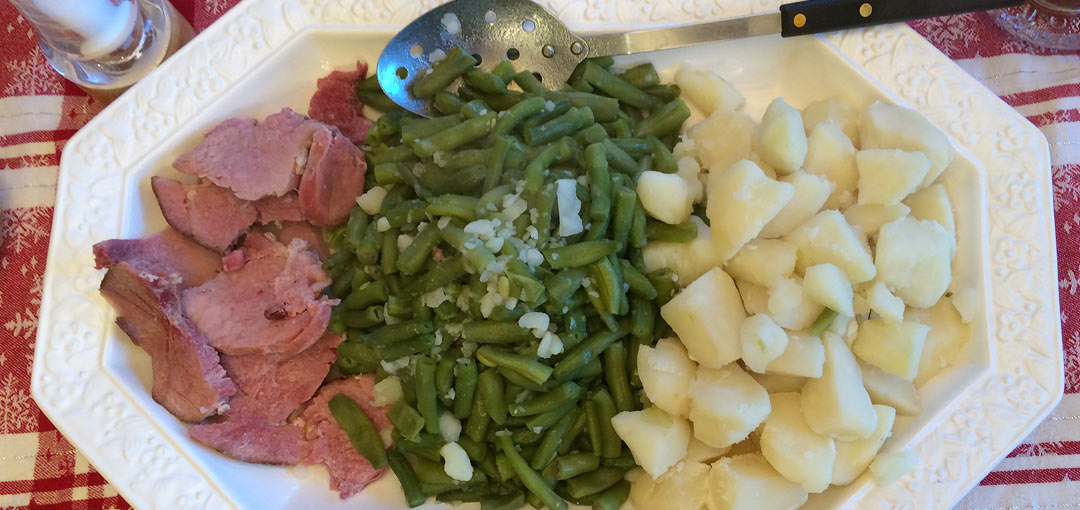 What foods conjure memories of your family past and present? A few weeks ago, while planning a trip to my parents' house, I asked if they had any favorite dishes that their parents used to make. What I got was an eclectic mix of foods—some I knew and others I had never heard of—along with a wonderful conversation about what my grandmothers used to cook for their families.
First up was lunch. It consisted of two main dishes: one made by my paternal grandmother, Irene (Faus) Hagenbuch whom I called "Nana", and another made by my maternal grandmother, Ethel (Brandt) Gutshall whom I called "Oma". We started the meal with Nana's dish, a lettuce and banana salad. Instead of tossing the two main ingredients together, the sliced banana was placed alongside a small pile of iceberg lettuce. The banana was then topped with a scoop of peanut butter, and the lettuce dressed with a dollop of Miracle Whip (not mayonnaise). It was a unique treat to try.
Oma provided the recipe for the next course, beef tongue with homemade rolls. The best way to enjoy this dish is to open up a roll, butter it, and place a slice of beef tongue inside. If you haven't tried beef tongue, don't be too quick to judge. It's actually quite tender when prepared in a pressure cooker and easy to nibble on once the skin has been removed. Even so, I joked that beef tongue sliders weren't likely to replace hamburgers anytime soon!
After an afternoon visit, supper was prepared. This featured a dish that my parents made together, and I certainly remember eating it growing up. The recipe made was for ham, green beans, and potatoes. The three ingredients are cooked together in a pot and then served together. For added flavor, the potatoes can be mashed on one's plate and butter applied. To supplement the meal, I brought and prepared another treat—barbecue bear. The bear was provided by my uncle Luther Gutshall and is similar to a fatty, pulled pork. It was delicious when eaten on a homemade roll.
Originally, I had planned to end my article here. However, after visiting my aunt Barbara (Hagenbuch) Huffman, I found myself eating another family food made by Nana. Aunt Barb and my father had been talking about my request to try the different foods my grandmothers used to make. In keeping with the trend, Aunt Barb prepared a dish that Nana simply referred to as "potpourri." As suggested by the name, the recipe is a combination of a number of ingredients which are stewed together. These may include canned tomatoes, pearled barley, ground beef, celery, carrots, and potatoes. What a treat!
The foods we eat with family are just as important, and memorable, as the photographs we save and the stories we hear. The next time you are visiting with loved ones, consider the recipes you have enjoyed together and make note of them. If nothing else, it's a great way to start an interesting family conversation.