Doughnuts or Fastnachts?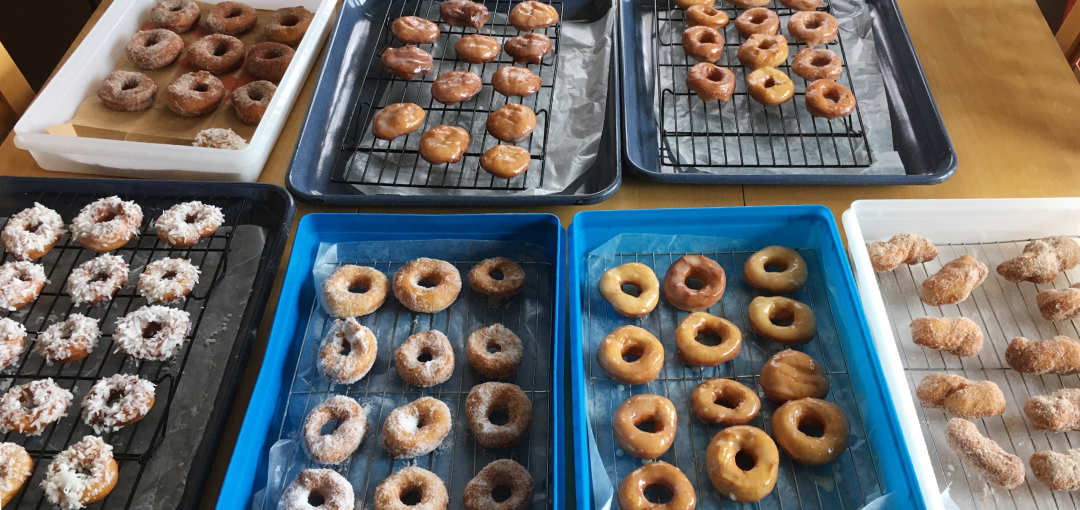 In March of 2017, I wrote an article about Fastnachts, those holeless, wholesome doughnuts that appear every year in parts of Pennsylvania on Shrove Tuesday to usher in the Lenten season. So as not to repeat information, readers should go to the end of that article and read about my experiences with Doughnut Day and Fastnachts.
A few weeks ago, wife Linda said, "You know, we haven't made doughtnuts in many years. I think we should make them this year for Shrove Tuesday." Before we knew it, the day rolled around. That morning, February 16th, I came downstairs and sure enough Linda had mixed up a huge bowl full of yeast dough. We were in business!
We followed the directions of a recipe she had found online and soon had the dough proofing in the oven. Next, we got out our large electric fry pan, several turning implements, oil, and paper bags, then mixed up icing and filled wax bags with sugar, cinnamon and sugar, powdered sugar, and coconut respectively. We took turns rolling out the dough and cutting the usual doughnut shape, though we did try our hands at the no-hole fastnachts and some twisted knots. Once the oil was up to 350º, I had the honor of dropping the dough into the oil as Linda coated each morsel with icing and toppings
Before you knew it, we had seven dozen donuts laid out on wax paper on our kitchen table. Oh, our cats Ollie and Fiona were in the laundry room, keeping them from disturbing us and the doughnuts! Although most of the treats were not true hole-less fastnachts, we were very proud of our work and instantly tried out each type of the tasty, yeasty, fried "dunkers." Of course, I had to eat mine the farm boy way: a bite of doughnut and a swig of cold milk!
Browsing through Facebook, soon after we made the doughnuts, I came across a short piece written by Patrick Donmoyer, Director of the Pennsylvania German Cultural Center in Kutztown. You may remember that Patrick wrote the definitive book on Powwowing which we have discussed before. Patrick has given us permission to use his writing and the accompanying photo:
Among previous generations of the Pennsylvania Dutch, Fasnacht Day was not only a day for eating donuts and using up the remaining fats and sugar in preparation for Lent, but also a time for looking ahead to the coming growing season, and taking stock of your readiness for preparing the land. It was once common to ritually anoint all of the agricultural tools that would be used in turning, tilling, and cultivating the soil, including shovels, hoes, forks, and plows, as well as the implements that would later be used for the grain harvest, including the scythes, sickles, grain forks, and scoops. This process of greasing the tools with Fasnacht fat was not only intended to be a blessing for the productivity of the coming year and a safeguard against pests and blights, but also a practical opportunity to clean and protect the tools from rust, identify any implements needing mending or repairs, and general organizing of the farm tools. As with all Pennsylvania Dutch ritual traditions, the purpose and intent reinforces the spiritual with the practical, and allows for an opportunity to gather, celebrate with your family and neighbors, and to imbue common everyday activities of the agricultural year with greater significance.
Whether you call them Fastnachts or Doughnuts, once you have eaten several of them on Shrove Tuesday, you are ready for Lent to begin. However, I must admit, that even after giving away four dozen or so to friends and neighbors on Shrove Tuesday, the few dozen left lasted into the beginning of the Lenten season. As I finish this article on Friday, February 19, Linda and I are just finishing up the doughnuts and those few fastnachts and twists that we made. Lent lasts for 40 days. I'm not sure we can wait that long until we make the next batch of those sugared, fried pieces of dough or whatever you wish to call them.