Shrove Tuesday, Fastnacht Day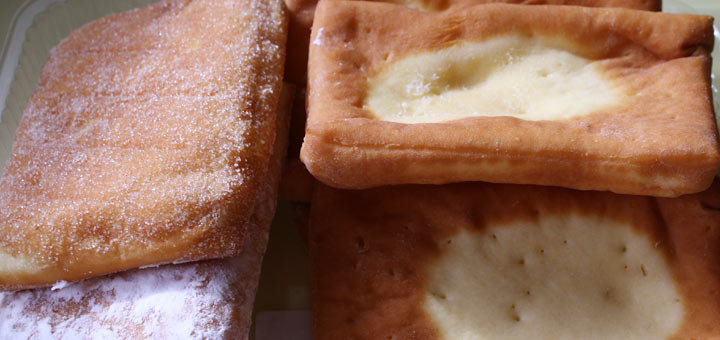 Although this day was celebrated last week, the following article will give some insight into this very Pennsylvania Deitsch tradition. This article appeared in the March, 1984 Beech Grove newsletter. Literally translated from the German, FASTNACHT means "almost night." This term refers to the day before Lent begins, which is the dark or serious time of the Christian calendar.
Following are some beliefs surrounding Shrove Tuesday, the day which precedes Ash Wednesday, the beginning of the Lenten season. These beliefs were very familiar to our ancestors who lived in Pennsylvania and may still be practiced by many of you to this day. The excerpts below are from Eastertide in Pennsylvania by Alfred L. Shoemaker, Pennsylvania Folklife Society, Kutztown, PA, 1960. Remember that when reference is made to "Pennsylvania Dutch Country" or the "Pennsylvania Dutch", the author is speaking of those folks in Pennsylvania with a German or Swiss background, the Pennsylvania Deitsch.
Shrove Tuesday and Christmas have one thing in common in the Pennsylvania Dutch country: they are two days in the year when the kiddies get up unusually early. On Christmas it is to see what Kriss Kringle has brought; on Shrove Tuesday the children get up early because the last one out of bed is called the FASTNACHT and is teased unmercifully all day long, not only by the members of his family but by his schoolmates as well.
The most welcome thing about Shrove Tuesday is the special kind of doughnut, which is traditionally baked on this day in the Pennsylvania Dutch country. This specialty goes by the name Fastnachts. Among families that hold to the old ways, fastnachts are rectangular in shape with a slit in the middle. In recent decades, as commercial bakeries have taken over the making of fastnachts, they have taken on the round doughnut shape. In fact, many of the church groups that annually bake fastnachts to raise money are now also serving them doughnut shaped, perhaps for uniformity's sake.
Just as there is no one shape for fastnachts, so is there no agreement as to whether a fastnacht is properly made with raised or unraised dough. It all seems to depend on the area where one was raised. In Lehigh county only unraised fastnachts were made and always in the traditional rectangular shape. In Berks and Lancaster counties the raised kind were customary.
Raymond Hollenbach from Lehigh County wrote in 1948:
The shape of the fastnacht kuche has nothing at all to do in determining whether the product is genuine or not. The determining factor is whether or not it is baked with yeast. If it is baked with yeast, it is just and ordinary doughnut, regardless of whether it is round, square triangular, or whatever the shape may be. The hole in the center is also immaterial. That is merely put there to insure thoroughness in baking.
A genuine fastnacht kuche is made WITHOUT yeast. This is important. Shrove Tuesday is a religious holiday and the absence of yeast was considered very important by our ancestors. Another thing, fastnacht kuche are baked only once a year – on Shrove Tuesday or the Monday before. The important thing is that they be eaten on Shrove Tuesday, although a sufficient quantity is generally baked to last the rest of the week, provided the family appetite is not too large. Anything baked with raised dough is NOT a fastnacht kuche regardless of when it is baked or how it is shaped.
Following is a recipe for fastnachts which Mr. Hollenbach states has been in his family for generations and was also used by people from Albany, Berks Co. which the area where Andreas Hagenbuch had his homestead and our early Hagenbuch family lived.
3/4 cup of thick sour cream; 3/4 cup of thick sour milk; 1/4 cup of sugar; 1 egg; 1 1/2 teaspoonful baking soda. Stiffen with enough flour to roll. Roll about 1/4 inch thick and cut into desired shape and size – two inch squares are preferable. Fry in deep fat. The amount of sugar may be made larger, but this is necessary if eaten in the approved manner (filled with jelly or molasses).
The fat in which the fastnacht cakes were fried was believed to have more than ordinary power. W. J. Buck writes:
The lard in which the cakes was fried would be preserved as possessing extraordinary virtues in healing sores. Wagons also were greased with it for hauling home the harvest, it being considered efficacious in checking the ravages of rats, mice, and insects.
Alfred Shoemaker continues:
Mrs. George Schroeder of Albany Eck, Berks Co. told me in 1955 that the fastnacht lard was rubbed on a cow's udder if it was sore. Henry Baily of the same locality says this lard was used if a horse had a sore. He also said if a lumberman cut himself with an axe, there was nothing better for the wound that fastnacht fat. Mr. Baily told me in his section the farmers greased the spindles of their farm wagons in the belief that this would prevent any of the horses from becoming fractious. I have frequently been told that folks always greased their garden spade with fastnacht lard before starting to dig garden in the belief that this practice would protect the vegetables from harmful insects and bugs.
Our Pennsylvania Dutch folklore has it that ill luck will befall a family in which fastnachts are not served on Shrove Tuesday. An elderly woman in Lebanon Co. reports that anyone who did not eat fastnachts on Shrove Tuesday would suffer from boils. Miss Esther Moser of Bally, Berks Co. reports a folk belief in her section to the effect that eggs will not hatch under a chicken in a family which neglects to serve fastnachts on this day.
As a boy, the word fastnacht did not exist in my vocabulary. Growing up in Montour County in the 1900s, our Hagenbuchs were three generations removed from the Deitsch words that were common to our Hagenbuch family in Berks Co. We simply called it Doughnut Day and I remember the wonderful, rich, oily smell when I came home from school on Shrove Tuesday as my mother would be deep frying yeast filled doughnuts in lard that had only recently been rendered from the hogs we had butchered a few months before.
I would usually be in time to help dredge the still greasy doughnuts in powdered sugar or a mix of granulated sugar and cinnamon. And, the doughnuts were special for that day, not so much because they were lard fried or yeast laden (Mother always made doughnuts that way), but because we knew the next day, Ash Wednesday, would begin the Lenten season when we would attend mid-week church services at the family church, Oak Grove Lutheran, that were solemn and serious.