Pets on the Family Tree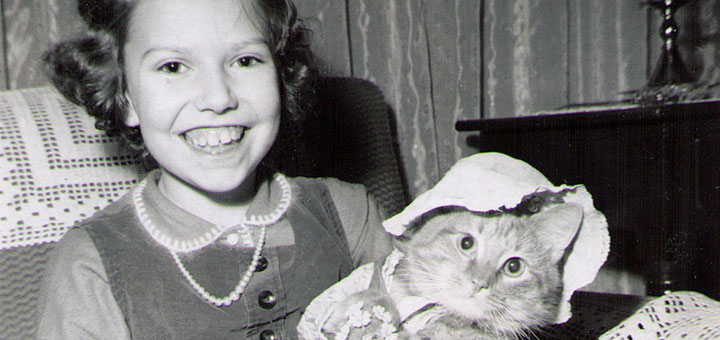 Most people become attached to their pets and treat them as part of the family. Several years ago when I had some graveyard experts to the family plot in Berks County, the one fellow stated that there were probably some pets buried there along with our ancestors. He said it was not uncommon to find evidence in early graveyards of the family dog laid to rest at a gravesite near its master.
Over the years I have had many dogs and cats as pets. Growing up on the farm in Montour County we always had one or two dogs. The most notable of them was a mongrel we called Rinny after Rin-Tin-Tin. Long haired, but the size and look of a small German Shepherd, she was the best farm dog and was especially adept at killing groundhogs! We had many barn cats, none that are remembered today except for a calico with a bent tail named Beauty. Cats were not allowed in our house at the farm, but I do remember Mom allowing Beauty inside at times for a saucer of milk.
My favorite photo of a family pet is not even a pet of mine, but belonged to my wife, Linda. The photo shows her at about age eight holding her cat Tinkerbell dressed in doll clothes. Cats and dogs are not only our companions, but they provide entertainment, often at the expense of the animal's pride!
In a survey from several years ago, more U.S. households owned dogs than cats. But, the households that preferred cats usually had multiple felines so that the number of dogs versus cats as pets is almost even. The following photos depict some of our relatives with their pet dogs.
Taken about 1929, brothers Lloyd Gilroy Hagenbuch, Jr. and Howard Vincent Hagenbuch are shown with this beautiful collie. This is certainly one of the finest photos in the Hagenbuch archives of two boys and their dog. However, the photo of Edgar Reed with his pet bulldog does rival the "two boys and a dog" photo. This photo was taken about 1914 and shows the always nattily dressed Edgar posing with his best companion.
Sons of Percy and Gertrude "Hill" Hagenbuch are having fun with their farm dog near Limestoneville, PA. The photo is of Franklin (Pete) and Norman with their canine friend. The photo was taken about 1924. Another photo of children with their dog was taken about 1930 with Hagenbuch children Charles, Homer, Wilmer, Lee, Florence, and Ellen, children of Clarence and Hannah "Sechler" Hagenbuch. The dog is not the focal point of the photo but does seem to be best friends with Wilmer.
"Julia holding a puppy" is written on the back of this photo. Julia was the daughter of Israel and Minnie "Keefer" Hagenbuch who lived on the Montour County Hagenbuch's homestead very near to Oak Grove Lutheran church. Another dog lays at Julia's feet, most likely a border collie as Julia's brothers, Bruice and Andrew, raised sheep. The photo was taken about 1935.
Two cute puppies with three cute Hagenbuch girls are in the next photo. From right to left are shown Wilma, Frances, and Viola Hagenbuch, daughters of William (son of Franklin Hagenbuch) and Carrie "Welliver" Hagenbuch. The photo was taken about 1959.
Horses and mules were prevalent on the farms before tractors, and the Hagenbuch archives have several fine depictions of these "neigh sayers." The first photo was taken at the John Reichard farmhouse with a beautiful white stallion in front. Dated about 1920, it appears that sitting on the porch are Emma "Hagenbuch" Reichard and standing beside her are her sons, Wilmer and Raymond.
The second photo shows brothers Clarence and Luther Hagenbuch with not just teams of horses, but also some mules. This is a wonderful photo taken about 1910. Finally, a photo of brother and sister, Lee and Mary Hagenbuch – children of Clarence and Hannah "Sechler" Hagenbuch, with two beautiful white work horses. This photo was given to me by my Aunt Mary several years ago and on the back with her typical humor she wrote: "Don't laugh, Mark. I think those horses didn't see me before." In later life my father, Homer (brother to Lee and Mary), would go over some of the names of the horses they had on their farm which included Fanny, Bert, and Bird.
Although certainly not pets, cows were the predominant animals on most farms. She was one of the finest ladies I have known, but Lulu "Mast" Roat did not have the reputation as a farm wife who got her hands dirty with barn work. This comical photo of her with one of her husband Paul's cows was taken about 1950.
A few photos exist of Percy Hagenbuch's goat. This one has oldest son, Cyrus, leading the goat attached to a cart with siblings Mary and John. This is a beautiful photo that makes me laugh each time I look at it; Cyrus with his straw hat, Mary with a bit of a smile, and John looking a bit concerned about this cart ride! I have often told my wife and children that I would enjoy having a goat and cart to pull me around the yard!
I had to include this last photo. Taken in October of 1957, it shows me, Mark Hagenbuch, holding one of those barn cats of which we probably had 15 or more! I was likely holding it tight so it wouldn't run away, as most barn cats were always "wild." In the back on the right can be seen another cat, possibly the mother. I'm sure, due to the way I'm holding this poor kitten, someone is telling me, "Don't squeeze it!"
Over the years, our family has had a number of cats: Smerfle, Seamus, and Pepper whose photo hangs in our library. Our present cat, a female named Angus (don't ask!), is a beautiful orange tabby who is certainly one of the family. As you write your family histories and stories for future generations to enjoy (as we all should be doing), don't forget to include the animals that add so much enjoyment to our family "tales!"