Andreas Hagenbuch's Soldier Sons: Part 1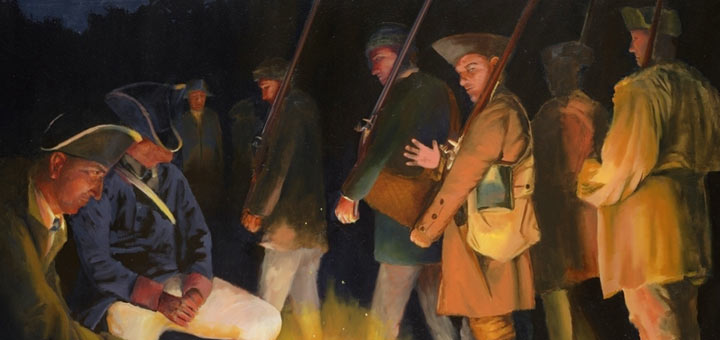 Over the past 40 years I have presented many programs to historical groups such as the Sons of the American Revolution (SAR) and Daughters of the American Revolution (DAR). In fact, I am a member of the Harris Ferry Chapter of SAR, although I have been inactive for several years.
To belong to these organizations, one must prove that he or she had at least one ancestor who served in the Revolutionary War. With many people, this can be a status symbol. The more ancestors one has that served or the more lucrative service or rank that one's ancestor had that's all the better!
The vast majority of Americans who served during the Revolutionary War were common men who answered the call to the "cause" and may have only served six months to a year or so. They did not do anything "heroic" nor have a rank above private. When doing programs for the SAR and DAR I would dress as a private in threadbare coat and breeches, battered tricorn hat, and dirty shoes.
I would start the program with this statement:
Most of you had an ancestor in the Revolutionary War that looked like I do now. They were not heroes, they were not officers, and they did not serve long periods of time, for they went in and out of the Continental Army service because their farms and businesses were more important than a country that hadn't really been established yet. One of my Revolutionary War ancestors, Michael Hagenbuch, probably only served a few months, may have never left Pennsylvania, and probably never saw action.
Of course, this would raise the eyebrows of some of the listeners, but others understood what I meant. The importance of an ancestor's service in the Revolutionary War does not hinge on a pretty uniform or rank. It is important because they just "did it"!
All four of Andreas's sons served in the military sometime during the American Revolutionary War. Only the eldest, Henry (b. 1736, d. 1803), has detailed information written about him concerning his service. The other three sons: Michael, Christian, and John, served as privates in Berks and Northampton Counties as part of the county militia system.
It is important to note that Andreas himself has been listed by the Daughters of the American Revolution as giving "patriotic service". The details behind this have never been fully ferreted out. However, there is a family story that Andreas housed and fed Continental soldiers at his home in Berks County.
In one instance, these soldiers were led by Captain Thomas Craig of the 2nd Pennsylvania Battalion. Craig would later become a Colonel and finally a General in Washington's army. Furthermore, Craig's son Thomas Craig, Jr. married Catherine Hagenbuch, a granddaughter of Captain Henry Hagenbuch, the oldest son of Andreas. The story has Capt. Craig and a company of soldiers ranging out from Philadelphia on reconnaissance in the winter and stopping at the Hagenbuch homestead. The soldiers were fed cold sauerkraut and moved on to resume their duties.
The simple service record of each of the sons follows: Henry (b. 1736, d. 1803) was commissioned a lieutenant in May, 1775 of the Salisbury Township Company, Northampton County. In July of 1776 he was commissioned captain of a company of the Flying Camp from Northampton Co. commanded by Lieut. Col. Peter Kichline and Colonel Joseph Hart.
Michael (b. 1746, d. 1809) was a private in the 3rd Battalion, Albany Township, Berks County under Capt. Ferdinand Ritter, commanded by Colonel Joseph Hiester. Christian (b. 1747, d. 1812) was a private in the 6th Company, 4th Battalion, Allen Township, Northampton County, under Capt. John Ralston, commanded by Colonel John Siegfried. John (b. 1763, d. 1846) was a private in the 6th Battalion, Northampton County under Capt. Matthias (Nathaniel) Brobst, commanded by Colonel Henry Geiger.
Captain Henry Hagenbuch has the most interesting and detailed military service of the four sons. He owned the Cross Keys Tavern in what later became Allentown, Pennsylvania. The History of Lehigh County, Pennsylvania references Henry's service:
[Henry] was commissioned a lieutentant on May 22, 1775 of the Salisbury Company, with a total rank and file of one hundred men. On July 9, 1776, he was commissioned captain of a company, which was part of the Flying Camp of 10,000 men commanded by Colonel Hart. On Aug. 6, 1776, Captain Hagenbuch and company were encamped at Perth Amboy, New Jersey, and on August 27th, of the same year, they participated in the battle of Long Island, in which some of Captain Hagenbuch's men were wounded. He continued to be active with the associators and militia of Northampton county as late as April 23, 1783.
The Flying Camps were not recognized as regular service Pennsylvania soldiers that were organized into the numbered regiments of the Continental Army. They were special battalions of Pennsylvania Line troops recruited from the Pennsylvania Associators. Associators were volunteers who comprised a civilian reserve designed to repel any invasion of Pennsylvania. Therefore, the men that were part of the militia system, even the special battalions of the Flying Camps, probably had no designated uniforms. However, an officer (i.e. Capt. Henry Hagenbuch) might have had a special coat tailored to display his rank. Before 1777, Pennsylvania officers' coats were not necessarily uniform. They could be brown with red or green facings; or blue with red or green facings. (Facings are cuffs, collar, and lapels).
For a detailed history of Capt. Henry's participation in the Battle of Long Island (apparently the only action he saw but nonetheless hot and heavy), we turn to an article written by Thomas Verenna which appeared in the November 12, 2014 issue of Journal of the American Revolution. There were four companies of Northampton County men, Henry's company being the only one at full strength with 108 privates and commanded by Lieut. Colonel Peter Kichline. According to author Verenna, "These four companies played an integral part in the engagement [the Battle of Long Island]."
Early in the morning of August 27, 1776 several British regiments attacked the American picket guard at Jamaica Pass at the easternmost part of Long Island. Among the troops ordered to support the picket were Lieut. Col. Kichline's battalion which included Capt. Henry Hagenbuch's Northampton County Flying Camp soldiers. As Verenna states, "That Kichline's men, green as can be, engaged with hundreds of British light infantry only 150 yards away, is fairly impressive."
Kichline's troops were eventually pulled back to support the rear action where they were routed by an even stronger British opposition which included the famed 42nd Royal Highland Regiment, otherwise known as the Blackwatch. The battalion lost more than 200 men. Lieut. Col. Kichline and several other officers along with Capt. Henry Hagenbuch were taken prisoner.
This is where the information gets a bit sketchy. It was common to incarcerate American POWs on prison ships in Wallabout Bay off the shore of Brooklyn, the most infamous being the Jersey. Was Henry kept in one of these rat infested "hells" for a time where more American soldiers died than on the battlefields of the war? Research is being carried out to discern if Henry was exchanged or escaped from his captors and to determine how much time he might have actually spent as a prisoner of war.
Another theory is that Henry may actually have been paroled, meaning that he was not allowed (by the rules of war) to resume activity as a soldier. We know that before the end of the war Henry was back in Allentown and continued his tavern keeping business at the Cross Keys.
In the second part of this article, what little information we have on the military service of Andreas's other three sons will be discussed. For more about the participation of the Northampton County Flying Camp at the Battle of Long Island, read the following article.
Many thanks to Susan Gable and White Historic Art for the above artwork.