Harry E. Is OK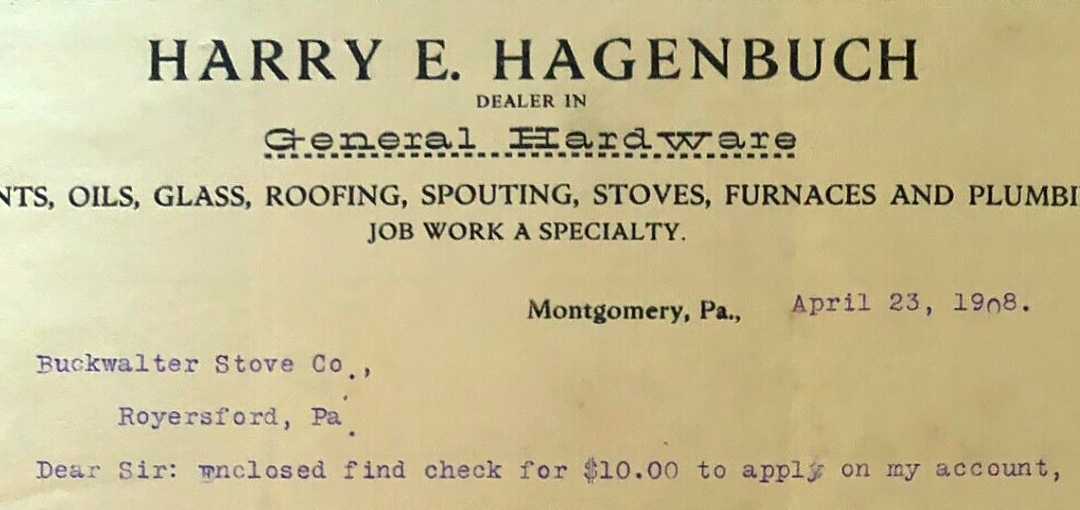 Andrew and I work in tandem to put articles together. We will share interesting information about a person, place, thing, or idea and then decide who is going to write an article about it. Such was the case when he emailed me on August 19th with a 1908 letter that was being sold on eBay. The letterhead noted "Harry E. Hagenbuch" as a business man living in Montgomery, PA who sold "General Hardware." Harry was paying on merchandise he had purchased from the Buckwalter Stove Company in Royersford, PA. Andrew did some digging and found the grave record of Harry E. Hagenbuch on Find-a-Grave. Along with his birth and death dates, birth place, burial spot (Oklahoma City), Find-a-Grave had the following obituary from The Oklahoman dated Monday, March 14, 1955:
Services for Harry E. Hagenbuch, 86, longtime city resident, who died early Saturday at St. Anthony Hospital, will be at 10:30 am Monday in the Hahn-Cook Funeral Chapel with burial in Rose Hill Cemetery. The body will lie in state until 10 am Monday in the chapel. The family has asked that no flowers be sent, but that any donations be made to the cancer research fund.

Born in Orangeville, PA, Hagenbuch came to Oklahoma City in 1908 to become associated with the Crane Co., a wholesale plumbing supply firm. He left the company in 1917 to work for Mideke Supply Co., where he remained until his retirement in 1933.

Survivors include his wife, Matilda, of the home at 3217 NW 12; a daughter, Mrs. Sarah Lanonette, Phoenix, AZ; a half-brother, John Knorr, Bloomsburg, PA; and a niece, Mrs. James Francis, Phoenix.
Andrew's question was: "How is Harry related? This would be a good article." And my immediate thought was: Right! Who is this fellow?
So, I started to do my own digging. Turning first to my well-worn paper records, I found no Harry E. Hagenbuch. Fortunately, we had the birth and death dates along with the place of birth. Next stop was Ancestry.com to check out the census. After a bit of research, I had his line traced: Andreas (b. 1715) > John (b. 1763) > Simon (b. 1788) > Samuel H. (b. 1818 ) > Harry Eugene (b. 1869).
Having been born in Orangeville, near Bloomsburg, Pennsylvania, then moving to the small town of Montgomery, Pennsylvania in Lycoming County, and finally relocating to Oklahoma City, Oklahoma, I could understand how Harry got lost in the shuffle. However, I still had a question in mind.  With so many other Hagenbuchs living in and nearby Montgomery during his residence there, why didn't any of the other family groups that I had been in contact with over the years remember him? This includes my own family clan living nearby in Northumberland and Montour counties.
Harry E. is descended from Andreas' youngest son whom we commonly refer to as Runaway John. We have written a number of articles about John, as he was a very interesting character. John was born at the family homestead in Berks County. Eventually, he moved to Columbia County in 1806, near Hidlay Lutheran Church, where he and his wife Magdalena Dreisbach are buried. John and Magdalena had eight sons, the eldest being Simon. Simon was born in Northampton County in 1788 and died in 1858. In 1808 he married Elizabeth Miller, who died in 1836. They are buried at the Briar Creek Union Cemetery, Columbia County, PA. Simon received 63 acres of land from his father, John. He was a farmer and also transported goods to and from Philadelphia. He lived near Orangeville.
Simon and Elizabeth had eight children: Mary "Polly" married to Jacob Sitler; William Herman married to Mary Magdalene Keller; Rachel who never married; Samuel H. (father of the subject of this article, Harry Eugene) married first to Susanna Evans and second to Sarah (last name unknown); George married first to Phebe Palmer and second to Campaspa Melick; Sarah married to Freas Fowler; Hannah married to Rev. Isaiah Bower; and Caroline married to George Beam. The seven children who were married produced numerous descendants, many of whom are recorded in Beechroots.
Samuel H. Hagenbuch was born in 1818 in Columbia County, PA. He died on February 14, 1885 and is buried in Lightstreet Cemetery, Columbia County, PA. He was married twice: first to Susanna Evans, probably in 1842, and second to Sarah (last name unknown) in about 1868. Susanna died in 1866 and depending on when Samuel's ninth child, James, was born Susanna may have been the mother of the first nine children. The tenth child, Harry Eugene, was born January 5, 1869. Therefore, it is known that his mother was Samuel's second wife, Sarah.
The children of Samuel and first wife Susanna are: William (b. 1843, d. 1915, m. Christiana Suker, they are buried in Montgomery County, PA); Francis (b. 1848, probably died young); Almira (b. 1850, probably died young); Steward (b. 1851, d. 1912, m. Mary Katherine Jones, they are buried in Bloomsburg, PA); George (b. 1853, d. 1934, m. Julia Best, they are buried in Wisconsin); Bertha (b. 1857, d. 1912, m. Charles Erieg, they are buried in Williamsport, PA); Charles (b. c. 1860, d. 1919 in Chicago, IL); Anna (b. 1864, d. 1960, m. Maurice Kramlich, they are buried in Shamokin, PA); and James (b. c. 1865, d. 1886, buried in Lightstreet Cemetery, PA). It should be noted that records are inconsistent about James' birth year, which could be 1863, 1865, or 1867.
Samuel married Sarah around 1868. Samuel plied his trade at several jobs all in Columbia County. In 1850 the census lists him as a boatman in water transportation; in 1870 as a farmer; and in 1880 as an innkeeper. Samuel and Sarah had two sons: Harry Eugene (b. 1869, d. 1955); and Hervey (b. 1874, d. 1885). Hervey is buried at the cemetery in Lightstreet, PA.
Harry married twice: first to Florence Elizabeth Wagner in 1899 and second to Matilda Teresa Coughlin in 1911. He divorced Florence in about 1910, and she remarried John Thurman in 1918. Harry and Florence had a daughter, Sarah, who was born March 17, 1900 and died in 1988 in Phoenix, AZ.
Harry did move around. At the age of 11 he lived in Orangeville, PA with his family. In 1900 he can be found living in Montgomery, PA with wife, Florence, and their infant daughter, Sarah. He is listed as a farmer renting a house on Houston Avenue. By 1908, he was still living in Montgomery and working as a general hardware salesman. According to the 1910 census, just two year later, Harry is listed as married, although his soon-to-be ex-wife Florence is not living with him). He is renting a room on North Broadway Street, Oklahoma City, OK. His occupation is listed as a clerk in a hardware store. In 1930, the census lists him with second wife, Matilda, living in Bethany, OK, which is near Oklahoma City. Bethany is bisected by the famous Route 66. Harry owns his own home and is a wholesale plumbing salesman.
Finally, in 1940, Harry is back in Oklahoma City living at 3217 12th Street with Matilda and owns his home and plumbing shop. Harry died March 12, 1855 in Oklahoma City. Matilda, who was born in 1871 in Mississippi, died on November 24, 1967. They are buried together in Oklahoma City.
Harry E. and Florence (Wagner) Hagenbuch's daughter, Sarah, was born March 17, 1900, probably in Montgomery, PA. It has been difficult to find information about her. She died in 1988 in Phoenix but her burial location cannot be found. She is listed in Harry's obituary as having the married name of Lanonette, but in her step-mother Matilda's obituary, she has the married name of Fisher. The 1920 census, when she is 19 years old, shows her living in Detroit, Michigan with her mother Florence and step-father John Thurman. She is a clerk at a telephone company. There is no record of her having children from either of her possible marriages, so the line for Harry Eugene Hagenbuch probably ends with Sarah.
Because of a 1908 remittance letter found on eBay for merchandise purchased by Harry E. Hagenbuch, our Hagenbuch family genealogy is a bit more complete. Previous to this, little information was noted about Harry's father Samuel (b. 1818) in the paper records which I worked on back in the 1980s. Only Harry's two brothers that died young, James and Hervey, have any information recorded in the paper records, as I did find their names in grave records back in the day. All of the above information has now been recorded (plus some small details which I did not include in this article), and there is certainly more to find.
Questions and speculations continue to arise in the querulous genealogical mind. There were Hagenbuchs living in Montgomery, PA in 1900 when Harry E. lived there. Harry's second cousin Hiram Hagenbuch (b. 1842) and his son RD Hiram Hagenbuch (b. 1884) were living in Montgomery at that time. They must have known Harry E. Furthermore, one has to wonder what led Harry to move to Oklahoma by 1910. Was it a job offer or did he know someone there? It is suspected that's where he met his second wife, Matilda, as he is still listed as married to Florence in the 1910 census. Did Florence and Sarah stay in Montgomery after Harry moved to Oklahoma City or did they move as well? Marriage records reveal that Florence remarried John Thurman in 1918 in Lucas, Ohio.
One other detail mystifies me. Harry's obituary lists John Knorr from Bloomsburg as a half brother. John Knorr (b. 1862) and Alvaretta Knorr (b. 1853) are listed in the 1870 census as living with Samuel Hagenbuch, his wife Sarah, and several other Hagenbuch children. This could mean that Samuel's second wife, Sarah, was married first to a Knorr. Upon further research a Sarah is found married to Jacob Knorr in the 1860 census with a daughter Alvaretta. However, if John Knorr is a son to Sarah Hagenbuch's first marriage, the date of his birth, 1862, puts his birth date in between children born to Samuel and his first wife, Susanna. This means John has no blood relation to Harry. Of course, the obituary could have gotten the terms "half brother" and "step brother" interchanged. It is certainly a tangled web!
As with so many stories in our family genealogy, there will always be loose ends. However, it's truly gratifying to Andrew and me when we can fill in so many empty spaces in Beechroots and add to the ever-increasing number of recorded descendants for patriarch Andreas Hagenbuch.