Quilting: A Family Tradition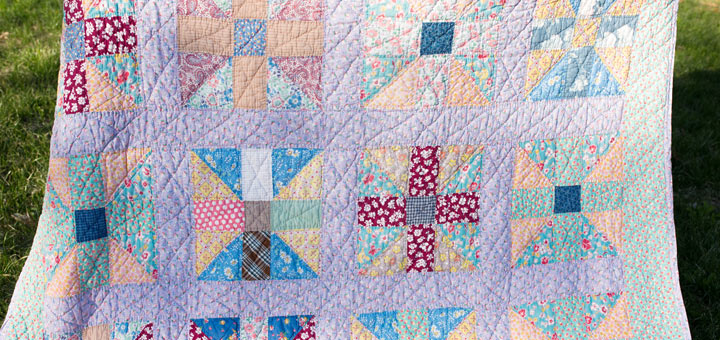 Many families have traditions of creating crafts, often times American folk crafts, that have been handed down from generation to generation. Joanne (Hagenbuch) Griffith is an example of this, as she is a quilter. Joanne's family line is Andreas (b. 1715) > Michael (b. 1746) > Henry (b. 1772) > William (b. 1807) > Hiram (b. 1847) > Israel (b. 1883) > Israel Walter (b. 1910) > Joanne Ellen (Hagenbuch) Griffith.
In the past year Joanne, who is my second cousin, has sent me photos of several of the quilts she has made. So, I asked her to write a few paragraphs to accompany the photos for an article about her skill and continuation of this family tradition.
Below is Joanne's description of the quilts:
---
I have always had a love of quilting and quilts. When I was a child there was one special quilt that mother would cover me with when I was home from school and sick. I am lucky enough to have that quilt. Sewing and crafts have always been a love of mine. The local newspapers, each week, would feature a quilt pattern that you could send away for. In addition, magazines such as Farm Journal would feature a quilt pattern.
When my late husband and I purchased a condo in Ocean City, NJ in 1976, I made my first quilt for the bed. The pattern was Giant Dahlia and I hand quilted it. That started my quilt making journey, making anything from baby quilts for friends and family to king-size quilts. My first large quilt was hand quilted. I then moved to the "quilt as you go" method which is to quilt all of the layers of fabric together as you are piecing the quilt, so that you are working with small, more manageable pieces. In 2005 I purchased my first long arm quilting machine. That led to quilting for others as well as myself.
When I moved to Frederick, MD with my late husband I stopped quilting for others so that I would have more time for piecing and quilting. I now own a computer driven long arm quilting machine which has opened up to me a whole new world of creating, piecing and quilting. Most recently I was able to show one of my quilts at the American Quilt Society show in Lancaster, PA. (That quilt is hanging on the wall behind me in the photograph.)
There is definitely a new interest in quilting and I see it being enjoyed by the young as well as the older generations. Quilts are being created using the older, reproduction fabrics and patterns as well as the new, modern quilts. I am fortunate to live in the Lancaster area where there is a wealth of stimulation and interest in quilting.
Quilting is a historical art. Hand quilting is done by using needle, thread and thimble, working the needle up and down in the top, batting and bottom layer of fabric, striving for 10 to 12 stitches per inch. This is done by either placing the fabric in a large hoop or on a floor standing quilt frame. The frames usually measure 8 x 2 feet. There were times when the frame might measure 8 x 8 feet with the quilt stretched between. Ladies would gather for the afternoon, sitting all around the frame and quilt for hours—a quilting bee!
I am most fortunate to have had maternal and paternal grandparents and a mother who had a keen interest in quilting, and I hope to be able to enjoy it for many years to come.
---
My daughters, Katie (Hagenbuch) Emig and Julie Hagenbuch own pieces made by their namesakes. Katie is named for her great, great Aunt Katie—Kathryn (Hagenbuch) Roat (b. 1879). Julie is named for her great, great Aunt Julia Rebecca Hagenbuch (b. 1884) and her grandfather's first cousin, Julia Catherine Hagenbuch (b. 1915). Julia Catherine is the aunt of Joanne Griffith.
The following photos show the pieces passed on to Katie and Julie; although the one held by Katie is more commonly called a coverlet instead of a quilt, because it is knotted instead of quilted all the way through to the bottom fabric.
Another piece, owned and held by Julie, seems to be a sheet with quilting on top of it. She believes this was quilted by her grandmother, Irene (Faus) Hagenbuch.