Mary C. Hagenbuch's Counterpane, Part 2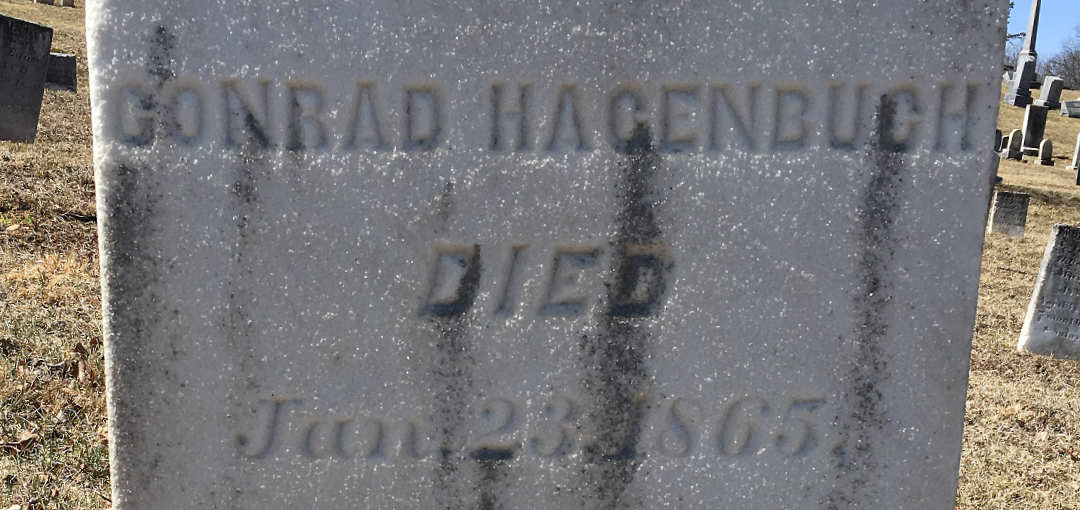 When Andrew and I started this site almost seven years ago, we were interested in preserving stories of our family, predominantly our immediate Hagenbuch family. In 2016, Andrew launched Beechroots, our online family tree. Our genealogical storytelling and research took a turn for the better. It became more global, and we began to consistently use online research tools like Find-A-Grave and Ancestry to bring more Hagenbuchs and allied families into the fold.
Actually, we were including many other families before 2016, but we ramped up this process as we took the paper family records that I began compiling back in the 1970s, put the information into Beechroots, and began writing articles about many other family groups. The name "Hagenbuch" and our articles were appearing more frequently in search engines. Where once we were doing all the seeking, now others were seeking us to ask questions and share their family information, so they could be included in our growing number of Andreas Hagenbuch's descendants. We now have almost 5000 people listed in Beechroots. Yet there are many, many more to find and add!
A great example of people contacting us is Debbie Hagenbuch-Reese, who owns a beautiful Hagenbuch counterpane from 1844. Not only did she reach out and provide new family information for Beechroots, but she also has shared a wonderful visual part of our history spanning over 175 years and including two of Andreas' sons—Christian (b. 1747) and John (b. 1763). In the first article about the counterpane, we explored its history and first owner owner, Mary C. Hagenbuch (b. 1827). Now, let's go a step further and report on the present owner's family.
The lineage of Debbie Hagenbuch-Reese is as follows: Andreas (b. 1715) > John (b. 1763) > Johann Conrad (b. 1790) > John Phineas "Finis" (b. 1812) > George Eli (b. 1849) > William Solomon (b. 1880) > Robert Andrews Hagenbuch (b. 1932) > Debbie Hagenbuch-Reese. This family has been touched upon in other articles but nothing definitive has been written about them.
Andreas and Anna Maria Margaretha (Friedler) Hagenbuch's youngest son was John (b. 1763). We have written much about John. He appears in many articles, and my personal feeling is that he was quite the character! He was married to Maria Magdalene Dreisbach (b. 1766), and they had eight sons. The second eldest of these was Johann Conrad Hagenbuch (b. 1790), who is listed in census records and on his gravestone at St. John's Lutheran Church (also known as Delaware Run) as "Conrad." Conrad was a farmer in Delaware Township, Northumberland County, Pennsylvania. He was married to Mary Ruckle (b. 1790) and they had three daughters and one son.
Their son, John Phineas (who appears to have gone by "Finis"), was born in 1812. He was married to Barbara Ann Dentler (b. 1815). According to the 1850 census, Finis was an innkeeper in Delaware Township. His "Industry" is listed as "eating and drinking places." Finis' and Barbara's great great great grandson, Andy Simon, has provided detailed information on Johann Phineas and his interesting life. Andy writes:
[Johann Phineas Hagenbuch] was a hotelier for more than two decades. From 1839 to 1842, [he] ran a hotel in Delaware Twp., Northumberland County. After three years there, John, or "Finis," as he was often called, relocated to Allenwood in Union County, where he kept another hotel from 1842 to 1860.

In addition to working in the hotel business, Finis was a politician. He was county auditor in Lycoming County for a period, and in 1860 was a delegate to the national Democratic convention. He seems to have been a southern sympathizer during the Civil War, because in 1863 he moved with his family to Winchester, Virginia. They resided there until 1873 before returning to the Elimsport, Pennsylvania area. Before long, however, Finis was drawn back to the Old Dominion, because in 1880 he was recorded on the U.S. Census as a farmer living in the Jefferson District of Alexandria County, Virginia (modern-day southeastern Arlington County/northeastern Alexandria City). In his final years, Finis relocated for the final time with a return to his native Keystone State.
Finis died in 1891 and Barbara died in 1890. They are buried in the Allenwood Cemetery, Union County, Pennsylvania. In a July 2019 article, Finis' family was mentioned. He and Barbara's eight children are listed, one of them being George Eli. George was born in 1850 and died in 1915. He was married twice, first to Rebecca Gartner (b. 1846) and after she died to Henrietta Kitchen (b. 1870). George and Rebecca had seven children: infant twins who were born and died in 1872, Henry Emerson (b. 1877), William Solomon (b. 1880), George H. (b. 1886), and Edna (b. 1888). George and his second wife, Henrietta, had one child: Mark Lamont Hagenbuch (b. 1893, d. 1973). An article was published in January 2018 that discussed Mark and his family. George Eli and Henrietta (Kitchen) Hagenbuch are buried in the Muncy Cemetery, Lycoming County, Pennsylvania. First wife, Rebecca, is buried at St. John Methodist Church Cemetery in Elimsport, Lycoming County, Pennsylvania.
George and Rebecca's son, William Solomon, was born in 1880 and married Lucy Andrews (b. 1890). They had three sons: George Andrew (b. 1921), Donald Andrews (b. 1927), and Robert Andrews (b. 1932). George had the middle name of Andrew. But Donald and Robert, both born on the same date of April 6th but five years apart, had their mother's maiden name, Andrews. Although living in Lycoming County, Pennsylvania in 1880 with his parents, George Eli and Rebecca, by 1930 William and Lucy had moved to St. Augustine, Florida. William was working as a post office clerk in that year.
William died in 1957 and Lucy died in 1966. They are buried in Evergreen Cemetery, St. Augustine, Florida. We are waiting to hear from Debbie for more information about this family. She did write and let us know that George Andrew (b. 1921, d. 1988) has a son, William Wayne Hagenbuch. Donald (b. 1927, d. 2006) has a son, Donald Allen Hagenbuch. Debbie has a sister, Dorothy Jo (Hagenbuch) Taylor.
Back in 1844, a young girl was given a bed covering, a counterpane, likely as part of her future dowry. Never married, she passed it on to others until it became the property of her second cousin, four times removed. Mary C. Hagenbuch was that young girl who never married, and her distant cousin—the present owner of the counterpane—is Debbie Hagenbuch-Reese. Debbie had the foresight to preserve this important family heirloom, tying together multiple family groups and enabling all of us to share in its wonderful story.