Mary C. Hagenbuch's Counterpane, Part 1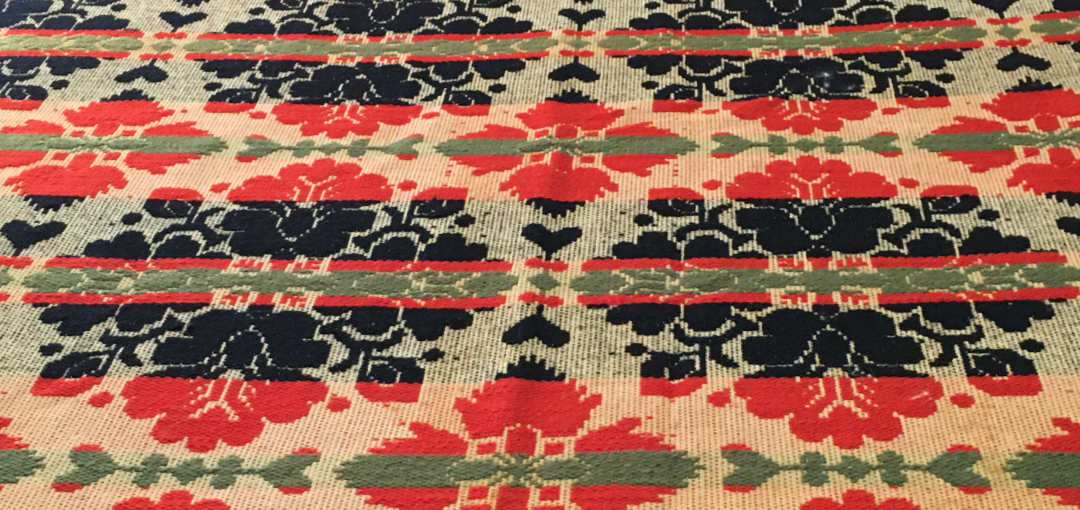 On June 4th, we received a message from Debbie Hagenbuch-Reese. First, Debbie gave us her lineage, descending through patriarch Andreas' youngest son John (b. 1763). Then, she mentioned that she would like to attend the reunion next year, traveling all the way from St. Augustine, Florida! Finally, she added this:
I am also searching for Mary C. Hagenbuch, who lived either in or near Easton, Pennsylvania in 1844. I have her counterpane. It was made for her by Peter Seibert, and I would love to know more about her. Any information you could provide to me would be most welcome. I look forward to hearing from you. Thank you for your time.
Andrew contacted me almost immediately and said he had not been sure of the definition of the word "counterpane" so he looked it up. Well, it's an old word used for a bed covering. I knew the word only because years ago I had read a poem written by Robert Louis Stevenson of Treasure Island and Kidnapped fame. "The Land of Counterpane" is only four stanzas long, but it describes a young lad, sick and bedridden, who imagines the folds in his counterpane to be mountains and valleys. The lad takes his toys—lead soldiers, tiny ships, and houses—and plays with them on the counterpane. It's a wonderful poem. Click here to read it.
Debbie wrote to Andrew with more information about how she came to own the counterpane:
At one time this counterpane belonged to my friend Marybeth's mother. When her mother passed away, Marybeth contacted me and offered to sell it to me. Of course, I had to have it. Apparently it belonged to Marybeth's grandmother's step-mother. The step-great grandmother's name was Kathleen Arndt, and she married a man named Hazard Graff. She would have been younger than Mary C, but Kathleen came from that area of Pennsylvania [Easton, PA], and they could have been friends. If Mary C. wrote a will and this item was mentioned—we then have our connection. It is in excellent shape. Honestly, I think it has spent its entire life put away. I don't think it has ever been used. If Mary never married, and this was ordered by her father in anticipation of a marriage—it would make sense.
Fascinated by Debbie's story of the counterpane and the photos she sent of it, Andrew started researching. Using Beechroots, he found that Mary C. Hagenbuch was descended from Andreas' third son, Christian (b. 1747): Andreas (b. 1715) > Christian (b. 1747) > Joseph (b. 1795) > Mary Catherine Hagenbuch (b. 1827, d. 1883). As mentioned earlier, Debbie Hagenbuch-Reese is descended from Andreas' youngest son John and, therefore, from a different line than Mary. So, what is the connection between Mary C. Hagenbuch and "Kathleen Arndt," who came to own the counterpane? Here is what Andrew wrote to Debbie, some of which has been edited:
I believe I have found the family connection of how this got to your friend's mother. In brief, it passed from Mary C. Hagenbuch to her niece Katherine Arndt (not Kathleen). Mary Catherine Hagenbuch (b. 1827) had a younger sister, Caroline Amelia Hagenbuch (b. 1834). Caroline married Jacob Arndt, and they had several children: Carrie, Annie, Katherine (married to Charles Graff), Edward, and Frederick. After the death of her husband, Caroline (Hagenbuch) Arndt worked as a shoe dealer in Easton with her sisters, Mary Catherine and Annie Hagenbuch.
Based upon the above, it stands to reason that the counterpane went from Mary C. Hagenbuch to her niece Katherine (Arndt) Graff (b. 1859). Debbie's story has most of the names correct and the connection is then from Mary C. to the niece, Katherine Graff who was Debbie's friend's grandmother's step-mother. This is not as confusing as it sounds once written out in a genealogical chart!
I did a bit of research myself to find out about Peter Seibert, the creator of the counterpane. Peter is listed in the 1860 census as living in West Easton, Northampton County, Pennsylvania. His occupation is recorded as a "cover weaver" and in the 1870 census he is listed as a blanket maker.
Most likely, as Debbie surmised, Mary C. Hagenbuch's father, Joseph, had the counterpane woven for his daughter as part of her dowry and it was made by Peter Seibert in 1844 when Mary was 17 years old. Joseph and his family were living in Easton during that time, and he hired a local weaver, Seibert, to make the counterpane. It should be noted that it appears Mary C. never married, further explaining why the counterpane was passed to her niece.
Yet, I kept wondering: was there a family relationship between Peter Seibert and the Hagenbuchs? Maybe. Peter was married to Sarah Schmick who was from the Kutztown, Pennsylvania area. Kutztown is not that far from the Hagenbuch homestead so Sarah (Schmick) Seibert may have known Mary Catherine's family.
One of the most interesting parts of this story is the connections which brought Debbie Hagenbuch-Reese to our attention. Although we have Debbie's grandparents and her two uncles listed in Beechroots, her father is not there. The counterpane, even though it came from a different Hagenbuch line, came to be hers. She then found Andrew and me through this site, enabling us to share this wonderful story about a woven bed cover, a counterpane, as well as information about her own family. Part two of this article will pick up there and explore Debbie's Hagenbuch family line.