What Did They Read?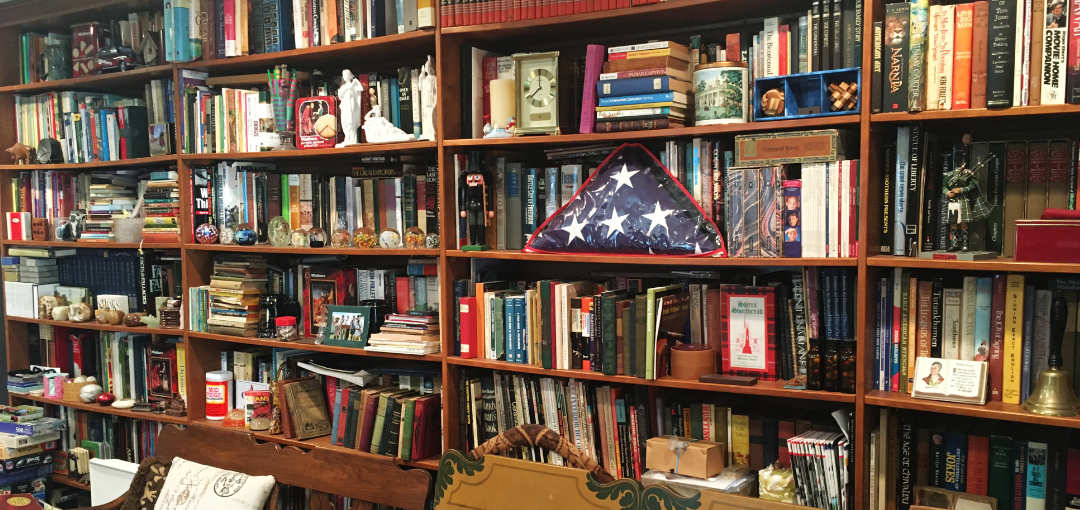 Books, magazines, newspapers, fiction, nonfiction, autobiographies, biographies, historical fiction, pure history, romance, poetry—the list could go on and on of what people read. What we read is a reflection of our pleasures, our beliefs, our likes, and even our dislikes. And, the number of books we have in our homes, or perhaps the amount of reading material we possess, gives an idea of what we like to read and how much time we spend doing it.
I was sitting in our front room playing cards with Linda the other day and, as she shuffled the cards, I looked over the books that line the shelves on either side of our fireplace. I thought of the filled-to capacity shelves in my library. That's when I began to wonder what our ancestors may have enjoyed reading and if this was a reflection of their personalities.
I have been a book collector since about the age of eight and still have some of the books that my parents purchased for me at that age. The Hardy Boys mysteries and The Happy Hollisters series—books that were given to me for Christmas presents—still line my shelves joining the thousands (yes, thousands) of other books I own. Of the 16 rooms in our house, the only two that do not have books on shelves is our dining room and the upstairs guest bathroom!
I would expect that visitors who do not know me would be able to find out some information about Linda and me by looking at our bookshelves. We have many cookbooks. Our basement room has shelves and shelves of cookbooks that Linda has collected, plus boxes of other books that we have stored down there as we have little room left on our many, many shelves and book cases. We also have a large number of children's books, left over from when our children were young which we now read to our grandchildren. Linda is also a collector of many table top books about different countries and areas that we have visited or have wanted to visit.
Subjects of my books run the gamut. Many are histories, biographies, autobiographies and reference books. Most subjects are covered, but the bulk are history books, both historical fiction and pure history. Think on it: we have gone from my fifth great grandfather, Andreas Hagenbuch, who may have owned three or four books to me now owning thousands of tomes!
So, what's my point? What does this have to do with genealogy? Well, if we go back to the beginnings of our family in Berks County in the 1700s, it would have been rare for our ancestors to own any books other than religious ones. The first generation or two (Andreas, plus his sons and daughters) surely owned a copy of the Bible, and we know that Andreas had a copy of Johann Arndt's True Christianity which I have written about previously. Our earliest Hagenbuch ancestors in America also likely owned almanacs and church song books. But, little if anything is known of specifics.
We do know, which one can read about in previous articles, that our family wrote letters back and forth. They were very literate. Where there is literacy, there is certainly a liking for books. No doubt as we get into the third and fourth generations of the Hagenbuchs, our ancestors were familiar with books by Washington Irving (The Legend of Sleepy Hollow, 1820) and James Fenimore Cooper's Leatherstocking Tales, published between 1823 and 1840.
We move onto the next generations then. These ancestors certainly read and probably owned copies of Uncle Tom's Cabin written by Harriet Beecher Stowe in 1850; Louisa May Alcott's Little Women, 1868; and Mark Twain's books (Tom Sawyer, 1876 and The Adventures of Huckleberry Finn, 1884). Book themes from our earliest ancestors progressed from the religious to popular fiction. In my collections, I have some vintage books dating from the mid-1800s. Most of them are nondescript titles, both fiction and non-fiction, some of which teach morals. One of them is by Dr. Theophilus Stork entitled Luther at Home, published in 1873. Of course, it is about Martin Luther, a biography that teaches the importance of a religious and moral family life.
Poetry was very important to folks of the late 1800s. We find poetry quotes in letters that were written by our family, including Enoch Hagenbuch (b. 1814). I read the other day how many literate families of the 1800s sat by the fire in the evenings reading poetry: Longfellow, Whitman, and Emerson. When was the last time your family did this? I would consider it a very literate family to be able to enjoy some of this poetry!
As for books actually owned by the family, I have few owned by the Hagenbuchs other than Bibles. But, I was fortunate several years ago to obtain several books from the early 1900s that were given as presents to and from my Sechler family. Several articles have been written about my great grandparents, Samuel and Mary (Davis) Sechler. This couple instilled in their children and grandchildren the love of reading and books.
I have a book that was owned by my great grandfather Samuel Sechler. Published in 1871 it's entitled Millbank by Mary J. Holmes. It's a gothic novel which Samuel then gave to his daughter Grace (Sechler) Cromis in 1928. Another of the Sechler books was given to Robert Sechler in 1921 by his father John Sechler, my grandmother Hannah (Sechler) Hagenbuch's oldest brother. This children's book is entitled Robbie's Dog Makes Friends authored by Rosalie Mendel and published in 1920. It's a wonderful story book, which Robert then gave to his youngest brother Harold in 1928. All of this information is inscribed in the front—a testament to inscribing books and photos so future generations are "in the know."
I was fortunate enough to receive a large number of vintage books owned by the Sechlers after Harold Sechler died a few years ago. Going through the farm house where he lived most of his life, the executor allowed me to have as many of the books as I wanted. There were certainly an inordinate number of them compared to most farm families. Among the books were several that were inscribed "from Frank E. DeLong," one of which was a 1900 copy of Swiss Family Robinson with beautiful sketches (given to the Sechler children at Christmas, 1926). Frank DeLong is locally well known in the Washingtonville area of Montour County, Pennsylvania where I grew up. DeLong created the "hump" in the hook and eye which allowed the latchet to lock. He was a philanthropist and each Christmas gave gifts of books and toys to the local children.
My grandmother, Hannah (Sechler) Hagenbuch (b. 1889), was a teacher and great lover of books and poetry. She wrote poetry and had books in her house. She also gave books away at Christmas. She and my grandfather, Clarence Hagenbuch (b. 1889), gave me two books in 1959 which I have and cherish. I called my first cousin Kathleen (Robb) Shuler and asked if she had any books which Grandma owned. One is entitled Charlotte Temple published in 1905 and written by Susanna Rowson. Inscribed inside is: "For headmarks in spelling at school by her teacher Bertha Schell." Another book Kathleen has was given to our aunt, Ellen Hagenbuch, in 1933 from Grandma (Ellen's mother). It is inscribed "to Ellen on her 17th birthday, from Mother." The book is East Wind, West Wind by Pearl S. Buck.
Within my own immediate family my father Homer, as a farmer, always had copies of the Farmer's Almanac and several monthly magazines that dealt with farming: Farm Journal and Pennsylvania Farmer. My parents subscribed to Reader's Digest for as long as I can remember, and four times each year they received a copy of the Reader's Digest condensed books. Of course, the Bible was always beside my mother's chair, along with religious booklets like Guideposts and Thought for the Day both of which included scriptures and stories. I know that Mom had an annual subscription to receive novels back in the 1940s, as there were a number of books from People's Book Club on one of her shelves along with a copy of The Robe by Lloyd Douglas.
My parents read some books but usually only ones that were given to them as gifts. I remember Dad reading The Greatest Generation by Tom Brokaw, which had been a gift to him. Mom enjoyed reading autobiographies about Dr. Robert Schuller and Billy Graham. Along with the previously mentioned magazines, we also had Life and Ladies Home Journal on the coffee table.
Our early ancestors owned only a few books that were most important to them—religious books. But, this changed over time as books became more available to the general public, as interests widened to more worldly things, and the book market moved from philosophy and poetry to novels and pleasure reading. Book ownership is a reflection of what we like and our beliefs. But, for some of us, it is still an obsession just to own a lot of books! That, in and of itself, is a hobby: a hobby which my early ancestors would not be able to understand, I'm sure. I enjoy pulling collected books off my shelves that I have never read and rereading books that I read years ago. Some day, years from now, my descendants will not have a difficult time in answering the question: What did he read?