Timothy Hagenbuch's 1839 Letter to His Brother, Enoch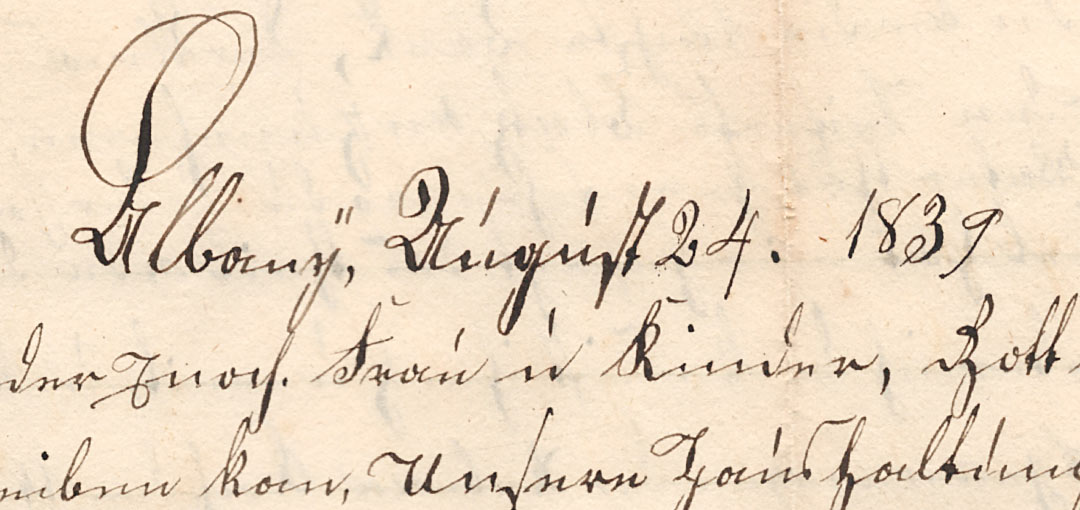 In 1839, Timothy Hagenbuch wrote a letter to his brother, Enoch. Timothy was living at the Hagenbuch Homestead in Albany Township, Berks County, Pennsylvania. Enoch had moved west to Muncie Town, Delaware County, Indiana. Timothy was almost 35 years old and Enoch was nearly 25. The story of how this letter was discovered was discussed in the first part in this series. Future articles will explore and analyze its contents.
Below is an English translation of the letter which was originally written in Pennsylvania Deitsch. Many thanks to Jean McLane who graciously worked to provide the translation. Minor edits have been made to the translated text for legibility, while more substantial changes are noted in brackets.
It is also worth noting that the letter lacks an envelope. Instead, it is a single piece of paper folded in such a way that it can be sealed with wax and mailed.
---
Folded Letter, Front Side
Paid 25 Cts
Mr. Enoch Hagenbuch
Delaware County
Indiana State
Smithfield P.O.
---
Folded Letter, Back Side
20 September received
1839
---
Opened Letter, Side One, Right Page
Albany [Township], August 24, 1839
A few lines for you, Brother Enoch, Wife and Children, praise to God and thanks that we, or I, can still write to you. Our household, or your people, and your wife's people, are in about the same condition as you left them. The whole neighborhood is fresh this summer, and I wanted to heartily wish you the same when these few lines reach you, wife and children, Joseph, and your neighbors.
On the 27th of March we got your letter, your health [described] therein made us very glad to hear. Jacob Dietrich has not let himself be heard or seen lately. Samuel Grünewalt told me in April the Old Dietrich did not want to let the young guy move, and I heard that from more people.
And on August 17th I was at Jacob Dietrich's. He lives with his father. Jacob told me you should eat the wonderful peanuts from those you planted for him. Jacob did not say much. But Lea says she would like to go out to you, and that they could even buy land. I believe Lea would rather move today than tomorrow. She only wants [to be] in your neighborhood. Jesse Zähner wants to move next spring to the neighborhood of his sister Maria, and Schneider, people think it won't happen. R. Zähner moved last spring to Maria's.
Jesse loaned the storekeeper Kamp $200, Schneider $70, Daniel Z. $80. That was their inheritance, and maybe they will not get the money [back] during their lifetimes. Kamp's windows were broken on June the 14th, 15th, and 22nd; on July 12th, 13th, 19th, and 20th; and on Aug 2nd, 3rd, 10th, 16th, and 17th day. Kamp's debts are said to be 6 to 7 thousand dollars. Kamp also wanted to get money from your father-in-law, but he gave him none. That made Kamp mad.
Your father-in-law wants to give you money if it were out there, or he could send it with a man, or if you knew a man to bring it out there who would be coming in here for business. If you know a man that wants to come in here, then you must give him a little note to Grünewalt—that is, a letter. In the letter, Johan doesn't want to send anything and if it gets lost, the money in the letter, then it will be your loss.
I think the best way would be if Johan would put the money in the Reading Bank, and would send a check out to you so that you can get the money out there from a bank. And if you want it that way, then you must write the bank's exact name, so that Johan knows the bank's name. [Jacob] Dietrich should have the money if he goes out there. Johan wants to have that, should he move out there.
---
Opened Letter, Side Two, Left Page
How far is it to your nearest bank? Amos Grünewalt has in mind next spring to take Neifert's place. Samuel told me in April [his] father would like to see where you and Joseph live, that is, your land. Samuel told me that some of the children wanted him to travel out there, but I think it is too far for him, and it costs money.
[Daniel] Zähner ran away the 28th of January because of Rebecca Koch. On February 14th he came back. He was at the Wertmans'. On March 7th the constable caught him and took him to Esq. Halteman. He married them. Daniel does not live with her. At Pentecost, he had it put in the newspaper [that] she has a daughter.
On March 25th, Michael had a son. He is named Nathan D. B. Daniel Böly [Bailey] sponsored him [for the baptism]. On May 10th, Amos had a daughter. She is named Kadila [Cordelia]. On May 19th, Stitzel had a son named Nathan Edward.
Isaac Lutz wanted to shoot his wife to death on March 10th. On April 19th his land was sold. Isaac drinks too much. On June 10th, Phillis and Peter Resch moved out to Stark County, Ohio to George Neifert. William Zimmermann has the Resch's land. In Sept. and Oct. of 1838, the Schinnblästers ran out. Silver is at this time more plentiful than it has been in 10 years.
Married on March 17th, Isaac Leinninger with Kadila [Cordelia] Petry. On June 15th, Salomo Epler with Christina Kamp. On June 11th, Stephan Lentz with Barbara Lorrell. On August 5th, Jackson Ernst with Persida Reichelderfer. Died on May 10th, Michael Friess's wife. On February 23rd, Johann Lenhaart aged 44-9-11. On March 4th, Jacob Ettinger's wife. On April 2nd, David Zähner aged 75-3-3. His text was: 2 Timothy Ch. 4, v. 7-8. On July 28th,  Michael Schäffer, restaurant owner. On August 24th, Martin Donnat his text here: in his 78th year.
In the summer, it was not so dry as last summer. We have a lot of rain. The grasshoppers have not done us any damage this summer, but I heard of people who had a lot of damage from grasshoppers. There was not much hay in Berks County. A lot of second-cutting hay, a good harvest. Oats, as good as in 4 to 6 years. Was not so good, corn. Buckwheat, very nice until now. The peanuts, excellent. Apples, middling.
Day's wage 50 Cents in March; April to June, rye by the bushel $1.00 to $1.15; corn $1.00 to $1.05; wheat $1.58 to $1.63; peanuts $1.00 to $1.37 1/2; oats 50¢ to 56¢. Now [we are] in August. In this month, wheat $1.25 to $1.30; rye 65¢ to 75¢; corn 75¢; oats 28¢ to 31 1/4¢; peanuts 25¢. Last year we had no clover seed at all. This year we think we'll get 10 to 15 bushels. Cattle and sheep, and meat are cheaper. Michael and Amos do on the Schuylkill [River] for us the mash distilling. They get $34 to $36 a month. Jeremias Böhly [Bailey] did 3 months of Kotterman's work at the furnace for $18 a month.
---
Opened Letter, Side Two, Left Page
Is Joseph still single? How did his court case turn out? And how is Joseph coming along? Does he already have a house on his land? Joseph Knepper moved home to his father's in the spring. Joseph recently again got only 6 bushels of rye for his portion. He is a laborer on the Shallens' over the mountain.
We have not had a letter for 4 or 5 months from Nathan and Daniel. At New Year's Nathan married Rebecca Stein. He bought 6 acres of land from Samuel Stein. He does not want more, as he has so much work with his trade. They make $4 to $6 [time period unspecified]. In a few years Nathan wants to move further, he says. He wants to buy more land. Daniel was homesick last winter. Sam Stein's wife caused it. Enoch Mach never [receives] a letter that the Post sees. You know what you do: pay double, and when you get to town, ask whether any letter is there, that way they don't lie there so long in the office.
You don't need to pay a cent for this letter. Old Johan paid 25 cents postage for this letter. Write back soon or in the near future. We should have written to you a while back, but they are all waiting on me to write to you. And when Dietrich did not want to move out there, the knee would have been on him to write to you out there. I think your wife will soon get a brother-in-law. Daniel Stein runs over there every week.
As far as I know Joseph's child is well. Amos Grünewalt lives with his father in the new shop. Reuben Grim is building this summer a new mill, Jonathan Schmidt a new barn, and Steigerwalt a barn too. W. Mosser a brick house, Christian Grünewalt a new barn, Doctor Sallade a barn and next summer a brick house. The Doctor has bought Isaac Lutz's land for 100 Eagles [a $2.50 coin].
Your father [Jacob Hagenbuch] thinks it must be rough for you because your money is running short for your land, and so he wants to send you a greeting of 5 dollars. When it's there, you should write back soon [to say] whether you got the greeting. You must not tell anybody if the letters are not perfectly clean, otherwise you may not get them all. You don't need to tell the postmaster. It is none of his business.
End August 28th, 5 o'clock in the morning. Farewell. So much from your well-wisher till death, Timothy Hagenbuch.
Write as fast as you can send it, and don't forget.