Discovery: Two Letters From Timothy Hagenbuch to His Brothers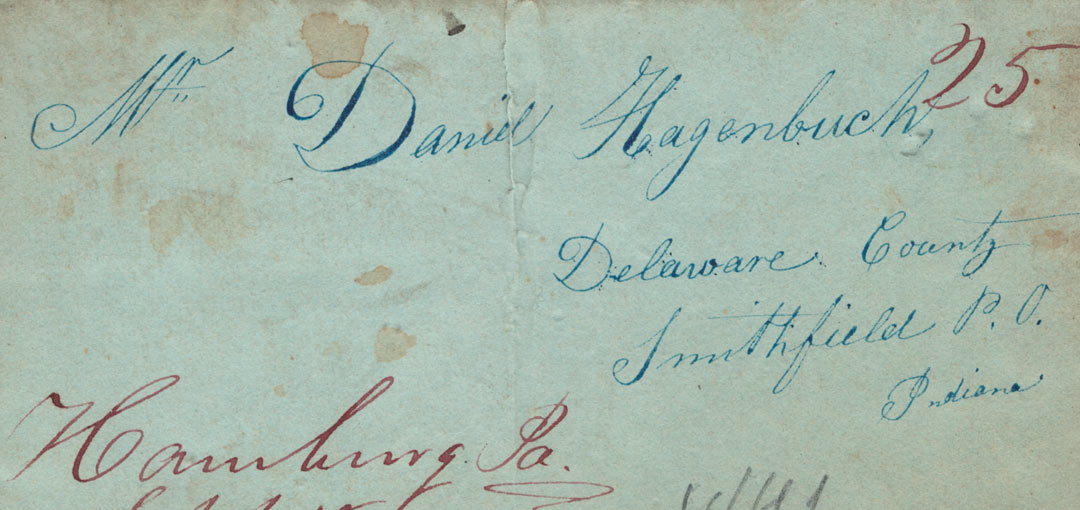 The internet is an amazing tool for connecting people and information. The more we share on Hagenbuch.org, the easier it is for people to find and connect with their family roots. When my father and I started this website in late 2014, I remarked that eventually people would come to us to share their stories—instead of the other way around. This is exactly what happened a few weeks ago.
On March 31, 2020, we received a message from Zac Bow stating that he had found two letters: one addressed to Enoch Hagenbuch from 1839 and another addressed to Daniel Hagenbuch from 1841. I got goosebumps, or as my wife, Sara, later said, "You got goosebumps many times that day!"
Moments like this are exceedingly rare. In 2018, Jim Hess emailed my father and me about the existence of J. C. Hagenbuch's journal documenting a 1905 trip down the Klamath River. Before that, we were contacted in 2016 by Jean McLane, who had found an 1851 letter from Timothy Hagenbuch to his brother, Enoch.
Upon receiving Zac's message, I wondered: were these two letters also from Timothy to his younger brothers? I'd have to wait to find out—but not long—since Zac offered to donate the letters to the Hagenbuch archives and mailed them the next day.
According to Zac, he bought the letters on eBay last summer, after looking for antique items related to Delaware County, Indiana. They caught his eye due to their age and because they were mailed to Smithfield, an unincorporated area near where he lives. However, because the letters were written in Pennsylvania Deitsch (Dutch), he set them aside and only recently pulled them out to give them a second look. A quick internet search led him to Hagenbuch.org, where he contacted us about his find.
On April 4th, I received the small padded envelope from Zac. Inside were the two letters. I began to carefully study them. One of the first things that struck me was their smell. While J. C. Hagenbuch's 1905 travel journal has a musty odor, these letters smelled of wood smoke, especially the 1839 one to Enoch. I imagined the letters spending many years in a wooden box, located a short distance from a hearth.
Like Zac, I cannot read Pennsylvania Deitsch. That said, I am able to recognize family names. After unfolding the letters, I immediately noticed that both were signed and sent by Timothy Hagenbuch in Albany Township, Berks County, Pennsylvania. My earlier hunch was correct.
The timing of the letters is fascinating to consider, knowing that Enoch left Pennsylvania the year prior in 1838. Enoch describes this in his History of the Hagenbuchs in America:
[Enoch was] determined to go West and try to do better. Bought him one horse and wagon and, on the 27th of April, 1838, started with wife and two children for the West. It was a great undertaking in those days. But courage was not lacking. He was a granger. He landed four miles east of Muncie Town, Delaware Co., Ind. He there bought 160 acres of land, for which he paid $500.
The town of Muncie is only a few miles west of Smithfield, where the letters were addressed. Timothy's letter to his brother, Daniel, is also appropriately timed. By 1841, when Timothy sent the letter, Daniel was living in Delaware County, Indiana. Once again, Enoch writes about this in his history:
[Daniel left] with his brother [Nathan] the 3rd of April, 1838, for Richland Co., Ohio. He worked with his brother until 1840, in the fall. He then left for Delaware Co., Ind., to go to his brother Enoch, and there worked at his trade of framing.
What news from back home might Timothy be sharing with his brothers? As mentioned, both of the letters were written in Pennsylvania Deitsch, a language that neither my father, nor I, can read. Thankfully, we know someone who can. Jean McLane, who found and donated Timothy's 1851 letter, graciously offered to help decipher the brothers' correspondence.
Over the next few articles in this series, we will uncover what secrets these letters hold and be reporting on their contents. Stay tuned to find out more!