The Final Request: Samuel Sechler and Mary Davis, Part 5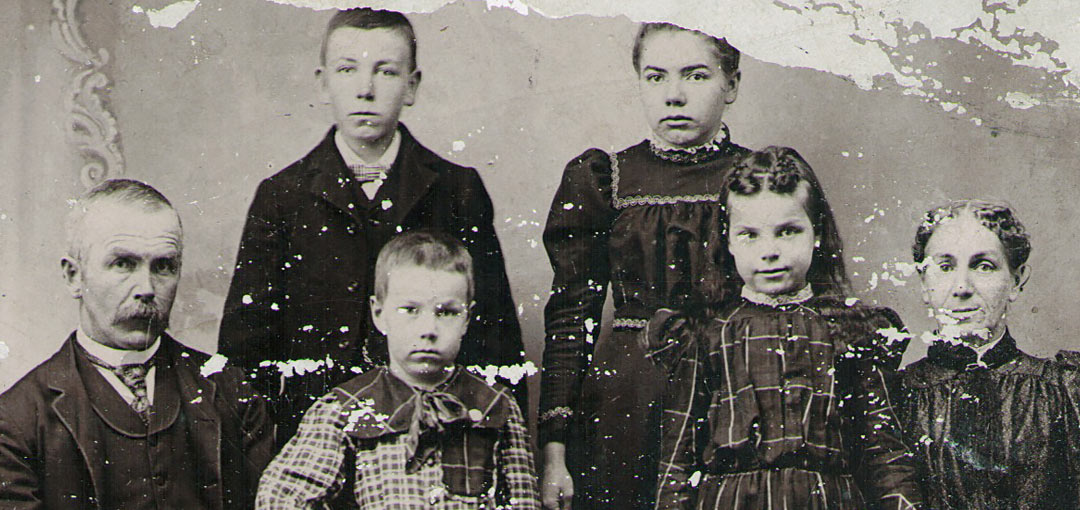 The March 13, 1880 proposal of marriage from Samuel Sechler to Mary Davis was accepted on April 8 in a letter from Mary to Sam. We do not know what occurred between that date and the next letter, Mary's letter of April 23rd, that was found in the box of letters and other memorabilia now part of the Hagenbuch archives. We do know from this April 23rd letter (which Mary finished on Saturday, April 24th) that they were together on Saturday, April 17th.
One note: by researching the maps of that time period it is almost certainly known where Mary Davis, her mother Hannah (McWiliams) Davis, and Mary's brother lived in 1879 and 1880. Mary writes of her location in the following letters as "Chillisquaque." The 1880 census plots the location of the Davis family as Chillisquaque, Northumberland County, Pennsylvania. The Chillisquaque is a well-known creek in Montour and Northumberland Counties. It flows through Washingtonville and winds around south of Pottsgrove and Milton, finally emptying into the Susquehanna River. The area that is usually associated with the name Chillisquaque is on the Mexico Road (northeast of Pottsgrove) which is bordered by two cemeteries, the Upper and Lower Chillisquaque cemeteries. Those cemeteries are in Montour County but just bordering Northumberland County. Hannah Davis's father, John C. McWilliams, lived in that area just north of Pottsgrove, Pennsylvania near their relatives the Follmers who were prominent there.
These last four letters have been corrected in both spelling, grammar and punctuation to make them more readable.
Chillisquaque April the 23 1880
My Dear Sam

True to my promise I will now try and write you a few lines. I am such a poor writer and composer that you will not gain much by my effort. I have so many irons in the fire I hardly have time to think this afternoon. I was wondering this forenoon if you have told your mother yet of our engagement and what she would say. You told me Saturday eve about my not being surprised by your proposal. I will now try and explain when your letter reached me telling me of your love and asking for mine that prepared me for what followed. Have I explained satisfactorily? Ever yours lovingly.

Saturday afternoon
Dear Sam I hope you will excuse my brief letter for I am going over to Hans but will be home in time to receive you. Time passes slowly when I wait for you. Adieu till we meet. Mary
We are not sure who "Hans" is but may be a neighbor named Hannah Fry who is listed nearby the Davis family in the 1880 census. Curiously, if the letter was sent through the mail, how could Sam have received it on the same day so that Mary could "receive" him? These are the details that we genealogy detectives become mired in!
The next letter in the series, from Mary to Sam, actually begins with a poem. The poem was written by a well known poet of the time, Phoebe Cary. Phoebe and her sister, Alice (also a well known poet), were born in Ohio. They lived most of their lives in New York City where they often hosted receptions attended by the likes of P.T Barnum, John Greenleaf Whittier, and Elizabeth Cady Stanton. In fact, Phoebe was an outspoken supporter of women's rights. The sisters' poetry was often published together and it's most likely that Mary Davis had a copy of their anthologies published in 1873.
Mary wrote out Song of the Heart to precede the letter she writes to Sam in May of 1880. The poem has a true Victorian feel of joy and melancholy, and of love laced with literary words. Mary must have believed that the theme of this poem, that heaven is a wonderful place but not yet the place for the poetess, matched her own thoughts.  Mary is happy with living on earth because she has a "faithful friend," her Sam.
Song of the Heart (by Phoebe Cary)

They may tell forever of worlds of bloom
Beyond the skies and beyond the tomb;
Of the sweet repose, and the rapture there,
That are not found in a world of care;
But not to me can the present seem
Like the foolish tale or an idle dream.

Oh, I know that the bowers of heaven are fair,
And I know that the waters of life are there;
But I do not long for their happy flow,
While there bursts such fountains of bliss below;
And I would not leave, for the rest above,
The faithful bosom of trusting love!

There are angels here; they are seen the while
In each love-lit brow and each gentle smile;
There are seraph voices, that meet the ear
In a kindly tone and the word of cheer;
And light, such light as they have above,
Beams on us here, from the eyes of love.

Yet, when it cometh my time to die,
I would turn from this wild world willingly;
Though, even then, would the thoughts of this
Tinge every dream of that land of bliss;
And I fain would lean on the loved for aid,
Nor walk alone through the vale and shade.

And if 't is mine, till life's changes end,
To keep the heart of one faithful friend,
Whatever the trials of earth may be,-
On the peaceful shore, or the restless sea,
In a palace home, or the wilderness,-
There is heaven for me in a world like this!

Chillisquaque May 1880
My own Dear Sam. I am alone and thinking of you as usual and I wish to thank you for your poetry. Time will show if I can be all you have described. You will have no fault to find with me if I have my health. Only promise to have patience with me and when I am your wife I promise to be a true and loving one. Your Mary
As in previous letters, Mary hints of ill health and hopes that Sam will be acceptable of her the way she is. She also thanks him for his poetry. Sam was certainly a romantic and Mary had followed suit with her delivery of the Phoebe Cary poem. On June 1 she writes again and from this letter we know that the marriage date had been set for December 1, 1880 ("six months from this eve"). And then, she requests of him something that is somewhat puzzling.
Chillisquaque June 1 1880
My own Dearest one. Hoping you are well this dreary evening. I will try and grant your request that of writing to you. Six months from this eve, Dear Sam, I hope will not be quite so stormy for then we are to start life's journey together. I cannot tell you my Dear, how strong my love is for you but trusting that time will only add thereof. I have built bright hopes for the future all to be shared by you. Dear Sam I have one request to ask of you not for myself but for your own future and welfare. Will you not join the church and as I should have said first give your heart to Christ that we may not only be one on earth but one in Heaven. Hoping you will not take offense but read this in the Spirit that it is written. For you are always remembered in my prayers. I feel happy, very happy indeed in possessing your love. Adieu until we meet. Ever your loving Mary
"Will you not join the church" is an interesting passage. It is believed that Hannah (McWilliams) Davis and the McWilliams family were Presbyterians and that she raised her children in that faith. The nearest church that once stood where Mary Davis and her mother Hannah lived in 1880 (near to the Follmer family north of Pottsgrove, Pennsylvania) was the Presbyterian church at the Lower Chillisquaque Cemetery. Previous to the writing of this article it was assumed that Samuel Sechler was also raised as a Presbyterian. Therefore, Mary's request is shocking for it plants the seed that Sam might have not been a practicing Christian which was certainly not acceptable in the society and culture of rural Montour County.
However, Samuel's parents, Thomas and Christiana (Henry) Sechler are buried at the Centre Lutheran Church Cemetery which is just south of Pottsgrove indicating that Samuel probably was raised Lutheran. Did Mary have a problem with Sam being Lutheran? Or possibly he was not a regular church goer? Most likely her statement "will you not join the church" meant that she wanted him to become a Presbyterian so they could attend church together and raise their family in that Christian denomination.
The answer to this will never be known for only one more letter between Sam and Mary is in possession, and it is written the day after Mary writes the "church request" letter. The letters certainly crossed in the mail for Sam never mentions Mary's religious request. In fact, he starts the letter with a joke but ends it seriously. Take note that he writes of his location as "Liberty" meaning Liberty Township, Montour County. This is an area of Montour County which takes in a portion of present day Interstate 80, the Mexico Road, and borders Northumberland County as mentioned in the second paragraph of this article. It is believed that Samuel did not have a permanent home at this time as his letters are written from both Limestoneville (Limestone Twp, Montour Co.) and Liberty (Township). Samuel was probably hiring himself out to help on farms and other odd jobs. But once he and Mary were married they owned a farm near Pottsgrove, Pennsylvania.
Liberty June 2d 1880
My own Dear Mary. I take my pencil in hand (not in my teeth) to inform you that I am alive and well and as true to you as ever. I have no doubt but you are as true to me. There is not one day passes but what I think of you often and wish that I could take wings and fly to your presence. For I am only happy when by your side. Dear Mary. If you at any time doubt my love for you tell me at once and I will set you free of your promise if it breaks my heart. Your loving Sam
As mentioned in the first part of this series, these letters were found in a small box owned by the Sechler family. There are a total of about 50 letters with half of them covering the time period between Samuel Sechler's first letter to Mary (Nov. 29, 1879) and concluding with Sam's letter of June 2, 1880. This letter is the last one found in the box between Sam and Mary. The other letters are to Mary before and after she was married, from cousins, her mother, and others. Some are very difficult to read because of the tiny or calligraphic writing, and some of the writers cannot be identified. The remaining letters are a treasure trove of genealogical and local Pennsylvania history that are yet to be researched. All of the letters are both a family historian's torment and joy.
Samuel and Mary (Davis) Sechler were married on December 1, 1880. Mary died in 1915 and Samuel lived until 1928. They are buried in the Upper Chillisquaque Cemetery near to the locations of their courtship and life together. Their loving marriage produced five children. Their first child, Thomas Davis Sechler, was born in 1881 but died within 5 days. One of their children was Hannah Margaret Sechler who, born in 1889, married Clarence Charles Hagenbuch. Their marriage created a bond between the Sechler and Hagenbuch families and is what enabled these wonderful letters to pass into the Hagenbuch archives.