Mark, Mark, and Mark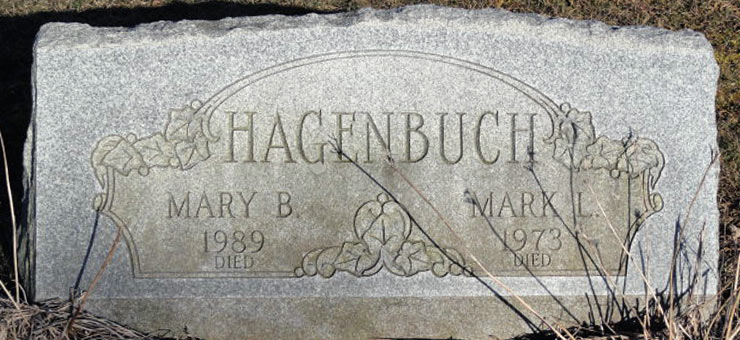 Most of us find it curious when we run across someone who has the same name that we have, especially if our last name is Hagenbuch and our first name isn't commonly used. I know of one other living Mark Hagenbuch whom I have contacted. He is descended from Aaron Hagenbuch (b. 1810), a great grandson of Andreas (b. 1711). Aaron and his family moved to Michigan in 1838 and "grew" a large Hagenbuch clan there.
Another Mark Hagenbuch had slipped my mind for many years until cousin Barb Robbins sent me the December 17, 2017 obituary of Shirley (Hagenbuch) Michael from Hughesville, PA. Barb saw the obituary in the local newspaper and wondered if I knew this family. The answer was: Of course! Shirley's father was Mark L. Hagenbuch who died in 1973 right before I began to seriously record all descendants of Andreas Hagenbuch.
Growing up in Montour County, PA, our family had contact with folks in neighboring Columbia County. We had some relatives there through the Hagenbuch side and through my mother's Faus family. We also would attend Bloomsburg Fair which is in Columbia County and would meet other families from that area through the 4-H program. It was during those years in the 1960s that I remember first hearing about another Mark Hagenbuch.
When I was a boy in the 1960s, this Mark Hagenbuch was an adult, and he was a game warden for Columbia County. I remember being told by someone that he was a game warden who took his job very seriously; he was not to be crossed!
In 1979, I was heavily involved in genealogy and I contacted the address I had for Mark Hagenbuch—Spruce Street, Bloomsburg—not knowing that he had died 6 years previous. His widow, Mary (Shaw) Hagenbuch, replied to my letter, and I kept in contact with her for a few years.
Mark Lamont Hagenbuch was a fourth cousin twice removed to me: Mark Odis Hagenbuch. His line from Andreas is: Andreas (b. 1711) > John (b. 1763) > Johann Conrad (b. 1790) > John Phineas (b. 1812) > George Eli (b. 1849) > Mark Lamont (b. 1893).
Mark was born March 24, 1893 at Maple Hill, Lycoming County, PA. His parents were George Eli Hagenbuch (b. 1849 or 1850) and Henrietta (Kitchen) Hagenbuch (b. 1870). Mark married Mary Baird Shaw on December 27, 1916. Mark died April 1, 1973 and his wife Mary died in 1989. They are buried at Muncy Cemetery, Lycoming County, PA.
Mark and Mary Hagenbuch had one child: Shirley Baird Hagenbuch who was born in 1919 and married in 1945 to Robert Carl Michael. Robert died in 1988 and Shirley passed away this past December, 2017. They are also buried at Muncy Cemetery. Shirley and Robert Michael have two children—Larry and Patricia.
Mark Lamont Hagenbuch was descended from a large Hagenbuch family mainly located in the Allenwood, Pennsylvania area. His great great grandfather, John (b. 1763), was the youngest son of Andreas. As written in previous articles, John lived in the Hidlay Church area of Columbia County and had eight sons.
John's second son, Johann Conrad Hagenbuch, was born in 1790. By the mid-1830s he and his wife Mary (Ruckle) Hagenbuch were living in Delaware Township, Northumberland County, PA and attended church at St. John's Lutheran Church where they are buried. Johann Conrad died in 1865 and his wife Mary died in 1875. They had seven children, one of which was John Phineas Hagenbuch.
John Phineas was born in 1812 and died in 1891. He married Barbara Ann Dentler and they had eight children. They are buried at the cemetery in Allenwood, Union County, PA. According to descendant Andy Simon from Virginia (genealogist for this Hagenbuch line) John "Finis" ran a hotel in Delaware Township, Northumberland County from 1839 to 1842. From 1842 to 1860 he ran another hotel at Allenwood. In 1860 he was a delegate to the Democratic national convention. His story gets even more interesting after this and will be written about in a future article.
The seven sons and one daughter of John Phineas and Barbara (Dentler) Hagenbuch also have interesting histories— too many details to be written about in this article. However, it will be mentioned that their eldest son, Solomon Dentler Hagenbuch (b. 1838), was a sergeant in the Union Army and was killed in June, 1864 in Virginia.
Another son, George Eli Hagenbuch, was born on December 27th, though his year of birth is in contention. His grave stone has 1850 but his death certificate states 1849. He died March 5, 1915. He was first married in 1871 to Rebecca Gartner. They had three children: Frank (b. 1877) who lived in Kiowa, Kansas; William (b. 1880) who lived in St. Augustine, Florida; and Edna Grace (b. 1888) who married Harry Waltman and lived in the Muncy, PA area. Rebecca died in 1889. George Eli married again in 1891 to Henrietta Kitchen and they had one son, Mark Lamont Hagenbuch. George Eli is listed in the census and also on his death certificate as a farmer.
Mark L. Hagenbuch's ancestors are numerous and have interesting stories. As has often been stated in previous articles, this Hagenbuch clan along with others that lived in the same counties of Pennsylvania—Montour, Northumberland, Union, Columbia, and Lycoming—must have known of each other. Yet, they did not seem to grasp that they were all descended from our immigrant forefather, Andreas Hagenbuch.
Let's continue to reforge the relationships to our cousins through genealogy.