Home Remedies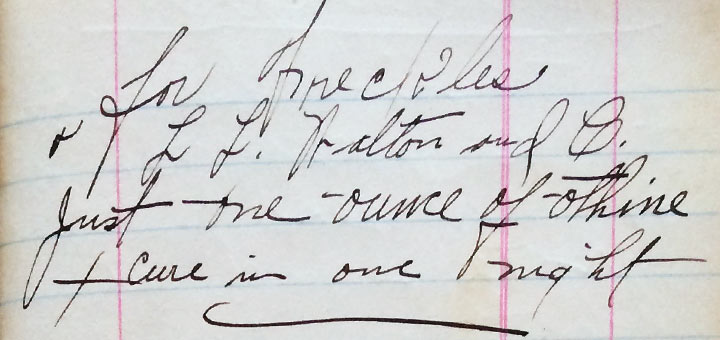 Recently my father, Mark Hagenbuch, handed me a recipe book once owned by Bessie Mae (Robbins) Sechler (b. 1888, d. 1973). It was previously in the possession of Harold Sechler (b. 1923), who is one of Bessie's children, and is now held by my aunt Barbara (Hagenbuch) Huffman.
The inscription in the front of the book indicates that Bessie began writing in it before she married John MacWilliams Sechler (b. 1885, d. 1928) in 1912 and that she was living around Milton, Pennsylvania. It should be noted that the Sechler and Hagenbuch families are connected through John's sister, Hannah (Sechler) Hagenbuch (b. 1889, d. 1967). She married Clarence Hagenbuch (b. 1889, d. 1967) in 1914.
Family recipes are a particular interest of mine, as they provide insights into the types of foods our ancestors enjoyed eating. Indeed, Bessie's book is full of her favorite dishes such as devil's food cake and bean chow-chow.
Yet, it contains more than just recipes. In the days before modern medicine, most families relied upon home remedies to treat numerous ills and ailments. Bessie's book contains five of these which are as follows:
For Freckles

From L. L. Walton & Co:
Just one ounce of othine. Cures in one night.
The remedy for removing freckles uses a curious substance called "othine." After researching this, othine appears to be a type of skin bleach. In addition, L. L. Walton & Co. was a pharmacy located in Williamsport, Pennsylvania in the late 19th and early 20th centuries. It was owned and operated by Lucious L. Walton, who served as Secretary for Pennsylvania's Board of Pharmacy.
For Pimples

10 cents worth of Bay Rum
10 cents worth of alcohol
1 1/2 teaspoons borax

Mix well and apply with a white cloth after bathing.
This remedy for pimples makes use of Bay Rum, which was sold as an aftershave or cologne. Bay Rum is made from rum, bay leaves, and other spices or scented oils.
The Best Gargle

1 tablespoon of borax
1 tablespoon of powdered chlorate potassa
some red pepper
The above gargle uses "chlorate potassa" which is another name for potassium chlorate. The gargle was likely used to treat a sore throat.
For Fever

1 teaspoon nitre to
10 teaspoons of water

Give 1 teaspoon every hour. For about 3 years old.
This remedy relies upon "nitre" which is the chemical compound ethyl nitrite. Once commonly sold in drugstores, the compound has been blocked by the FDA since 1980 due to potentially deadly side effects. As a result, it is not recommended that anyone try this particular remedy!
Mrs. Cotner's Hot Toddy

1 shot glass whiskey or dandelion wine
1 shot glass lemon juice
2 shot glasses honey

Drink hot. Go to bed.
Mrs. Cotner was a family friend, and Bessie recorded her hot toddy recipe in the book. Today, people still drink hot toddies, and some experts believe there is real evidence to support their effectiveness at soothing a sore throat, cold, or case of the flu.
Bessie (Robbins) Sechler's recipe book from the early 1900s provides a fascinating glimpse into the home remedies, once used by our ancestors to treat common ailments. In addition, the remedies highlight just how much medicine has changed in the last century.
Future articles will continue to explore the recipes, clippings, and notes found within Bessie's book.