Albert Ira Hagenbuch Family, LaSalle County, Illinois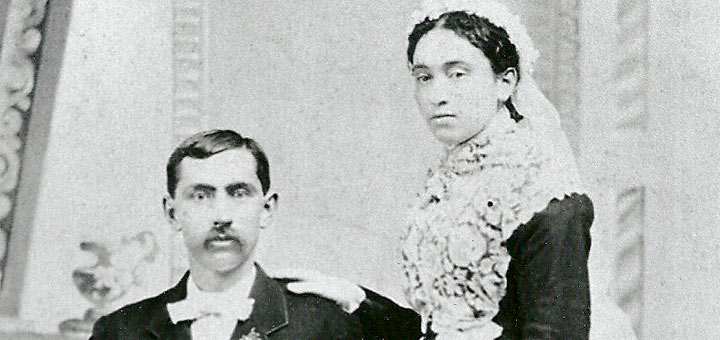 In the third part of Enoch Hagenbuch's history of the Hagenbuch family, we read about his younger brother Charles Hagenbuch (b. 1819) at the homestead in Albany Township, Berks County, Pennsylvania. Enoch and Charles's father was Jacob Hagenbuch (b. 1777). Jacob's father was Michael (b. 1746), and Michael was the second son of Andreas Hagenbuch (b. 1711).
Charles Hagenbuch married Julia Fosselman in 1843 (Enoch writes 1842) and in 1854 they and their six children moved to Waltham Township, LaSalle County, Illinois (near present day Ottawa). Charles and Julia farmed and eventually grew their family to 12 children: Sarah (b. 1845, d. 1905, married to Jacob Newcomer); Melinda (b. 1846, d. 1847); Amanda (b. 1848, d. 1917, married to Henry Bilharz); James (b. 1849, d. 1864); Mary (b. 1851, d. 1883, married to Jacob Heinly); Henry (b. 1853, d. 1854); Jacob (b. 1856, died as infant); Charles (b. 1857, d. 1860); Albert Ira (b. Feb. 2, 1859, d. July 29, 1931); Caroline (b. 1860, d. 1921, married to Jacob Billmann, Jr.); Amelia (b. 1863, died as infant); and Emile (died as infant). Note in Enoch's history that he writes of only 11 children. Charles died in 1891 and Julia in 1894. They are buried in Waltham Township, LaSalle County, Illinois.
When Charles retired from farming in 1883, he deeded the farm to his son Albert Ira Hagenbuch. Albert married Martha Kehr in 1883. Martha was born on Sept. 17, 1860 in Germany and died on Sept. 24, 1932. They are buried at the Ottawa Avenue Cemetery in Ottawa, Illinois. They had six children all born on the farm in Waltham Township: Charles George (b. July 20, 1884, d. Apr. 24, 1954, married 1913 to Cora Louise Bartlett); Lewis Albert (b. Sept. 2, 1885, d. Sept. 6, 1949, married 1918 to Ida Cole); Gertrude Anna (b. June 24, 1888, d. June 24, 1963, married 1913 to Charles Cole); Emma Viola (b. April 21, 1894, d. March 27, 1992, married 1929 to William Schmidt); Albert Ira, Jr. (b. Jan. 14, 1897, d. March 19, 1957, married 1924 to Daisy Duffey); and Benjamin Francis (b. Oct. 10, 1903, d. March 13, 1994, unmarried).
Charles George Hagenbuch grew up on his parents' farm and became its owner. He died on April 24, 1954. His wife Cora "Bartlett" Hagenbuch died on Dec. 20, 1963. They are buried at Waltham Cemetery, LaSalle County, Illinois.
Three sons were born to them. Charles Bartlett Hagenbuch was born Dec. 11, 1913. He died on June 4, 2004. On Nov. 30, 1938 he married Ethel Mae Davis who was born Nov. 30, 1917 and died on June 16, 2002. They are buried at Waltham Cemetery. Charles (Chuck) and Ethel had 5 children: LeRoy George (b. 1942, married 1968 to Patricia Philippi); Albert Charles (b. 1947, married 1971 to Eileen Bertling); Henry Ira (b. 1951, married Wendy Reding); Curtis Alan (b. 1957, married to Teresa Strickland); and Corlin Marie (b. 1958 married to Keith Lukas).
Charles and Cora's second son was Glenn Everett born Dec. 12, 1918. Glenn held the rank of Major in the Army Air Corps and served during World War II. He was a B17 pilot and made 25 missions over Germany. On Oct. 3, 1943 he died in an airplane crash. He is buried at Waltham Cemetery, LaSalle County, Illinois.
The third son, Melvin Albert was born on January 14, 1923. He married in 1948 to Ardelle Marie Munson. Melvin and Ardelle own the original farmland of Charles (born 1819) and Julia "Fosselman" Hagenbuch, passing it down through the family. They have two children: David Glenn (born 1949 married to Cynthia Mead) and Diane Sue (born 1951 married to David Williamson). Melvin and his son, David, farm the original homestead of their ancestor, Charles, who moved there in 1854.
In the 1970s the Hagenbuchs of Pennsylvania found their cousins in Illinois, having lost track of each other for several generations. While I was contacting Hagenbuchs all over the United States at that time, I came across Chuck and Ethel and their family. In 1980 my wife Linda and our niece Melanie Huffman traveled through Illinois and visited with Chuck and Ethel, Melvin and Ardelle, and all the rest of that clan.
In 1993 on a trip to the western states, my family (wife Linda and children Andrew, Katie and Julie) stopped again for several days to visit with the Illinois Hagenbuchs. During that time period my parents, Homer and Irene Hagenbuch, also visited with Chuck and Ethel. My parents enjoyed their visits with these fourth cousins as my parents were also farm people.
Henry and Albert, sons of Chuck and Ethel, farm the land once owned by their parents. Albert's son, John, and his wife Kate, raise hogs on the farm which is called Hagenbuch Family Farms. This farm is near the original home farm now worked by Uncle Melvin and cousin David.
Some of the information in this article was provided by Albert's wife, Eileen, and Henry's son, Ben, who is a regular reader of the articles on this site.