The Privy Bottle, Part 2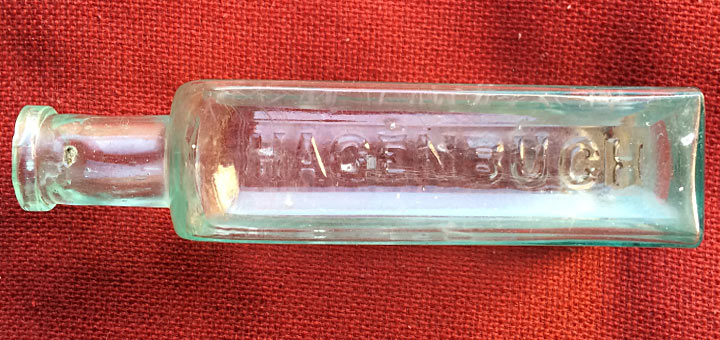 This article is the second part in a series. The first part may be read here.
After purchasing the privy bottle on eBay, it was taken to a bottle expert—Harry M.—who has collected thousands of bottles over the years and is well known for his expertise. He turned the bottle over and over in his hands and finally looked up. "I would date it between 1870 and 1880." Bingo!
Harry continued with his opinion of the bottle. Being aqua-colored, but not too aqua, also dates it to that time period. Each side of the bottle would have had a label. The front label probably had the name of the medicine, the ailments it was supposed to cure, and the name of the druggist. Research shows that the druggist was George M. Hagenbuch (b. 1826, d. 1902). The back label would have listed the ingredients and dosage. Harry said that the medicine contained in the bottle could have been used for anything from a cough to constipation.
He also said that he believes he has seen similar bottles (with the name Hagenbuch and town of Williamsport embossed) and would look through his thousands of bottles to check. Several years ago he purchased about 20 "banana boxes" filled with old medicine bottles from drug stores located in and around Williamsport, Pennsylvania.
At this time, the privy bottle is one of a kind, and its contributions to the research of the Hagenbuch family are enormous. The purchase of the bottle spurred an immense effort to research and subsequently record in Beechroots the families of George M. Hagenbuch and another family druggist, Charles Coleman Hagenbuch. The most interesting discovery was the number of druggists and doctors in these families. Much of the following information has been added to the Hagenbuch genealogy due to the finding of the privy bottle.
The druggist associated with the privy bottle is George Miller Hagenbuch. His parents were Simon (b. 1788) and Elizabeth Miller (b. 1790). They were married in 1808. Simon's parents were John "Runaway" Hagenbuch (b. 1763), the youngest son of the patriarch Andreas (b. 1715), and Maria Magdalene Dreisbach (b. 1766). The Dreisbach family are highly reputed in early Pennsylvania history.
To the best of our knowledge, Simon and Elizabeth had 8 children: Mary "Polly" (b. 1809, d. 1850, m. Jacob Sitler), William (b. 1814, d. 1880, m. Mary Keller), Rachel (b. 1815, d. unknown), Samuel (b. 1818, d. 1885, m. Susanna), privy bottle druggist George (b. 1826, d.1902, m. Campaspa Melick), Sarah (b. 1827, d. 1913, m. Freas Fowler), Hannah (b. 1830, d. 1910, m. Rev. Isaiah Bower), and Caroline (b. 1837, d. 1907, m. George Beam). All of the children were probably born and raised on Simon and Elizabeth's farm near Orangeville, Columbia County, Pennsylvania.
George M. is listed in the 1860 census as a druggist in Bloomsburg, Pennsylvania. In 1870 he is living in Williamsport and listed as a druggist too. He cannot be found in later census records. George and Campaspa had five daughters: Aletha, Clotilda, Katherin, Martha, and Caroline. Clotilda (b. 1859, d. 1945) along with sister Katherin (Hagenbuch) Hough (b. 1868, d. 1930) owned and operated a brass making company, Hough Manufacturing in Franklin, Pennsylvania. This was passed on to Katherin's son, Charles Neff Hough, who died in 1976.
George's two brothers, William and Samuel, were not druggists. William was a farmer who lived near Lightstreet, Columbia County, Pennsylvania. William and his wife Mary had two children: Emery (b. 1848, d. 1916) and Willetta, who died at age two. Emery farmed with his father, William. He and wife Ardelia Creveling had three children: Reber, William (b. 1866), and Bernetta (m. Byron Grimes). William (b. 1866), grandson of William (b. 1814), was a salesman for Moyer Brothers Drugstore, Bloomsburg, in 1915. So, he carried on the druggist tradition that his great uncle George M. had started.
Returning to George's brother, Samuel, little is known about him. It is reported that Samuel had one child, George, who married Julia Best and they lived in Belvidere, Illinois where he was a carpenter.
George M. Hagenbuch's druggist influence is strongest with his second cousin once removed, Charles Coleman Hagenbuch (b. 1835, d. 1889). Charles' story was told in a previous article published in October of last year. According to the 1860 census, Charles was living with druggist George M. in Bloomsburg and acted as clerk to him. No doubt he learned the druggist trade at that time, since in 1880 Charles is listed as a druggist in Mahanoy City, Pennsylvania.
Furthermore, whereas George M.'s interest in the pharmacy business did not actually pass through his family line (except for his grand nephew William b. 1866), it did carry on through his cousin Charles' family. Charles' eldest son, James Hervey (b. 1862, d. 1930), was a doctor and is reported to have taken over father Charles' pharmacy when Charles died in 1889. Dr. James Hervey Hagenbuch was married to Elizabeth Seligman and they had two sons: Charles (b. around 1888) who became a civil engineer and Joseph (b. around 1890) who, per the 1920 census, seems to have taken over the family pharmacy in Mahanoy City.
The second son, Charles Horace (b. 1868, d. unknown, and went by "Horace"), was also a druggist and is reported to have practiced in the family's Mahanoy City pharmacy. However, little is known about him—not even his burial place.
Charles' youngest son, John Bertram "Bert" Hagenbuch (b. 1871, d. 1936), graduated from the University of Pennsylvania as a veterinarian and was registered as a pharmacist. Dr. Bert Hagenbuch died in Butler, Pennsylvania in 1936, and his death certificate lists his profession as "veterinary." His formal residence is listed as 5050 Baltimore Ave, Philadelphia, PA.
No less than 45 people were researched and recorded in Beechroots because of the privy bottle find. And, it has been determined that George Miller Hagenbuch's career influence on his grand nephew, William Hagenbuch, and on his second cousin once removed, Charles Coleman Hagenbuch, led to a family of at least six pharmacists. Two of these even attained their medical degrees.
Interestingly, it even inspired others outside of the Hagenbuch family go into the field. A Charles Coleman Hagenbuch Kirlin (b. 1875, d. 1937) has been found as a druggist in Montgomery County, PA. Charles Kirlin was born in Mahanoy City and, though not a direct relative, appears to have been named in honor of Charles Coleman Hagenbuch.
All of this stems from a medicine bottle dropped into an outhouse hole one hundred and forty years ago in the town of Tamaqua, Pennsylvania. What a huge contribution a piece of old glass has made to the history of our family!