Making Sauerkraut: A Pennsylvania Deitsch Tradition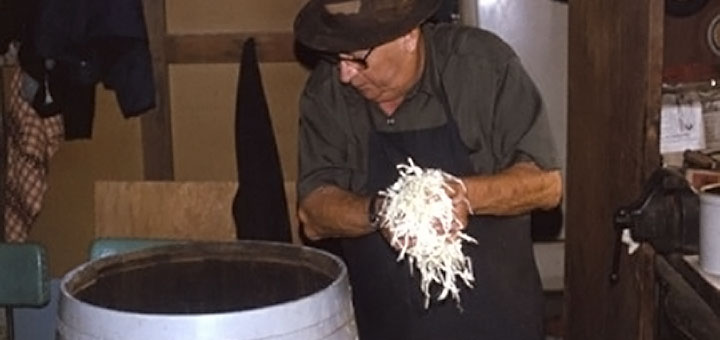 It was hardly a surprise when, this past summer, my parents told me that they were going to start making their own sauerkraut. My family does, after all, have a reputation for tackling some unique projects. However, I couldn't help but wonder, "How exactly does one make sauerkraut?"
The history of fermented foods goes back at least a few millennia and can be found in a number of different cultures, including those of Europe and Asia. One theory is that the process of using lactic acid fermentation to turn cabbage into sauerkraut actually has its roots in China, and it may have been introduced to Europeans by Genghis Khan.
Whatever its origins, sauerkraut remains a popular food in many Eastern European countries as well as Germany, Switzerland, France, and the Netherlands. The early Hagenbuch family, with its roots in Germany and Switzerland, undoubtedly made sauerkraut and continued to do so after immigrating to Pennsylvania in 1737.
One can easily imagine Andreas Hagenbuch and his family growing cabbage and preparing sauerkraut each fall. They likely stored it in crocks or wooden barrels for later consumption. Without fresh vegetables available during the winter, sauerkraut and other pickled foods were important sources of nutrition for Pennsylvania Deitsch families.
There is even a family story on the topic. It describes how one winter Revolutionary War soldiers stopped at the Hagenbuch homestead and were served cold sauerkraut. While this story is plausible, at this time no hard evidences has been found to substantiate it.
Sauerkraut is not a difficult food to make, though it does require a bit of patience. This fact, along with the rise of mass produced foods, likely led to the decline of homemade sauerkraut by the middle of the 20th century. After all, why would anyone make something that could be purchased conveniently and cheaply at a local grocery store?
In speaking with my maternal grandmother, Ethel "Brandt" Gutshall, I learned that she and my grandfather, Rev. Roy A. Gutshall, were pickling foods and making small batches of sauerkraut through the 1980s. The same was also true on my father's side of the family, though on an even larger scale.
My great grandfather, Odis G. Faus ("Grandpa Faus"), was known around Shiremanstown, Pennsylvania for his sauerkraut making. According to my father, Mark Hagenbuch, Grandpa Faus would produce around 300 gallons of sauerkraut at a time–enough to fill three barrels! He started by slicing cabbages into fine strips using a homemade cutter constructed from a board and old, sharpened files. Six to ten inches of the prepared cabbage were placed into a barrel with a handful of salt sprinkled on top. The process was repeated.
As the barrels were being filled with cabbage and salt, they were tamped down with a wooden "stomper" in order to compact the layers. When full, the barrel was capped with a layer of cabbage leaves and a lid. Boards were then wedged between the lid and the rafters of Grandpa Faus 's workshop. These helped to keep pressure on the cabbage and force out the excess juice, which would be skimmed off from time to time.
300 gallons is a lot of sauerkraut, and Grandpa Faus didn't make all of this just for his own family. Rather, he sold much of it to make some extra money. His customers included friends at the Loyal Order of the Moose, where he was a member, as well as local eateries, such as Moe's and The Dog House.
Having grown up in Pennsylvania, I never thought of sauerkraut as a regional food closely tied to the area's Deitsch heritage. I foolishly believed that, like turkey on Thanksgiving, most Americans honored the tradition of eating pork and sauerkraut on New Year's Day. As I learned from my Nana, Irene "Faus" Hagenbuch: Pork and sauerkraut are served on New Year's Day for good luck because pigs root forward into the new year. Chickens and turkeys scratch backward and, therefore, should be served at the end of the year.
It was only after moving to California that I realized just how few people knew of this tradition and how difficult it can be to find decent sauerkraut on the West Coast. Thankfully, it's easy to make good sauerkraut right at home. Below is the recipe that both my parents and I have tried.
---
Homemade Sauerkraut in Mason Jars

Makes 4 quarts of sauerkraut and takes 6 weeks

Ingredients:
2 large heads of cabbage
4 tablespoons salt
4 quarts of boiling water
Find 4, 1 quart Mason jars. These are the wide-mouth canning jars with rubber coated metal lids and separate screw on rings. Put 4 quarts of water on the stove to boil.
Cut the heads of cabbage into thin strips. Place the cabbage strips into each jar, tamping down tightly with a wooden spoon. Leave about 1 inch of room at the top of each jar.
Add 1 tablespoon of salt on top of the cabbage in each jar. Then, pour boiling water into the jars, filling to about 1/2 inch below the lip. Seal the jars with the lids and rings. Tighten the rings until they are snug. Don't force them on too tightly.
Place the jars in a cool, dark place on newspaper or paper towels. This is done to catch any juice that may leak out during the fermentation process. As the jars cool, they will initially seal. However, after a few days, the fermenting sauerkraut will push open the seal slightly to let excess gas escape. Do not open the jars during this time.
After fermenting for at least 6 weeks, the sauerkraut is ready to be eaten. Open a jar and drain off some of the liquid. It won't appear quite like store-bought sauerkraut, though. This is because it hasn't been cooked yet.
To prepare, dump the sauerkraut in a pot, and add spices, broth, or flavorings to taste. Heat to boiling and cook for 20 to 30 minutes or until soft.
---
This past Christmas, my parents stayed with my wife and me in California. One of the highlights of our time together was traveling to visit members on the Faus side of our family who live in Corona, California. We took with us homemade sauerkraut, which I had started fermenting in early November.
On January 1, 2016, we all payed homage to the Pennsylvania Deitsch tradition of eating pork and sauerkraut to welcome in the new year. Being the first time I had made sauerkraut, I was pleasantly surprised to see that all of it was eaten that day. Not surprisingly, the same held true for all of the Grape-Nut ice cream too. Family favorites are known as such for a reason!
I recently started another batch of sauerkraut, which will be ready by March. While this sits quietly and ferments, I can't help but think of my family–Hagenbuchs, Fauses, Gutshalls, and Brandts–cutting up cabbage, adding salt, and making sauerkraut back in Pennsylvania. It's a wonderful connection to the past that I'll never find in a grocery store can.