Parlour Games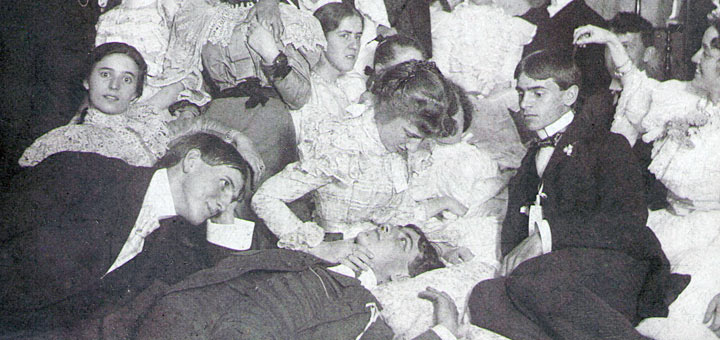 Who remembers a time when there was no television, no computers, and folks would get together on a Saturday evening to play games? Some people still do this and have an evening once in a while where board games, cards, dominoes, and other games are played. There is actually social interaction among a group of friends.
Parlour games were very popular during the late 1800s and early 1900s, especially among the middle class. This was an era that saw an increase in leisure time and preceded the radio and television age. Friday and Saturday evenings were most popular for social gatherings and along with parlour games would include light meals, music, and a chance for the young to do some courting!
Some of this era's parlour games are still known today like Blind Man's Buff and Charades; and some have evolved into 21st century board games such as Balderdash. But, many parlour games are no longer known or played anymore. Fortunately, the Hagenbuch archives have evidence of our ancestors playing parlour games–evidence in photos, news articles, and descriptions of the games.
In the archives is a book which was owned by Hannah "Sechler" Hagenbuch's sister, Grace "Sechler" Cromis. Hannah was born in 1889 and married in 1914 to Clarence Charles Hagenbuch b. 1889 in Turbot Township, Northumberland County, PA (near Milton). Clarence's family line is: Andreas b. 1711 > Michael b. 1746 > Henry b. 1772 > William b. 1807 > Hiram b. 1847 > Clarence b. 1889. Since these games were compiled by Grace Cromis, they were most likely the same ones that were played by the Hagenbuch family and their acquaintances who lived in the same Northumberland and Montour County area.
The book is a hard cover notebook, 7 x 7 inches in size, and filled with lined paper. The game descriptions are handwritten in old-fashioned black ink and in lovely handwriting. Stuck in among the pages are some newspaper clippings of word finds and puzzles, but there are no dates to pinpoint when the book may have been compiled.
There are more than 35 games described in the book. Some of the games are familiar: The Farmer in the Dell, Blind Man's Buff, A Trip to New York, The Tom Cat Game (Pin the Tale on the Donkey), and Spin the Pan (Bottle). Other titles include: Upset the Fruit Basket, Squirrel, Poor Pussy, Wink, and Miss the Train.
The games speak to a simpler time. For example, below is the description for Shake Hands:
Form a circle, one extra to take the main part of the game (sic). The one that is it tags someone, each one goes the oposite (sic) direction. When they meet they shake hands three times and continue to go on around the circle. The one that returns last is it for the next game.
And here is the description for the game Flowers:
Give each player the name ROSE. But each one that is playing [has] to think they have a different name of a flower. Put a pillow in the center of the floor and tell them to touch the pillow … when their [flower] name is called. [Then call out the name "rose!"]
Evidence of parties where parlour games were played appear in several archival newspaper pieces and photos. Although the newspaper piece listed here does not mention games being played, there is no doubt that when these young folks got together they would have whiled away their visit with parlour games. The people who are known in the article are Gertie and Cyrus (C.) Hill who were sister and brother. Gertie would marry Percy Hagenbuch (also present) in 1902, so this gathering predates that marriage. As mentioned above, there was probably some courting going on between Percy and Gertie that evening!
Along with Percy Hagenbuch (b. 188o), his two brothers and two sisters were present: Julia Hagenbuch (b. 1884); Katie Hagenbuch (b. 1879, married to William Roat in 1902); Eugene (E.) Hagenbuch (b. 1877); and Israel Hagenbuch (b. 1883). These five young people were children of Hiram (b. 1847) and Mary Ann "Lindner" Hagenbuch. As written, this party which occurred on a Friday evening, took place before 1902, the year that both Percy and Katie (Kathryn) Hagenbuch were married to their spouses.
Two photos are included in this article which exhibit party gatherings. The first was taken at the home of Joseph (b. 1852) and second wife Mary Emma (Em) "Robbins" Hagenbuch. Joseph was the brother of Hiram Hagenbuch, and they were sons of William (b. 1808). This house still stands between the Montour County Hagenbuch homestead and the family church, Oak Grove Lutheran. It is still lived in by the grandson of Joseph Hagenbuch–Joseph James Hagenbuch.
The photograph was taken in about 1900 and some of the people are identified. In the back row: Bessie Coleman, Mary Alice Foust, Lillian Foust, and Bertha Coleman. The Coleman sisters were related to the Hagenbuchs through the Lindner family. Mary Alice and Lillian Foust were daughters of Tilman and Mary Ann "Hagenbuch" Foust; Mary Ann (b. 1842) was the sister to Hiram and Joseph Hagenbuch mentioned above. The young man standing on the far right is Cyrus Hill, brother to Gertrude Hill who married Percy Hagenbuch. Both Cyrus and Gertie were mentioned in the newspaper article above.
In the second row, the second man on the left is Percy Hagenbuch (b. 1880) and his future wife Gertrude (Gertie) Hill. They would marry in 1902. At the end of that row standing in front of Cyrus Hill is Israel Hagenbuch. Sitting, on the left are the two Hagenbuch sisters: Kathryn (Katie) (b. 1879) and Julia (b. 1884). It cannot be made out what Julia and another of the ladies are holding, some sort of picture card which might have something to do with a parlour game.
The second photo was taken in 1897 and not only has everyone identified, but is also very interesting in that several of the young people are "hamming it up" for the camera. Comical looks, bug eyes, gazing afar, noses in the air, and even a scandalous fellow laying in one of the young lady's lap all can be observed in the photo. One can imagine it must have been a fun filled evening especially for that day and age.
The writing on the back, most likely William Roat's, notes that these young people were playing the then-popular card game euchre. William (Will) Roat married Kathryn (Katie) Hagenbuch in 1902. Will is in the far right corner. Also identified are two of the Foust girls: Lillian who appeared in the previous photo and her sister Sarah (who was the feature of a previous article). Sarah (b. 1879) is in the center of the photo. She was married in 1908 to Harry Bibby. Lillian (b. 1881) is lower center looking down on the young man who is staring dreamily into her eyes. Lillian was married in 1905 to Edgar Reed. She and her two children were featured previously in the article about brothers and sisters.
It is easy to think of one's ancestors as stern, serious people. Yet, the men and women in these photographs are all youthful and carefree. They visited, courted, and played parlour games together. While the times have changed, the human desire to laugh and have fun certainly has not!