My Uncle Charles: Now I Know You Better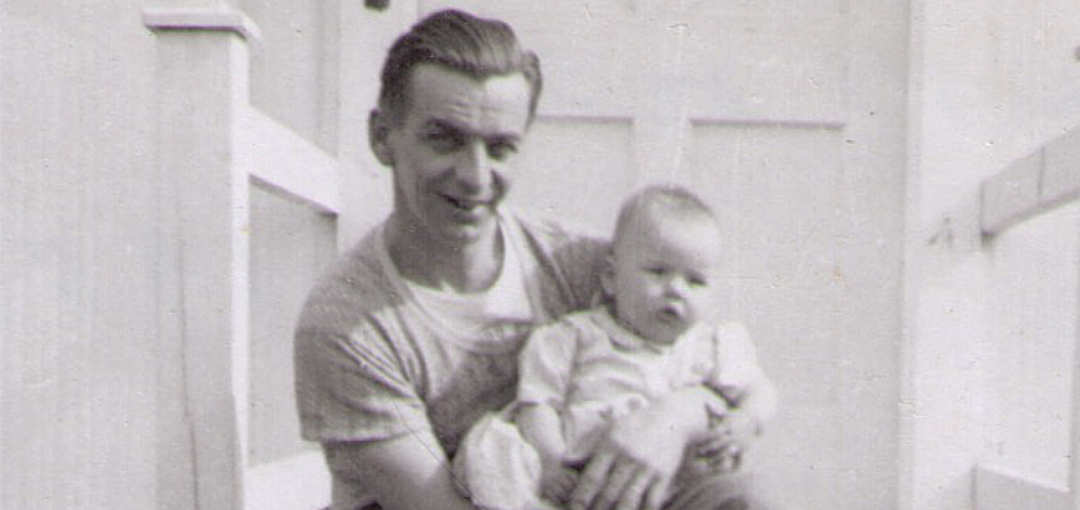 To begin this last in the series on my Uncle Charles, I want to thank my first cousin, Leon Hagenbuch, for looking through the attic-found box and realizing it's importance. I suppose to many it's amazing how much information can be garnered from a box of old papers. But to a genealogist, there are untold treasures to be found and researched in such ephemera. So it is with the box that was the impetus behind the four articles about my Uncle Charles. The box's contents were not taken at face value. Instead, they provided the opportunity for me and others to learn so much more about Charles Clarence Hagenbuch (b. 1915).
Half of the 12 x 12 x 8-inch box is filled with the tests which Uncle Charles took when he was a student enrolled in courses for electronic engineering at the Chicago based DeForest's Training school. The test questions run the gamut of topics such as magnetism, algebra, radio and television repair, and many areas of which I am not familiar. The remainder of the box is a hodgepodge of letters and higher education information, along with various items dealing with family. More on that later.
We know that sometime around 1938 Charles left his family near Limestoneville, Montour County, Pennsylvania to work at Blossom Hill Farm in New Jersey. With more research, mostly from military records, I could piece together the next five years of his life. On October 16, 1940, Charles registered with Selective Service. He was 140 pounds and five feet, seven and a half inches tall. He was still working at Blossom Hill Farm. But a handwritten note on the registration card reads: "moved Dec. 13, 1940 to 31 Bancroft St., Auburn, MA, c/o Herman Nuscher." Auburn was the location of Hood's Dairy where Charles began working after the move in December. Herman must have been a friend of his. They were probably both living in a boarding house and working at Hood's. And, Auburn is where Charles met his future wife, Leona Durant.
My Aunt Leona was born in 1924. In 1940 when Charles moved to Auburn, she was sixteen years old and lived about a mile from his place on Bancroft Street. We don't know when they met, but on December 18, 1943 Charles and Leona were married. Three months later, Charles joined in the military.
On the last day of March 1944, Uncle Charles enlisted in the U.S. Navy and most likely was shipped to Norfolk, Virginia for basic training. By June 11th he was on the USS Albemarle, a tender that serviced seaplanes. The Albemarle headed to North African waters and landed in Casablanca on June 20th. By June 25th, Charles had transferred to a repair ship, the USS Vulcan. The Vulcan arrived in Algiers on June 27th, where the crew were instrumental in rescuing British sailors from HMS Arrow. In August the Vulcan sailed to southern France and provided repair services to ships involved in the invasion of that area.
The Vulcan, with my Uncle Charles aboard, returned to Norfolk, Virginia by December 1944 for repairs. By January 1945 it sailed for the South Pacific. The ship and its crew were based around Guadalcanal and serviced the amphibious units that assaulted Okinawa from April to June of 1945. Think of the horrors of war that my Uncle Charles witnessed during his time there!
The Vulcan continued to ply the waters in that area even after the Japanese surrendered on September 2, 1945. On October 8th it sailed to Japan where it supported American troops by setting up mail, medical, and recreational facilities on shore. Sometime after this, either at the end of 1945 or early in 1946, my Uncle Charles was likely discharged from his Naval service. With all the military information I have gone through, I cannot find his actual discharge date. But, he certainly was home in Auburn with Aunt Leona no later than the end of January 1946—the reason being that their son, Gary, was born in November of that year. Then in November of 1950, their daughter Gail was born.
We can only imagine the experiences that Charles had in North Africa, southern France, the Pacific Theater, and Japan. My father never talked about his brother's service other than saying he was in the Navy (my father and his brother, Wilmer, were in the Army). As with so many veterans of World War II, we don't know their whole story and now it is lost in time.
Uncle Charles went back to his job at Hood's Dairy. In talking with my first cousin Kathleen, we both seem to remember a photo of Uncle Charles in a white outfit, white hat, and holding a rack of empty milk bottles. We assume that he worked in the milk processing plant. He retired from that position probably in the 1980s. So, what about the other items in the "treasure box"?
A well-worn 1854 New Testament German bible is in the box. It was owned by Charles Lindner (b. 1818), given to his great niece Kathryn "Katie" (Hagenbuch) Roat (b. 1879), and then she gave it to my Uncle Charles. His Christian name, Charles, came from the middle name of his father (my grandfather) Clarence Charles Hagenbuch (b. 1889). But, the family name "Charles" originated with Charles Lindner, my Uncle Charles' great great uncle, brother to his great grandfather (my great great grandfather) Israel Lindner (b. 1827). Both Israel and Charles Lindner are buried at the Hagenbuch family church, Oak Grove Lutheran near Washingtonville, Pennsylvania.
In the box there is a letter from Minnie Lindner dated August 3, 1932. Minnie's husband, Harry, was a first cousin to Uncle Charles' father Clarence (my grandfather). Minnie and Harry—also known as "Gov"—operated a general store outside of Pottsgrove, Northumberland County, Pennsylvania. The store sat catty-corner from Jackson School on the road that leads off Route 45 to Oak Grove Lutheran Church. The letter in essence reads that the Lindners have not forgotten Charles and were going to purchase him a tie. But then they decided to send him some money (which would have been enclosed). Minnie ends by writing "Wishing you success." I am not sure what occasion occurred in August of 1932 that the Lindner cousins would have given Charles some cash. Minnie writes that it was a "bill." It was most likely a $1 note which is worth about $20 in today's money.
More evidence of Uncle Charles' yearning for higher education is found in the box too. Two 1934 letters from Pennsylvania state senator, Charles W. Sones who served from 1911 to 1938, reflect that Charles had applied, but missed the deadline, for a senatorial scholarship. Senator Sones does offer Charles $50 a semester if he would be accepted to a Pennsylvania college. We know this never happened.
There are seven greeting cards and postcards in the box: a 1916 birthday greeting card from Sechler family cousins Belva and Mary Cromis; an Easter greeting card, probably dated 1918 from Sechler cousin David Herr; a lovely Valentine's Day card from his cousin Eleanor Sechler; a postcard dated November 7, 1932 to Uncle Charles from Mr. Lewis, who was the Montour County agricultural agent congratulating him on an above average potato yield and writing that he (Mr. Lewis) wanted to enter the best of the potatoes in a state contest; a Christmas card from Charles's Uncle Frank and Aunt Grace (Sechler) Cromis; and a Christmas card with a beautiful winter scene, unsigned.
In addition, there is a card that is connected to a piece of family history. Charles' uncle, Francis Eugene Hagenbuch (b. 1877), was a brother to his father, Clarence, and was the topic of one of our earliest articles published on this site. Francis, who the family has always referred to as Eugene or Gene, died on April 7, 1913 in Williamsport Hospital. A postcard sent to Charles' father (my grandfather Clarence) from his sister Kathryn "Katie" (Hagenbuch) Roat is in the box. Somehow Uncle Charles obtained this postcard and saved it. It was sent to Clarence four days before their brother Eugene died. It reads:
Dear [Brother,]
Were you able to see Eugene on Sun. If you were, how did you find him. Paul and I were over to Percy's Sun. afternoon. Let me hear from you how you found E. if you were up. Please.
Sister K.J.R.
Paul is Katie Roat's son. Percy is another brother to Katie, Clarence, and Eugene. The postcard is addressed to Mr. C.C. Hagenbuch, Danville Hospital, PA. I believe my grandfather Clarence was working at the Danville State Hospital during that time. The front of the postcard has a photo of the Milton High School which later became the Junior High School in Milton, PA. The message on this card really struck a chord with me, as the family always told stories about Uncle Eugene and his untimely death.
Also in the box are several groups of papers that were written by Charles's mother, my grandmother Hannah (Sechler) Hagenbuch. Grandma enjoyed writing poetry and was an educated lady having taught school before she was married. These papers, which Uncle Charles had obtained and saved, will be presented in a future article about my Grandma Hagenbuch.
Finally, there is a letter to Charles written in September 1936 from Miss Shirley Lane of Yonkers, New York. This letter presented a mystery to me. I did research to find out who Shirley Lane was—a girlfriend, a cousin, or someone else? The letter is very well written. After I came to several dead ends, I turned to Andrew to help solve the mystery. His research found that Shirley's mother's sister was Florence (Cummings) Sechler who was married to Ralph Sechler, brother to Charles's mother (my grandmother) Hannah (Sechler) Hagenbuch. Shirley must have gone to visit her Uncle Ralph and Aunt Florence (Cummings) Sechler in 1936. Ralph and Florence owned a farm nearby Charles and his family in Montour County, PA. There Shirley met Charles. She may have even been a bit enamored of him, as she was a year younger than him. The letter reads as follows:
Dear Charles,

I am writing to you to thank you for your hospitality while I was in your presence. I had a grand vacation and it doesn't seem possible I am once again in the "big city." I miss the grandeur of the country side, the beautiful scenery, the solitude and the splendor of the evening sunset. We have electric lights but this dims the glamor of the moonlight and the glory of an evening sunset. We have so much here in the city but is life pleasant with just luxury? Yours is the life of peace of mind and contentment, while ours seems to be one of pride and selfishness. I marvel at the hospitality of the country folk. Maybe it's because you have so much more to share and there too, maybe it's because you just have a bigger heart. They say a "big heart and a heavy pocketbook" never go together. Quite true! You are all so darn considerate and so gracious. Yours is the life. I will close hoping you are all in the best of health. If you ever feel so inclined to write to me.

Most sincerely,
Shirley Jean Lane.
Research has not unearthed what happened to Shirley. But, I believe all would agree that this is a beautifully written letter with positive descriptions of the country versus the city. Remember that at this time Charles had decided not to continue his education as an electronic engineer, and it may have been soon after this that he decided to leave the farm and work at the Blossom Hill Farm in New Jersey. The mind wanders a bit with wondering if Shirley Lane ever moved to New Jersey, also?
There is one last, small piece of paper in the box that sums up so much of what I learned about my Uncle Charles from going through the box. On a 1 x 6-inch card is printed: "Remember—The Education remains long after the cost is forgotten." My Uncle Charles was no different than so many other young men from the early 1900s. He wanted to better himself. He worked hard in his attempt to obtain an education to build a lasting career. He went off to war and did his patriotic duty. He got married and had children. And, although his career was not what he at first set out to create, he did create a loving family with a home. My Uncle Charles was a positive member of our American society and because of all this, he needs to be remembered and his life needs to be celebrated. Rest in Peace, Uncle Charles. We know so much more about you, and you are not forgotten!