C. H. Hagenbuch, Druggist, Shenandoah, PA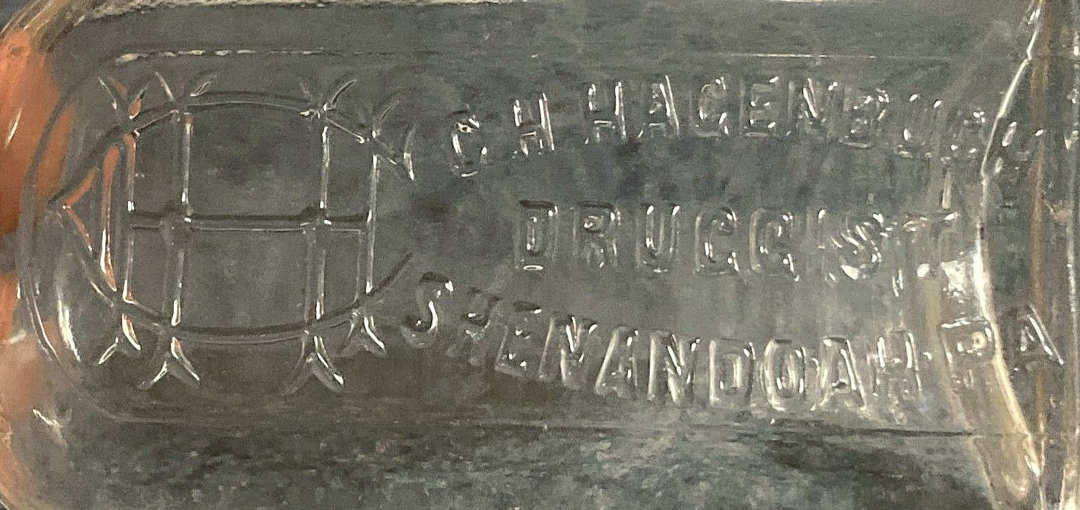 During the 19th century, a number of Hagenbuchs entered the growing field of medicine and pharmacy. Several of these individuals and their families have been featured in previous articles. For instance, George Miller Hagenbuch (b. 1826) started as a druggist in Bloomsburg, Pennsylvania and later relocated his store to the nearby town of Williamsport.
Charles Coleman Hagenbuch (b. 1835) began his career by clerking with George Miller Hagenbuch—his second cousin, once removed. Charles eventually moved to Mahanoy City, PA and opened a drugstore there. The business continued into the 20th century under the proprietorship of his eldest son, Dr. James Hervey Hagenbuch (b. 1862). Charles's youngest son, Dr. John "Bert" Hagenbuch, Sr. (b. 1871), took a similar career path, though he established himself as a veterinary pharmacist.
Drugstores of the 1800s were far removed from the highly regulated pharmacies we are accustomed to today. For example, while some off-the-shelf medicines were available, many were mixed and made onsite by the pharmacist. The finished concoctions were placed into capsules, tins, and glass bottles for distribution. One such bottle, used at the drugstore owned by George Miller Hagenbuch, was featured in an article from 2018.
Recently, another medicine bottle was auctioned on eBay. While we did not win the auction for this item, we have been able to use the pictures of the bottle to learn more about it. The 4-inch-tall, glass container displays a styled logo of a "C" with the letter "H" twice inside of it. Next to the logo is the text "C. H. Hagenbuch, Druggist, Shenandoah, PA." Using this information, we have been able to research the bottle and the Hagenbuch whose name is featured on it.
Shenandoah is a town located in Pennsylvania's anthracite coal region, only a few miles from Mahanoy City. Both towns were founded in the 1860s and experienced rapid growth, sparked by a flood of men who moved there to work in the mines. More people followed to find work in these boomtowns. They built schools, churches, and banks. They established general stores, groceries, and other businesses. Some even setup drugstores, as was the case with one group of Hagenbuchs—the descendants of Robert Hagenbuch (b. 1808).
The first Hagenbuch to settle in coal country was Robert's son, Charles Coleman Hagenbuch (b. 1835). Besides opening a drugstore in Mahanoy City, he also signed the petition to create the borough in 1863. Charles must have kept in close contact with his older brother Benjamin "Ben" Hagenbuch (b. 1833), whose letters from the Civil War were featured last year, because both of Ben's sons relocated to the region and became residents of Shenandoah. Their names were Robert Del Roy (b. 1853) and Charles Harvey (b. 1855). According to census records, Charles Harvey appears to have gone by "C. H. Hagenbuch"—the same name listed on the bottle.
Charles Harvey was born to Benjamin Del Fel and Sarah Jane (Ammerman) Hagenbuch on June 7, 1855 in Columbia County, PA. His line is: Andreas (b. 1715) > Christian (b. 1747) > John (b. 1785) > Robert (b. 1808) > Benjamin Del Fel (b. 1833) > Charles Harvey (b. 1855). At the age of 15, he was living with his uncle and aunt, Dr. William and Mary Ella (Hagenbuch) Harris, in Hamburg, PA. There, he worked as an apprentice to his uncle, who was a "druggist" per the 1870 census.
By 1880, Charles moved to be with his brother, Robert, in Shenandoah and opened his own drugstore. This was located in a brick building at 103 North Main Street near the intersection with Lloyd Street. In 1883, Charles married Mary Elizabeth Newman (b. 1862), and the couple had five children together: Raymond Delroy (b. 1885), Eva May (b. 1887), Charles Harvey Jr. (b. 1892), Harry Joseph (b. 1896), and Salome Jane (b. 1900). Some sources indicate they may have had a sixth child, Thelma, who died young, though no birth or death record has been found to support this. Curiously, upon reaching adulthood Charles Harvey Hagenbuch, Jr. moved to Missouri and dropped the "buch" from his name. As a result, his descendants have the surname "Hagen", obscuring their Hagenbuch family heritage.
In 1891, Merchants National Bank bought and remodeled the building housing "C. H. Hagenbuch, Druggist." Contemporary newspaper ads show that the drugstore remained a tenant, and the structure still stands at the corner of Main and Lloyd Streets. Charles appears to have operated the drugstore in Shenandoah until his death on December 22, 1905. At that time, he was also serving as a borough tax collector. Charles Harvey Hagenbuch, Sr. is buried in the Odd Fellows Cemetery in Shenandoah, PA, along with his wife and other close relatives.
What can we learn from an old medicine bottle found on eBay? Using the above research and information, we know that the bottle was produced sometime between 1880–1905, and it was used to hold medicines that were sold at the drugstore of Charles Harvey Hagenbuch. Yet, more importantly, this bottle helps us to remember Charles' life, revealing forgotten details about another fascinating person on our Hagenbuch family tree.