Family Transportation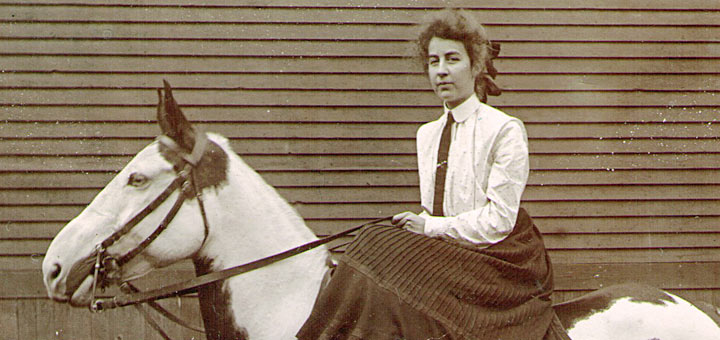 For thousands of years, humanity's modes of transportation never changed. Walking, riding animals, animals pulling carts or wagons, and water craft were the way that folks traveled. Then, steam locomotion came about, powering boats, ships, trains, and steam cars. Eventually, great strides occurred with the gasoline powered engine leading to automobiles and the airplane. And, let us not forget the electric car which has been on the table of perfection for over 100 years.
Our ancestors in the last hundred years have certainly experienced huge changes in transportation.  Below are some family photos that attest to this fact.
This smart-looking lady is Lillian Foust (b. 1881) in Milton, PA. Lillian was the daughter of Tilman and Mary Ann "Hagenbuch" Foust. Her line is Mary Ann Hagenbuch (b. 1842) < William Hagenbuch (b. 1807) < Henry Hagenbuch (b. 1772) < Michael Hagenbuch (b. 1846) < Andreas Hagenbuch (b. 1711). Lillian married Edgar Reed in 1905. The photo was taken in about 1900 and certainly shows off not only Lillian's good looks but also the horse's!
Lillian's older sister was Sarah Foust (b. 1879). Sarah married Harry Bibby in 1908. This photo is most likely from their wedding trip to New York City that same year. Research shows that the electric car in the photo was from a fleet of those vehicles used for tours around the city from 1908 to 1916. Harry and Sarah "Foust" Bibby are in the second seat from the front, closest to the camera. Harry is looking at the camera. Sarah is staring straight ahead, appearing quite formidable in her extravagant hat!
Another sibling of Lillian is featured in the next photo. William Foust (b. 1867) was a mailman in the early 1900s – the exact dates are not known. Here we see William delivering the mail with his horse and wagon. We think we have unique mailboxes today? Take a look at the ones featured here! Also, one of the posters on the tree advertises the Oak Grove church festival. It is difficult to read the whole poster; but, interestingly, it is described as the Brick Lutheran Church. Only the first part of the date can be read – August 15. The year is not clear. For many years the festival at Oak Grove has been held on a Saturday evening. But, the poster reads as if the festival was previously two days long with August 15 being a Friday. If that is so, and if one looks at William's possible age in this photo, the year is likely 1919 or 1924.
"The horse knows the way, to carry the sleigh." Taken in about 1915, this photo features Wilmer Reichard (b. 1897) and his mother, Emma "Hagenbuch" Reichard (b. 1854). The photo was probably taken near their farm west of Bloomsburg, PA. Emma was married in 1890 to John Reichard. She was the sister of Mary Ann "Hagenbuch" Foust who is mentioned above.  Emma's father was William Hagenbuch b. 1807.
Farming with horses and tractors has always been important to many of the Hagenbuch families. Ella Jane Hagenbuch (b. 1932) is driving her father's Farmall tractor in this 1976 photo taken west of Montgomery, PA. Jane's father, Paul Merton Hagenbuch (b. 1897), was married to Hannah Elizabeth Pauling and they owned a small farm. Jane is residing at Elmcroft Assisted Living in Lewisburg, PA.
Recently the article "On a Sunday Afternoon" featured RD Hiram Hagenbuch (b. 1884) and his wife, Pauline "Housel" Hagenbuch. This photo features RD, Pauline, their daughter, Roberta, and a nameless dog (Rover?) in about the year 1930. It was most likely taken in Montgomery, PA, where they lived. Roberta married Richard Buck in 1937 and they lived in Watsontown, PA. The car resembles a Model T except for the vents above the window. RD Hiram's line is: RD Hiram (b. 1884) < Hiram (b. 1842) < Charles (b. 1811) < John (b. 1763) < Andreas (b. 1711).
Another photograph of RD Hiram Hagenbuch shows him alongside an airplane. This documents the first airmail pickup in Montgomery, PA, which occurred in May of 1938. It's amazing to think that in RD Hiram's lifetime, people went from riding horses and traveling on trains, to driving cars and flying in planes.
A different mode of transportation is featured in our next photo: goat riding! Featured in a previous article, Percy Hagenbuch (b. 1880) has hopped onto Billy Goat to hitch a ride in this photo taken about 1930. Percy was a "character"and one of the more colorful Hagenbuchs of his generation. Percy's father was Hiram Hagenbuch (b. 1847) < William (b. 1807) < Henry (b. 1772) < Michael (b. 1746) < Andreas (b. 1711).
And finally, we have a wee Hagenbuch lad learning to plow with a team of horses! This is Howard Tillman Hagenbuch, the youngest son of Percy (b. 1880) and Gertrude "Hill" Hagenbuch. Taken in about 1926 near Limestoneville, PA, Tillman was born in 1921 and was married in 1942 to Grace Margaret Anderson. Tillman is holding tight to the reins of the team, which is pulling a two-bottom plow. The horses have fly nets on them and there are shocks of grain in the back field.
These are just a sampling of photos in the Hagenbuch archives that give us a taste of life before the modern farm machinery and modes of transportation we enjoy today. From horse to wagon to the Model T, electric cars, and planes, our family has enjoyed the traveling life.