Thoughts on Michael Hagenbuch's Estate Inventory: Part 2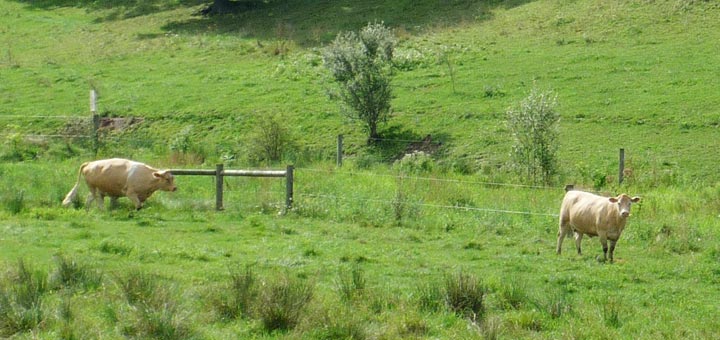 Estate inventories are intriguing documents detailing a person's effects and providing clues to how that person lived.
The first part of this article discussed the death of Michael Hagenbuch (b. 1805) in 1855 and how in 1856 three men compiled a comprehensive inventory of all the items within his estate. The value of Michael's estate was then compared to that of the previous three generations who had lived at the Hagenbuch homestead. Additionally, it was noted how Michael's widow, Abigail "Abia" (Stapleton) Hagenbuch (b. 1811, d. 1883), received part of her husband's estate, totaling about $300.
The second part of the article will now examine specific items found within the inventory and attempt to paint a picture of how the Hagenbuch family lived during the mid-1800s.
Distilling
One surprising find within Michael Hagenbuch's inventory is a "still kettle and fixture" as well as "still hogsheads." Though no liquor is noted, it would appear that the family continued to distill alcohol, even as temperance gained in popularity.
This is further supported by the types of grains that were on hand. The inventory notes a large amount of corn (240 bushels) and rye (160 bushels). Either of these may have been used to the create mash needed for making whiskey.
Starting with Michael's father, Jacob (b. 1777, d. 1842), there appears to have been a decline in the distilling operation at the farm. That said, it is now clear that the family had not entirely abandoned it, which is further supported by an 1854 map noting a distillery near the location of the homestead.
Textiles & Leather
Since the time of Andreas Hagenbuch (b. 1711, d. 1785), textiles were an important source of income for the Hagenbuch family. Other inventory documents have shown that Michael's father, Jacob, invested heavily in the production of linen fabric produced from homegrown flax.
However, Michael's inventory shows little in the way of linen production. It provides no record of the flax breaks, hackles, spinning wheels, or loom that were previously owned by Jacob. Though the family had a small amount of flax seed on hand, it appears that by the mid-1800s the Hagenbuchs had moved away from producing linen and other textiles.
Leather also declined in importance for the family. Whereas Jacob's inventory notes many calf skins, knives for scraping, and finished leather products, Michael's lacks all of these items. There are, however, two pieces of evidence supporting the idea that some tanning continued.
First, the 1854 map previously discussed notes the "Hagenbuch Tanyard." Although, because maps were periodically created from older surveys, this could have been a remnant from the 1840s when the homestead was still heavily focused on tanning.
Second, a bucking tub is contained within the inventory. A bucking tub was a tub raised above the ground so that a bucket could be placed under it. A hole in the bottom of the tub could be unplugged and water drained into the bucket.
A bucking tub was commonly used to wash clothing. Clothes were placed in the bottom of the tub, while a heavy cloth covered the top. An alkaline material like lime or wood-ash lye was placed onto the heavy cloth and hot water poured through this. The hot water would mix with the alkaline material and percolate down through the clothing. The waste water could be drained and the process repeated until the clothing was clean.
Besides clothing, the bucking process was also used to clean hides when tanning leather. Doing so usually created softer, higher quality leather. Therefore, the appearance of a bucking tub on the inventory might be evidence of tanning. However, given the lack of leather, scraping knives, and other tanning materials it was probably just used for washing clothes.
Music & Art
One of the most exciting finds on Michael Hagenbuch's estate inventory is the first example of a musical instrument owned by the family. This is a melodeon, which was a popular reed instrument during the 19th century. Unfortunately, it is difficult to know the exact type of melodeon they owned.
In the United States, the term melodeon was frequently used to refer to a reed organ with a pedal pump that was played using a keyboard. Reed organs were made of wood and were designed to be sat in front of and played. Yet, the assessed value of Michael's instrument was only $3, indicating it was quite small.
Research has shown that the term melodeon was also used to refer to a button accordion. Though not as beautiful as a reed organ, the Hagenbuch melodeon was probably more of an accordion than a organ.
Art in the form of pictures is mentioned as well. It is doubtful that these were paintings or photographs. Instead, they were probably lithographs or prints which depicted either natural scenery or religious themed imagery.
Agriculture
While Michael Hagenbuch does not appear to have cultivated as much flax as his father, he was still in the business of agriculture. Grains harvested on the farm included corn, wheat, oats, and rye. There were animal products too such as honey, tallow, lard, sausage, and pickled meat. Apple butter, dried apples, and dried peaches are mentioned as well.
Livestock were some of the farm's most valuable assets. These included horses, cows, a bull, hogs, sows, shoats (young pigs), and sheep. It appears that the livestock were sometimes fed "chop" which is noted in the inventory. Research has revealed that chop was a coarsely processed feed containing corn, wheat, or rye along with some of the hulls, stems, and husks.
Other Items
The 1856 estate inventory lists numerous pieces of furniture such as beds, cradles, rocking chairs (including six yellow ones), as well as stoves, cookware, dishware, and even a dinner bell. One curious type of dishware listed is "queens ware." Queensware was a cream-colored Wedgwood pottery and was likely some of the finer china in the house.
Two guns are mentioned, as is a smoking pipe and a spittoon (the first seen in a Hagenbuch inventory). Several lots of books are noted. However, only one is mentioned by name – the family Bible.
Michael Hagenbuch's death in 1855 led to the Hagenbuch homestead passing out of family ownership. However, this untimely event is ultimately the reason why a thorough inventory of his estate exists today. It is because of this document that one can begin to piece together the life of the Hagenbuchs some 160 years later.
Imagine, for a moment, an idyllic Sunday afternoon one summer at the homestead. After attending morning services at New Bethel Church just down the road, the family returns to their stone farmhouse situated along Pennsylvania's Blue Mountains. In late afternoon, a large dinner is prepared in the summer kitchen and served on beautiful queensware china. After dinner, the family retires to the front porch, sitting in the yellow rocking chairs found there. As the sun goes down, they discuss the week ahead and, just maybe, someone begins to play a tune on the melodeon for everyone's enjoyment.