My Great Great Aunts, Sarah and Eliza: a Mystery or Not?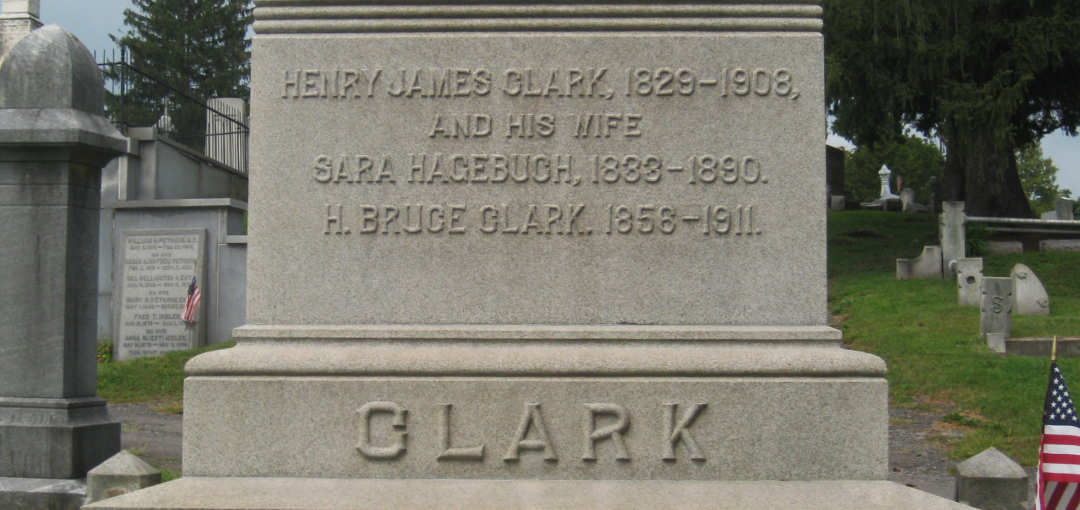 Andrew and I often deal with mysteries. Facts—such as the names, dates and places we often reference—are solid material. But, it's the personal details of one's life, often the unknown, that make my creative juices flow. One of those mysteries is the first wife of my great great grandfather, William Hagenbuch (b. 1807). Anna Knorr was born in 1809 in Columbia County, Pennsylvania where she met and married William in about 1831. They had two daughters, Sarah (b. 1833) and Eliza (b. 1836), before Anna died in 1839. Anna is buried at Hidlay Lutheran Church, Centre Township, Columbia County, PA near where she and William lived.
The mysteries begin to emerge when, the year after Anna dies, William remarries to the woman who was to be my great great grandmother, Rebecca Muffley (b. 1816). Sure, my imagination begins to kick in with questions concerning the short time between Anna's death and William's remarriage; and the short time between William's marriage to Rebecca in 1840 and the birth of their first child Jacob which also occurred in 1840. Unfortunately, we don't know the month of the marriage nor the month of Jacob's birth. However, we do know that Jacob died young. (This is the reason we don't have any solid dates on his birth or death). The next year, 1841, another child was born to William and Rebecca, Catherine, who died at the age of 12. Both Jacob and Catherine are buried at Hidlay Church, Centre Township, Columbia County, PA.
Five more children followed Catherine, all living into adulthood: Mary Ann (b. 1842), Hiram (b. 1847) who is my great grandfather, Matilda "Tillie" Jane (b. 1850), Joseph (b. 1852), and Emma Frances (b. 1854). All five children married and all had children, except for Tillie.
I really began to wonder when William, Rebecca, and their four children, at that time, moved to Liberty Township, Montour County, PA in 1853. William had purchased 142 acres on April 1st of that year, and it is believed the family moved there soon after. There was already a house on the property. Much of it was still intact when, in the summer of 1970, I worked for the owners of it—my father's first cousins, Bruice, Andrew, and Julia.
There is little mystery why William's two daughters by his first marriage, Sarah and Eliza, did not accompany him to Montour County. They were already ages 20 and 17 respectively. However, it is mysterious that there seemed to be little if no contact between the daughters and their father, stepmother, and half siblings after that move. In fact, it was that move that may have been the impetus that the Montour County Hagenbuchs and the Columbia County Hagenbuchs rarely acknowledged each others' existence.
Or was it? In my mind, there was some sort of a problem with the marriage of William Hagenbuch to second wife Rebecca Muffley so close on the heels of his first wife's death. And, although it was thirteen years after that death and remarriage that William decided to leave Columbia County behind, it's surprising to me that there was little contact between his first two children and the remaining five children.
Here are some of the facts we know about William's two daughters with Anna Knorr. Sarah Hagenbuch was born in 1833 on the farm where William and Anna lived near Hidlay Church. There were a lot of Hagenbuchs living near there at that time since William's father, Henry (b. 1772), had moved there in 1802. Henry was a grandson of Andreas Hagenbuch (b. 1715). His Uncle John (b. 1763) moved there soon after.
Sarah married Henry James Clark in 1855. They had one son, Henry Bruce, who was born in 1856 and never married. Henry and Sarah were living in Bloomsburg in 1880 and their son Henry Bruce was living with them. Father and son were working as store clerks. Sarah died in 1890 and her husband, Henry, died in 1908. They are buried in the Rosemont Cemetery, Bloomsburg, PA.
Sarah (Hagenbuch) and Henry James Clark's son, Henry Bruce Clark, died in 1911 of a cerebral hemorrhage. A small write-up in the Bloomsburg newspaper states that he was a prominent Mason, a trustee of the Bloomsburg Normal School (now Bloomsburg University), and a director of the Bloomsburg Bank. Henry Bruce is buried with his parents at Rosemont Cemetery.
So, here's more mystery—this concerning the relationship between Sarah (Hagenbuch) Clark and her half family in Montour County. Although I believe there was little back and forth between the Clarks and the Hagenbuchs, the Hagenbuchs at first tried to keep in contact. Sarah's half sister, Mary Ann (who married Tilman Foust from Milton, PA), named one of her daughters Sarah Clark Foust. Sarah's half brother, my grandfather Hiram, named his second son Henry Bruce (b. 1856), after Hiram's first cousin, Sarah (Hagenbuch) Clark's son, Henry Bruce. Finally, Hiram's son, Israel Hagenbuch (b. 1883) who is my great uncle, named his second son Bruce. (He later changed the spelling of his name to "Bruice".) Hopefully this naming act is not too confusing.
As I thought about my Montour County family's names honoring Sarah (Hagenbuch) Clark's family, I realized that the Clark family had all passed away by the early 1900s, when those named for the Clarks were reaching adulthood. By the time my father's generation was at an age to ask questions about the Clark family, they had all died.
I do remember my father's first cousins—Bruice, Andrew and Julia—mentioning to me about the Clarks. But that was probably for two reasons. First, they probably knew the most about their half great aunt, Sarah Clark, because their father, Israel (b. 1883), had heard stories about the Clarks from his father, Hiram (b. 1847), who was Sarah Clark's half brother. Second, Bruice was named for his uncle, Henry Bruce Hagenbuch, who died as a child and was named for Henry Bruce Clark! Maybe it is not so much that there was bad blood between Sarah Clark and her half siblings but that they lived about 25 miles away from each other at a time when horses were the main form of transportation. It also didn't help that the Clarks had died before those named for them in my family were old enough to really know them.
Let's move on to William Hagenbuch's second daughter, Eliza M. Hagenbuch. In the 1850 census for Centre Township, Columbia County, Eliza was 14 years of age and was living with her father William, stepmother Rebecca, full sister Sarah (aged 17) and four half siblings. William had not yet moved the family to Montour County. Again, it is not believed that Sarah and Eliza moved to the Montour County farm with William in 1853. Instead, the sisters may have lived for a while with their mother's folks, the Knorrs. Research on Ancestry.com lists that Eliza married John Hess in 1858 at Moorestown, Northampton County, PA.
Two years later, in 1860, the Hesses were living in Dixon, Illinois where John worked as as a farmer. This is the same town that future president Ronald Reagan and his family moved to in 1920 when "Ronnie" was 9 years old. The 1870 census lists three children born to John and Eliza (Hagenbuch) Hess—two sons and a daughter. The 1880 census also lists three children (three sons), but one of the sons has a different name!
The 1980s Hagenbuch genealogy paper records for this family are based on graveyard records and newspaper articles from when I was in contact with Viola Paulsen. She was a Dixon, Illinois genealogist. The records list eight children by the year 1875. Furthermore, the first child born to John and Eliza was Jacob Leander Hess (b. 1856). Yet the marriage year listed in the records of the Salem United Church of Christ in Moorestown, PA is 1858. I assume the correct marriage year is actually 1856 with Jacob Leander being born nine months later.
While the 1870 and 1880 census records for John and Eliza M. (Hagenbuch) Hess are basically correct (four of their eight children died young), they seem a bit confusing, and the paper records I have appear better and are also detailed. The following are the children for John and Eliza (Hagenbuch) Hess: Jacob Leander (b. 1858, d. 1900, m. Susan Keener); Adele (b. 1857, d. 1879, unmarried); Ida (b. 1859, d. 1861); Charles (b. 1860, d. 1860); Ella, (b. 1861, d. 1863); John Albert (b. 1864, d. 1935, married); Royce Roscoe (b. 1873, d. 1918, m. Margaret Bogue); and Clyde (b. 1875, d. 1879).
Take a good look at the birth and death dates of these children. Eliza had eight children in 15 years. Four of those children died young. It is my opinion that these situations contributed to the early deaths of John in 1888 and Eliza in 1889. John took ill in March or April of 1888, and accidentally drowned while fishing in June. Eliza became "mentally unbalanced" and was ill for several months. She committed suicide in August of 1889. John and Eliza are buried at Oakwood Cemetery in Dixon, along with children Adele, Ida, Charles, Ella, and Clyde.
The Hagenbuch paper records list three of the children—Jacob Leander, John Albert, and Royce Roscoe—as having married. But, Royce is the only one who has detailed information listed in the paper records. Genealogist Viola Paulsen had sent me information about him, as well as Royce's daughter-in-law, Dorothy (Becker) Hess. As mentioned above, Royce was born in 1873 in Dixon, Illinois. He married Margaret Bogue around 1897. His worked as a mail carrier. Royce and Margaret had two sons: John Clark born (b. 1899, m. Goldie Huggins) and James Leander (b. 1901, m. Dorothy Becker). It was James' wife, Dorothy, who sent me the family information in the early 1980s. Royce died in 1918 of Spanish Influenza and his wife Margaret in 1961. They are buried at Oakwood Cemetery.
John Clark and Goldie (Huggins) Hess had one known child, Robert. He was born in 1930, was never married, and died in 1987. He is buried in Piney Creek, North Carolina. James Leander and and Dorothy (Becker) Hess were married in 1932 and had no children. They lived in Sterling, Illinois where James' career was in real estate and insurance. James died in 1977 and Dorothy in 1995. They are buried in the Riverside Cemetery, Sterling, Illinois.
Although this article started out with possible mysteries, other than the early death of William Hagenbuch's first wife, Anna Knorr, and the prompt marriage of William to second wife, Rebecca Muffley, much else about my great great aunts' lives is probably not that mysterious. My Hagenbuch family seemed to know little about Sarah Clark and Eliza Hess because the Clark family's existence was short lived. Although they resided in a neighboring county to my great aunts, great uncles, and cousins, there was little time for my father's generation to get to know the Clarks as they had died by the early 1900s. What is significant is that my family named children after Sarah Clark and her son. That is something that connects our families!
As for the John and Eliza (Hagenbuch) Hess family, they moved to Illinois and led what can truly be called a sad life. Only half of their eight children lived to adulthood, only three of them married, and those three had few if any descendants. It's no wonder that our Hess family from Illinois did not keep in contact with the Hagenbuchs of Pennsylvania. However, the Hagenbuch photo archives are fortunate to have a picture of Royce Roscoe Hess, son of Eliza (Hagenbuch) Hess and grandson of William and Anna (Knorr) Hagenbuch. No other photos are known to exist of the Clarks or the Hesses.
The photo has written, identifying information on the back, with the date 1939 (20 years after Royce's death) and stamped with the photography shop of "Hart's" in Sterling, Illinois. My first guess is that Dorothy (Becker) Hess sent it to me. Dorothy was the wife of Royce's son, James Leander Hess. Yet, I still don't know what the date of "1939" written on the back means.
The other possibility is that the photo was sent in 1939 by someone in the Hess family to my great uncle, Israel Hagenbuch (b.1883), who was a first cousin to Royce Hess. Perhaps Israel passed the photo on to his children: Bruice, Andrew, and Julia. This Hagenbuch family, who at that time lived on William Hagenbuch's homestead farm, knew the most about the Clarks and Hesses. Possibly, Julia then passed it on to me?
After writing this article, I am convinced that William's daughters by his first marriage were not estranged from him or the family after they moved from Columbia County to Montour County. It was a matter of circumstances that kept the Clarks and Hesses from becoming usual correspondents and visitors with their Hagenbuch cousins. Similar circumstances even exist today with our families and possibly more so with cousins living at one end of the country from other cousins at the other end. Our daily lives are caught up in our own immediate situations, and we don't take the time to keep in touch with relatives. One thing for sure: after writing this article I now know my great great half aunts and their families much better!