The Century Farm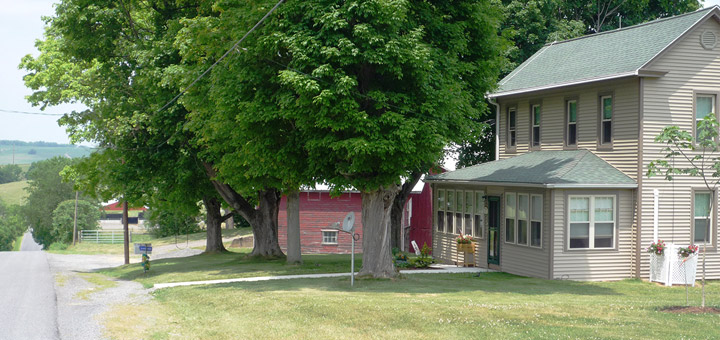 Evidenced by the many articles that have been written for this website about farming, Andreas began an agricultural legacy when he first purchased land in Berks County in 1738. Although new research is showing that Andreas did more than just farm, using his land to make a living was the impetus behind most of his businesses. This continued into the next generation as three of his four sons carried on the agricultural tradition. Michael, Christian, and John were all farmers whereas the eldest son, Henry, went into the tavern business in Allentown, Pennsylvania.
Second son Michael (born 1746, died 1809) has propagated the most generations of farmers. The family homestead in Albany Township passed through to his son Jacob (born 1777, died 1842) and then to grandson Michael (born 1805, died 1855). Upon Michael's death in 1855, the farm was sold out of the family. But, Jacob had other sons and grandsons who carried on the hard work of farming in other areas of the country. One needs only to read Enoch Hagenbuch's historical accounts to have evidence of that; and the Hagenbuchs that emigrated to the mid-west during Enoch's time passed the agricultural gene on to their descendants, as evidenced by the Hagenbuch farms that are operating in Illinois today.
Although Jacob inherited the family farm, his brother Henry (born 1772, died 1850) carried on the farming business when he moved from the homestead in 1802 to begin farming near Hidlay Church in Columbia Co., Pennsylvania. The tradition carried on to his son William (born 1807, died 1879) who moved from Columbia County to Montour County in 1853 to establish another agricultural "kingdom" as his land and other land around was farmed by his children and grandchildren.
William's acreage stayed in the family until the early 2000s – passing on from William to his children, to his grandson Israel (born 1883, died 1965), then to Israel's children: Andrew, Bruice, and Julia. In 1976 the state of Pennsylvania recognized the 142 acres purchased by William Hagenbuch in 1853 as a Century Farm. And, although the farm has now passed out of the family just like Andreas's "homestead tract", many of us Hagenbuchs in central Pennsylvania still recognize the "century farm" as our traditional home.
The last owners of William Hagenbuch's "Century Farm" were Andrew who died in 1987, Bruice who died in 2002, and Julia who died in 2012.