Ethel Bibby's Photographic Legacy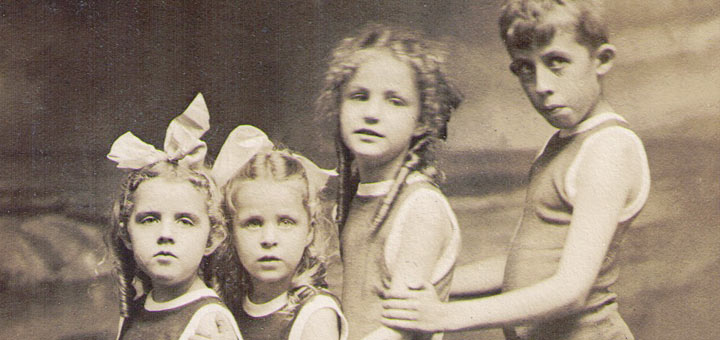 In 1983 I was informed by cousin Julia Hagenbuch (b. 1915) that cousin Ethel Bibby was living in a Selinsgrove, PA nursing home. Since our family lived nearby in Hummels Wharf at that time, I decided to visit her.
Ethel was born in 1909, the daughter of Harry and Sarah "Foust" Bibby (Sarah Foust b. 1879 < Mary Ann "Hagenbuch" Foust b. 1842 < William Hagenbuch b. 1807 < Henry Hagenbuch b. 1772 < Michael Hagenbuch b. 1746 < Andreas Hagenbuch b. 1711). Ethel was not married and spent her life teaching in the Milton, Pennsylvania schools. She had one sister, Ella b. 1911, who was married to Warren Evans and had no children.
From my first visit in 1983 and until her death in 1984, I visited with Ethel several times. Upon her death, I received a call from the nursing home telling me that there were several boxes full of old photos that I could have if I wanted. The photos total more than 300, a few of them duplicates and most of them unmarked. I have been able to identify about two thirds of them, the other half probably being friends of Ethel and her parents.
The oldest photos are of Ethel's grandparents: Tilman and Mary Ann "Hagenbuch" Foust. Tilman had a livery stable in Milton which later was a gas station owned by Tilman's son, Oscar Foust. Most of the photos are of Ethel and her sister Ella, her parents, her uncles and aunts, and her first cousins. But, some of the photos are of places in Milton, vintage late 1800s and early 1900s.
Some of the photos were of sports teams and clubs associated with Bucknell University from where Ethel, her Aunt Lillian, and her three first cousins graduated. These photos were donated to Bucknell University soon after Ethel's death and are housed in the university archives.
The photos are a snapshot of our family's life during the late 19th century and early 20th. Many are just head shots, while others show the Foust family posing in different outfits and participating in various activities. It is a terrible shame that most are unidentified.
For over 30 years I have researched and compared these photos to others that are in the Hagenbuch archives. I can identify photos that feature our family, and these have been marked accordingly. The lost information from the other photos is once again a testament to the fact that we must identify and mark photos for future family members.
Ethel Bibby's photo collection will continue to be featured in future articles.