Are We Really Beech Trees?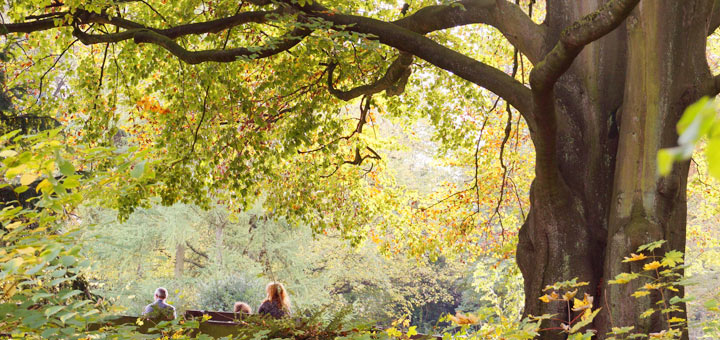 One of the joys of genealogy is discovering something that complicates or even changes our understanding of Hagenbuch family history.
During the last few years, this has happened several times. For instance, in June new research uncovered the likely location of Andreas Hagenbuch's original house, requiring many longstanding beliefs about the homestead to be revised.
Recently, something even more fundamental was called into question – the meaning of the Hagenbuch family name itself.
For decades, it was assumed that the name Hagenbuch meant "an enclosure of beech trees." More specifically, this was an enclosure of European beech trees. Previous articles have discussed the origin of the family name and the meaning of the coat of arms in detail.
These, however, were called into question after receiving a message from Martin Liebermann of Bielefeld, Germany. According to Mr. Liebermann, Hagenbuch is closely related to the word Hagebuche, which is the archaic German for what is known today as the Hainbuche tree. In English, a Hainbuche is called a Hornbeam (Carpinus betulus) while a Rotbuche is labeled a European beech (Fagus sylvatica).
A hornbeam is not a true beech. In fact, botanists believe hornbeams to be more closely related to birches. Given that hornbeams and beeches are in entirely different families, how could there be so much confusion surrounding their connection to the Hagenbuch family name?
Hagenbuch is composed of two words: hagen and buch. There is little debate as to the meaning of these. Hagen refers to a fence, hedge, or enclosure and buch is a beech tree. As a result, a simple translation of the name might be written as "hedge beech."
What is a hedge beech? At first glance, it would actually appear to be the hornbeam tree! Hainbuche, like Hagenbuch, roughly translates to "hedge beech." Having smooth bark and toothed leaves, hornbeams look similar to beeches. In colloquial English, the hornbeam is sometimes termed the "blue beech" or "water beech," the latter being due to its tolerance for wet soil. Historically, hornbeams were often planted along fences and included within hedgerows. All of these aspects fit closely with traditional understanding of the Hagenbuch family name.
Unlike a true beech, the hornbeam is also known for its exceptionally hard wood. This trait has earned it the nicknames of "ironwood" and "musclewood," and may even explain why in Deitsch a tough person is sometimes called a "Hagenbucher."
Noting the above evidence, it would certainly seem that Hagenbuchs are hornbeams. However, things become less clear when examining descriptions of the family coat of arms. While the town of Hagenbuch, Switzerland describes the coat of arms as including a "Hagenbuche" tree (an alternative spelling of the German for hornbeam), many older sources contradict this.
Several books of heraldry from the 18th and 19th centuries mention the coat of arms as depicting a "buche" in front of a "flechtenhag." Here, the word buche means a beech tree and flechtenhag refers to a wattle fence. In this way, the two core parts of the family name, the tree and the fence (or hedge), are clearly understood as separate elements, rather than a singular tree like the hornbeam. This makes sense, as hedgerows were previously valued for their strength and protective qualities.
Another interesting clue is that many descriptions of the coat of arms mention the tree trunk as being red. As stated previously, the German word for the European beech tree is Rotbuche, which literally translates to "red beech." Beech trees, like hornbeams, are also commonly planted along fences and used to create hedgerows. In fact, gardeners still debate which of these trees is better suited for the task.
Are Hagenbuchs beeches or hornbeams? As with many questions tied to the past, it is likely that a perfect answer will never be known, and there certainly is evidence to support either side. Etymologically speaking, a "Hagenbuch tree" is probably a hornbeam. However, historic descriptions of the family coat of arms point to the name meaning a "European beech enclosed by a fence." Knowing this and also seeing that the original intent of the family's founders has yet to be discovered, this site will continue to be referred to as the Hagenbuch Beech Grove.
Families are not static. They change with time, adding new members, stories, and traditions. So, whatever type of tree Hagenbuchs consider themselves today is really of little consequence. What matters is that as a family we are one group, brought together through our common ancestries, and intertwined like the branches of a tree – beech, hornbeam, or otherwise.
Many thanks to Martin Liebermann and Jean McLane for their insights into the Hagenbuch family name.