1937 Picnic Photo Redux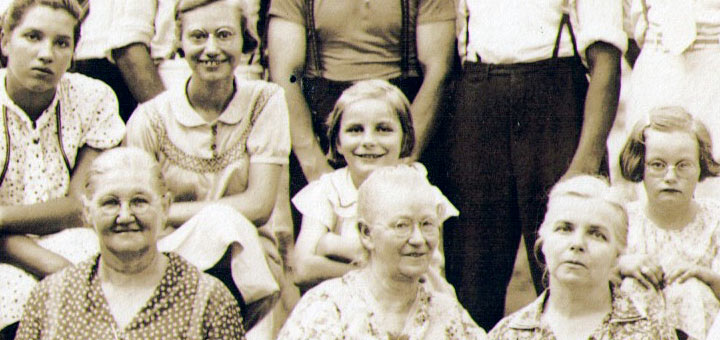 In January 2015, an article about the wonderful photo taken at Knoebels Grove of the Oak Grove Church Sunday School picnic was featured. We can only imagine what it was like to have that many Hagenbuchs all together in one place, not for a reunion, but for a church picnic.
I decided to feature this photo again because the march of time has had its toll on the folks in this photo. Just in the last few years, seven of the youngest Hagenbuchs in the photo have passed away. The latest was Joseph "Joe" Hagenbuch who died on September 7, 2017. Joe can be seen peeking out from behind Paul Roat's shoulder on the right of the photo.
Only one Hagenbuch in this photo is yet living: Ellen Lucille Hagenbuch who sits in the second row, center. My Aunt Ellen will turn 91 on December 5th.
So many Hagenbuchs! Of the 38 people in the photo 28 of them are Hagenbuchs and spouses. And, Helen Yingling would marry into the family (to Hiram John Hagenbuch) a few years after this photo was taken.
The Hagenbuchs in the photo are descendants of Hiram (b. 1847) and Mary Ann (Lindner) Hagenbuch. Four of their children are present: Israel, Clarence, Percy, and Katharine "Katie" (Hagenbuch) Roat. There are 20 first and second cousins in the photo. The back row of men is all made up of Hagenbuch brothers and cousins.
As stated in the previous article on this photo, Percy Hagenbuch in the center, seems to be holding something or gesturing. He was a "character" and I wish I knew what Uncle Perce was doing! I am sure it would make me laugh.
Several of the ladies are visibly holding purses and possibly Bibles. I believe Aunt Katie Roat and Aunt Minnie (Keefer) Hagenbuch may have their personal holy books with them. Aunt "Em" (Robbins) Hagenbuch is holding a purse; and I believe Julia Hagenbuch is holding a purse under her arm too. It is difficult to see what "Lottie" (Tanner) Hagenbuch is holding. Because of her askance look, the item may have something to do with Uncle Perce's gesture!
This photo has to be one of the most important in the Hagenbuch archives. Although it is part of life, it is sad that all have passed away except for one.