Three Years On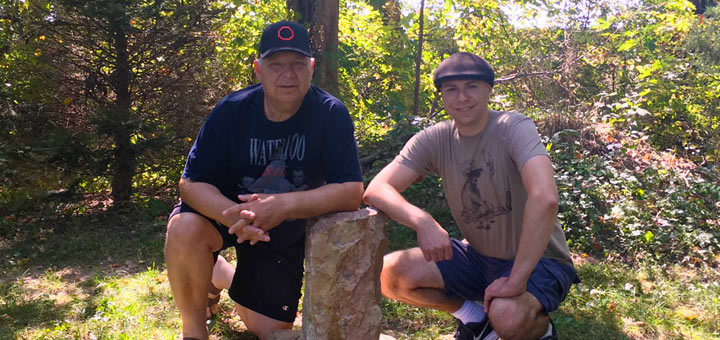 Looking back, it is tough for me to believe that it has been three years since my father, Mark Hagenbuch, and I founded Hagenbuch.org. In that time, the site has grown to over 150 articles about our Hagenbuch ancestors, family stories, traditions, and culture.
One of our favorite types of articles to write is one that examines family mysteries. During the last year, we explored a number of these, such as if the name "Hagenbuch" refers to a beech or a hornbeam tree. We also provided our best guess as to where Andrea's Hagenbuch homestead was located and proposed who all the John Hagenbuchs were that lived during the 18th century.
Featuring different family groups is another important aspect of this site. Earlier in the year, we discussed the family of Howard and Lucile Hagenbuch of Aurora, Ohio, as well as that of Joseph Hagenbuch who was a farmer in Liberty Township, Montour County, Pennsylvania. Most recently, we tried to makes sense of the extensive family of Henry Hagenbuch who resided in Allentown, Pennsylvania.
Henry was the eldest son of Andreas Hagenbuch, and he served during the Revolutionary War. In a three part series, the wartime service of Andreas's sons—Henry, Michael, Christian, and John—was examined in detail. Still another piece, a work of fiction, imagined a conversation with our family's patriarch, Andreas.
Family, however, is more than just names and dates. Keeping with this idea, my father and I have worked to feature content pertaining to music, traditions, and food. One topic that has continued to fascinate us is Powwowing, a practice among Pennsylvania's Deitsch peoples. Other articles have touched upon Fastnacht Day, a type of cookie called a jumble, and the recipe for bean chow-chow.
Letters, news clippings, and photographs are one of the cornerstones of genealogy, providing windows into the past. In one article, we explored family news and snippets from the month of November and, in another, uncovered letters written to my father during the years he worked on the Beech Grove newsletter. The Hagenbuch archives hold a treasure trove of photographs and other media. The contributions of Ethel Bibby were examined in several image-focused pieces.
During 2017 we continued to trace the history of the Hagenbuch homestead through the wills and estate inventories of those who lived there. Jacob Hagenbuch, who was the grandson of Andreas, owned the property until 1842, when he died and passed it to a son. That son was Michael Hagenbuch, and he farmed at the homestead until his untimely death in 1855. After that, the land passed out of the Hagenbuch family.
One of Andreas's daughters, Anna Elizabeth, had a number of articles written about her. These pertained to her beautiful birth and baptism Fraktur that was discovered in 2016 and acquired as part of an eBay auction. Throughout the year, we presented research dating the document and provided a potential theory on who created it. Additionally, as part of this series, we explored the art of the Taufschein and the preacher artist, Daniel Schumacher.
Religion has played a crucial role in our Hagenbuch family, and a number articles have explored this. In a three part series, we examined a collection of family Bibles, while in another article we looked at Oak Grove Lutheran Church, where many Hagenbuchs have attended and are buried. In still another, my father and I imagined Andreas Hagenbuch's beliefs and how these shaped his life during the 1700s.
Of course, not every word written on this site is so weighty. In the last year, we featured excerpts from family diaries and created captions for photographs pulled from the Hagenbuch archives. We even explored animals and other pets who have been part of our family tree!
For me, one of the biggest highlights of the past year was moving from California to Pennsylvania, and a three part series of articles connected this trip across America to the history of our family. Looking towards the future, my father and I are excited to spend more time collaborating on this site, adding family records to Beechroots.com, and exploring the possibility of reviving the Hagenbuch family reunion.
As we continue our journey, we hope you will follow along and consider contributing your stories. If you would like to have your family's history and genealogy featured, please contact us using the forums on this site or via Facebook. Make sure to have images, names, and dates ready to share.
Thank you again for your continued support!
-Andrew M. Hagenbuch & Mark O. Hagenbuch