A Boy Becomes a Genealogist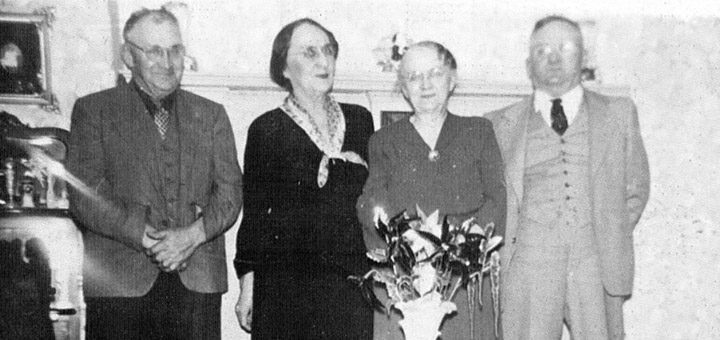 Most of my immediate family have heard the story of how I became interested in Hagenbuch genealogy and subsequently collected thousands of names, dates, and artifacts.
One certainly has to be interested in history to become a genealogist. I grew up watching Disney television shows: Johnny Tremain, Davy Crockett, and other programs that depicted the history of America and Europe. I devoured books on historical fiction even as an elementary student. My parents had a series entitled "We Were There with…", and I remember looking up the real information about people and events in our World Book encyclopedias. If there is a "history gene", it certainly rules my DNA.
I realized at an early age that I lived in a very unique extended family. My grandfather Clarence, most of his brothers, a sister, and many cousins all lived within a ten mile radius of each other. Many owned farms (or at one time did), and most of us attended the family church – Oak Grove Lutheran.  I've said it hundreds of times: "Almost everyone in church was a Hagenbuch or related, except for the minister and his wife!" Furthermore, we Montour County Hagenbuchs had a family reunion every year when we gathered and reunited with those few relatives who had moved to other states or areas of Pennsylvania.
At the reunions my father's first cousin, Bernice "Hagenbuch" Bogart, who was the family genealogist would unroll a large window shade with a tree drawn on it. The trunk had the names of my great great grandparents, William and Rebecca "Muffley" Hagenbuch, the branches were their children, the smaller branches were their grandchildren (my grandfather Clarence's generation), the twigs were my father's generation, and the many, many leaves represented cousins. My name was on one of those leaves.
Around age seven I forged a relationship with my great Uncle Percy. After church I would race out to the vestibule, grab Uncle "Perce's" cane and hat, and meet him at the door. Then we would walk out to the graveyard. He would tap the gravestones of our relatives and tell me stories about them (i.e. One Silver Dollar).
In my imagination, these stories evolved into a Hagenbuch kingdom, much like medieval times (I read a lot of King Arthur), where the Hagenbuchs ruled over a great land and each of my great uncles and grandfather owned a castle. I had no idea at the time that there was a town in Switzerland named Hagenbuch where we came from, no idea that there had once been a castle on the hill overlooking the town, no idea about the "Buchbaum" story, and certainly no idea of the stories about Andreas Hagenbuch, his three wives, his twelve children, or his interesting life with four sons that served in the Revolutionary War.
Sadly, my Uncle Perce died in 1967. With him and others of that generation also died stories which we'll never know. I believe it was in the year 1968 that my interest in family history took a great leap. In that year I found out from Bernice Bogart (who was my great Uncle Perce's daughter) and Bruice Hagenbuch (my great Uncle Israel's son) that in the early 1940s some of our Hagenbuch family had received a letter from a William Hagenbaugh of Los Angeles, California.
William was researching the Hagenbuch family (his branch had changed the spelling a few generations before) and was asking other Hagenbuchs to send him their family information. A copy of his letter with our Montour County line of descent from Andreas was shown to me by Bruice (I still have that). It was at that moment, at the age of 15, that I became forever hooked on our extensive family history.
As a boy in 1968 with no real skills in letter writing or research (there were no computers like today!), I was not sure how to proceed and continue the research that William Hagenbaugh had started. Unknown to me at the time, William had actually died in 1943, and his research was lost in a fire soon after that.
I remember laying in bed and going over the different lines of ancestors that had been in William's letter: Andreas, Michael, Henry, William, and my great grandfather Hiram. Then, I memorized the children of Hiram – my grandfather, his siblings, and all their children.
Believe me, it wasn't the only thing I had to do in my young life because I was actually holding down three jobs at the time. Looking back now, two of those jobs were giving me the skills I needed to continue my genealogical work – church organist at Oak Grove, where I was always learning more about the family, and clerk at a local general store, where I was obtaining the skill of talking to people and attending to their needs.
In 1967 we had moved from the family farm near Limestoneville to a house outside Montandon, PA. Nearby in Lewisburg was Bucknell University. Students from the surrounding high schools could get cards for the college's renowned library. Upon receiving my driver's license at the age of 16, I could be found between the stacks in the history section of Bucknell library on the floor surrounded by books. I looked through tomes of research on the American Revolution and Civil War, two of my favorite subjects at that time.
It was there one evening that I ran across the volumes of the Pennsylvania Archives; and it was then that I looked up the name of Andreas Hagenbuch. Appearing only as a name with a few dates on William Hagenbaugh's letter, I now found more information about my 5th great grandfather: the ship that Andreas came on, where he settled, the patriotic service he gave during the American Revolution (he was too old to actually serve in ranks), and many other tidbits. I found out that he had a brother Philip Jakob who came over to America in 1751 and probably never married. My genealogical world had just become much richer and wider.
Off and on over the next few years, through high school and college (Lock Haven University's college library was helpful too), I ran across new information about the family. I would continue to keep my genealogical memory fit with names and dates of family members long gone.
I was busy during those years with college and, well, thinking of my own family future. In December of 1974, I married Linda! Both of us were fortunate enough to be teaching in the same school district, and we lived in an apartment in Herndon, PA. Teaching, being a new husband, and enjoying our summer vacations together kept me from any real research about the family.
However, by this time, my skills were there to jump head first into the family history business. Letter writing skills, knowing the basics of our Hagenbuch family history, having a vehicle to travel to graveyards and libraries, and self-assurance all made it possible for me to begin recording what I knew and would continue to find out.
One other thing helped: I took some courses at a local Mormon church on how to record information using their family chart forms. I invested in the forms and also the binders to keep them in order. I also subscribed to a monthly genealogical magazine: "The Genealogical Helper".
For the next few years I contacted relatives in other states. As I found more and more descendants of Andreas and his three wives, those folks would help me to find more relatives. These new found cousins from many states would hunt through telephone books for Hagenbuchs whom I did not have listed in my records.
Then, like William Hagenbaugh before me, I would send out letters of inquiry and forms to complete and send back (with a self-addressed stamped envelope!) so I could trace their family lines back to our immigrant ancestor, Andreas. Not only did I record Hagenbuchs, but also the family lines of Andreas's daughters: Reichelderfers, Brobsts, Kistlers, and Stapletons.
I traveled to graveyards all around Pennsylvania, placed telephone calls and wrote letters, made contact with other genealogists, researched census records, gathered information from libraries, and collected photos and newspaper clippings, all for the sake of preserving our family history. After a few years, I had amassed a huge amount of information kept in eight large binders, fifteen albums filled with photos and newspaper clippings, and numerous Xerox paper boxes filled with more photos, clippings, and memorabilia.
More milestones have occurred in the years since then: I made contact with a Hagenbuch family in Germany; I visited the town of Hagenbuch in Switzerland; and I started publishing The Beech Grove. Some relatives even asked me to put all my information and experiences into book form.
Although a book has never happened, after 50 years of gathering information about the Hagenbuch family, something just as good appeared in the fall of 2014 – this website!