Connecting Cousins and Classmates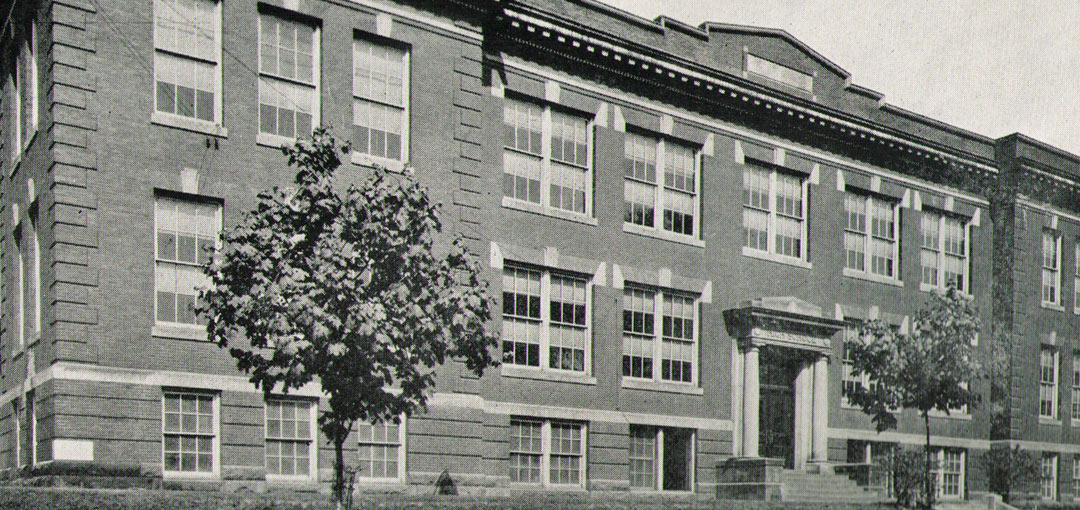 Genealogical research comes in all types of packages. Wherever information is found about someone, this can become a resource. One of the rarely used resources are school records and yearbooks.
Several months ago, my daughter Julie was at a bookstore sale in Lewisburg, PA. There, she came across five vintage copies of the Milton High School yearbook from the years 1926, 1936, 1937, 1938, and 1939. I graduated from Milton High School in 1971, and she knew that I would be interested in looking at the old copies, not only because of my association with the school, but also because we may have had some relatives who graduated during those years.
The 1936–39 yearbooks had the name "Kathryn Millward" written inside who graduated in 1939. These four yearbooks were autographed by classmates beside their photographs with little notes, as high school students do. Of course, the 1939 yearbook was covered with autographs and notes on the pages for the seniors, as that was Kathryn's graduation year. Kathryn had the 1926 yearbook because it was dedicated to her father, Carl Millward, who was superintendent of the area schools at that time. Millward Elementary School in Milton, now closed, was named for him.
For some reason I started with the most recent yearbook, 1939, and worked backwards, mostly looking at the faculty and senior pictures. Many last names were familiar to me as they were the relatives of classmates I graduated with at Milton in 1971. I did find several students and even two faculty members whose names I recognized: Randall Runyan, Miriam Kreisher, Fred Arner, Paul Confer, and P. Richard Fisher. I am sure there are many other people in these yearbooks whom I would recognize if I took the time. Each one has a story, and with more research they would probably connect to relatives and people I know from the Milton area where I grew up.
Yet, the 1926 yearbook was a real jackpot. As I looked through the senior photos, I first came across Ethel Bibby. Ethel was a second cousin to my father, Homer, and their great grandfather was William Hagenbuch (b. 1807). I looked back through the yearbook to the names of underclassmen and found Ethel's sister, Ella, listed in the class of 1928. Ethel's family story has appeared in several articles, most notably in March 2015 and December 2016. Listed under Ethel's name with her senior class photo are the notes that she would be attending Bucknell University.
Continuing the search through Milton's graduating seniors in 1926, I next came to Marjorie Lindner. Lindner was the maiden name of my great grandmother, Mary Ann (b. 1853) who married Hiram Hagenbuch (b. 1847). Not having the recent generations of my Lindner family recorded, I did some research and found Marjorie. Her grandfather was Francis Walter Lindner (b. 1852), who was a brother to my great grandmother, Mary Ann. I'll come back to the Lindner family a bit later.
Majorie's history is very interesting. The entries beside her senior photo note that she would be attending the Wyoming Seminary in preparation for her acceptance into Radcliffe. She was active in class plays, the school orchestra, and editor-in-chief of the school newspaper. Marjorie married Preston B. Davis who served ten years as a Pennsylvania state senator.
Taking a chance, I looked through the underclassmen lists for other Lindners and found Alice Lindner in the class of 1927. Alice was another grand daughter of Francis Walter Lindner and was a first cousin to Marjorie. Marjorie's father, James Lindner, was a brother to Alice's father, Lee Lindner. Marjorie and Alice shared a great grandfather, Israel Lindner, with my father Homer. Like Ethel and Ella Bibby they were second cousins to my father.
However, the Bibby sisters were related to my dad through the Hagenbuch line and the Lindner cousins were related to him through the Lindner line! To go one more confusing step forward, the Bibbys and the Lindners were not related to each other, but they were both related to the Hagenbuchs!
Making my way through the 1926 yearbook, I spotted the best treasure of all: the senior photo and information for W. Paul Roat, who was father's first cousin. Our immediate family knew Paul very well. He was not only a close relative whom we saw often, but he was also a neighboring farmer who was a dealer in Allis-Chalmers tractors. Dad was a regular tractor customer of his cousin, Paul. Paul's mother, Kathryn (Hagenbuch) Roat (b. 1879) was a sister to my grandfather, Clarence Hagenbuch (b. 1889). Several articles have been written about my great aunt Katie, her son Paul, and his wife Lulu. The most notable of these articles appeared in January 2017.
Like my father, Paul was also a second cousin with the the Bibby sisters and the Lindner cousins. But, unlike them, Paul was a farm boy. No future college attendance is listed beside his name. To his credit, he graduated from high school, which was not that common for the Hagenbuch farmers of his generation. Along with being a farmer, he was a successful businessman in the Limestone Township, Montour County area and was well-liked by both friends and relatives.
Taking one more look through the list of underclassmen, I came across another Hagenbuch: John, class of 1928. John was also a first cousin to my father and Paul Roat. John's father was my highly-esteemed great uncle Perce of whom many articles have been written. John was featured in a September 2015 article about the Percy Hagenbuch family. I know that he went on to attend college as my father always said that John was the only first cousin he had who obtained a higher education degree.
Not related, but to be noted, are two other seniors listed for 1926: Edgar Schnure and Guy Tanner. Edgar was a brother to Herman Schnure. Herman was married to my third grade teacher Mrs. Helen (Keefer) Schnure, who was also my first piano teacher. The Schnure and Keefer families were good friends of my Hagenbuch family. Helen Schure's sister, Edith (Keefer) Hartman, was a school teacher and had my father as a student. Furthermore, before marrying, my mother Irene worked for the Keefer family, so she knew Helen and Edith. And, Edith and Helen's father Nathanael "Than" Keefer had a sister, Minnie, who was married to my great uncle Israel Hagenbuch. Talk about intertwining relationships!
As for Guy Ellsworth Tanner, Guy's son Guy David (who we always called "Albie") graduated from Milton High school in 1972. He attended Lock Haven State College with me and is also a fraternity brother of mine. We have kept in contact all of these years. It was quite interesting to run across Albie's father's senior photo and information, realizing that he knew my family. Forty-five years after Guy Ellsworth Tanner graduated with my cousins—the Bibbys, Lindners and Paul Roat—I am still good friends with his son, Albie.
As Andrew referenced in the last article Six Years On, genealogy has everything to do with connections. The more we research and build the family tree, the more connections we find between people, places, and ideas. Even though our main goal is to connect our own Hagenbuch family members, including the Bibbys, Lindners, Roats, and other allied groups, genealogy is also about connecting friends, as was done in this article with the Schnures, Keefers, and Tanners.
Good genealogy is not just about who begat whom. Andrew and I strive to connect the "begats" with other folks who were acquaintances and to provide a richer, more fulfilling family history through a broader story of personal connections.