Sarah Foust: School Teacher in the Early 1900s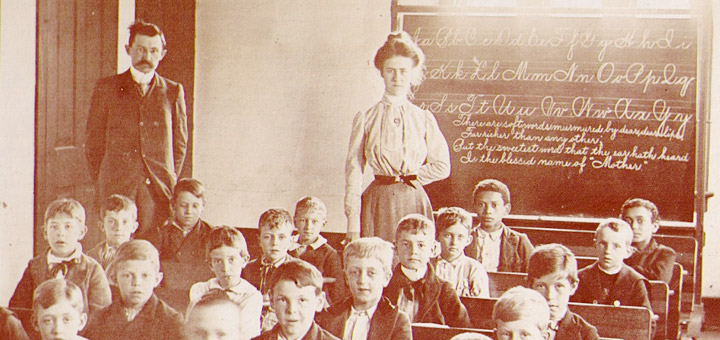 On November 1, 1984 Ethel Lillian Bibby, aged 75 years old, died in a nursing home in Selinsgrove, Pennsylvania.  Unmarried, few of her immediate family were still living. Mark Hagenbuch, Ethel's 2nd cousin once removed, and his young son Andrew had visited her several times in the few years preceding her death.
Mark had never met Ethel until he found out that she was living in that nursing home which was close to where he and his family lived. Upon Ethel's death, the staff at the nursing home contacted Mark and asked if he wanted over one hundred family photos which they found in Ethel's effects. Any genealogist worth their salt would never turn down photos!
Ethel's grandmother was Mary Ann Hagenbuch who was born in 1842 to William and Rebecca "Muffly" Hagenbuch from Liberty Township, Montour County, PA. Mary Ann's siblings were Catherine b. 1841 d. 1863; Jacob, b. c1845 died young; Hiram b. 1847 d. 1897 m. Mary Ann Lindner (Mark Hagenbuch's great grandparents); Matilda b. 1850 d. 1920 m. Elias Reichard; Joseph b. 1852 d. 1935 m. (1) Sarah Robbins, (2) Mary Emma Robbins (they were sisters); and Emma Frances b. 1854 d. 1938 m. John Reichard (brother to Elias Reichard).
Mary Ann Hagenbuch married Tilman Foust, and they raised their family in Milton, PA. Mary Ann died in 1904. She and Tilman had nine children: Emma b. 1865 d. 1868; a baby who died upon birth in 1866; William b. 1867 d. 1924 m. Annie Wilson; Ella Rose b. 1869 d. 1940 m. William Paul; Mary Alice b. 1870 d. 1945 not married; Harrison b. 1871 d. 1946 m. Annie Wagner; Oscar b. 1875 d. 1944 m. Annie Jenkins; Sarah b. 1879 d. 1956 m. Harry Bibby (Ethel's parents); and Lillian b. 1881 d. 1941 m. Edgar Reed.
Sarah Foust and Harry Bibby were married in 1908 and had two children: Ethel Lillian who was born on May 6, 1909 and never married; and Ella Beatrice b. 1911 d. 1979 married to Warren Evans. Neither Ethel nor Ella had any children.
Sarah "Foust" Bibby was a teacher before marriage. Two photos of classrooms, probably in Milton, show her as a teacher with students. Each is marked on the back with handwriting that is likely Sarah's. The first states "May 13, 1902 Tuesday Afternoon," and the second is marked "Thursday Morning January 29, 1903."
The 1902 photo has 31 male pupils, Miss Foust the teacher, and a man who is probably a supervisor. Behind the blackboard is an arched window, possibly of stained glass. Because of the window and the all boy class, it is likely this classroom is part of a church school.
Compulsory education in Pennsylvania was enacted in 1895 for children aged 8 to 17, but it was difficult to enforce. Parents could keep their children out of school or have them quit school for various reasons (helping on the farm, for example).
On the left wall are several pictures. The upper right one is George Washington by the artist Gilbert Stuart. Stuart's unfinished 1796 portrait of Washington graced almost all classrooms during the 19th and 20th centuries. The other pictures cannot be made out. The one under Washington looks to be the figure of a person standing. The four panel picture to the left might be birds or animals.
Even more interesting is the writing on the blackboard. This was almost certainly staged for the photograph. Written first on the board is the ever present alphabet in cursive handwriting. Notice that Miss Foust ran out of room on the third line so the Zz ended up in a fourth line behind her.
Next on the blackboard is a verse, a portion of a poem entitled "The Name of Mother" by an unknown author. The earliest publication found of this poem is in an 1881 newspaper, but it appeared in magazines and articles published decades after this. It seems to have been a popular verse. The verse reads:
There are soft words murmured by dear, dear lips,
Far richer than any other;
But the sweetest words that the ear hath heard,
Is the blessed name of Mother.
Again, the photo was taken in May, 1902, so one might suspect Miss Foust was having the boys in her class memorize this verse to recite to their mothers for Mother's Day. However, the first Mother's Day was not held until 1908 in Grafton, VA by Anna Jarvis. It's interesting that a "mother poem" is the class theme six years earlier in Milton, Pennsylvania.
The January, 1903 photograph is certainly taken in a public school. There appear to be 13 girls and 22 boys, a total of 35 pupils. On the far right are two older girls. One even looks old enough to be a teacher. Are these possibly student teachers?
Teacher Miss Sarah Foust stands in the back left corner. On the right wall there is a picture that cannot be made out. However, it might be similar to a painting that has been seen in other old schools – a picture of a large dog guarding a child or sheep which symbolizes loyalty.
On the left wall are three pictures. The bottom left picture is not recognizable. However, the one above that depicts two people facing each other similar to common photographs of the time which showed the U.S. president and his vice-president.
The third photograph on the left is a single person facing left. The person facing left is likely William McKinley, who was president until 1901 when he was assassinated. McKinley often appeared in school rooms at this time as he was a "martyred president" and was used as an example of giving one's life for their country. Upon McKinley's death, vice-president Theodore Roosevelt took office as president.
Possibly one of the two people facing each other in the upper left photo is President Roosevelt. However, he did not have a vice-president agreed upon by Congress until 1905. The person facing him seems to be in lighter clothing similar to what a woman would wear in this time period. Could it be the First Lady, Edith Roosevelt?
If one continues to look closely at the photograph, you will notice the tree outside the left window. The crotch of the tree is visible, indicating that this could be a second floor classroom. The stove in the center is heating a cold January morning. The piece of metal surrounding it will keep the students from getting too close and burning themselves.
In the 1902 photograph, the students were at desks and the seats are attached.  However, in the 1903 photo it appears that the students are seated at long benches, or on the left side they are at chairs. There are no desks in this photo.
Both photos show the ethnic and racial diversity of Milton in the early 1900s. The clothing is worth a closer look, too. In both photographs, one is able to see coats, sweaters, ties, hair ribbons, lace collars and pinafores, sailor suits, and many different hair styles.
Ethel Bibby left a wealth of information to the Hagenbuch family upon her death. These two classroom photographs are a small contribution of what will be used for future articles about the Tilman and Mary Ann "Hagenbuch" Foust family and their descendants.
Ethel Bibby's legacy, an archive of wonderful family photos, holds a lesson for everyone. Pass on photographs to those in the family who will preserve and share what they have to offer. And, don't forget to mark the images with names of people, places, dates, and any interesting tidbits of information.