Grape-Nut Ice Cream: a Hagenbuch Family Favorite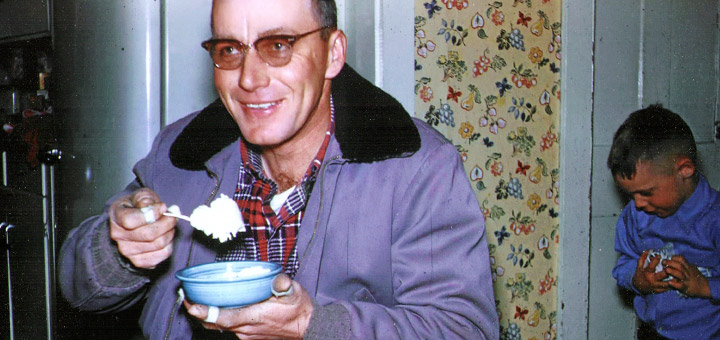 The Hagenbuch family in Pennsylvania has a reputation for making homemade ice cream. For several generations, it's been a part of our family visits and gatherings. Out of all the possible flavors, one is especially beloved: Grape-Nut ice cream.
Traditional Hagenbuch ice cream isn't particularly fancy. It's made from simple ingredients that, when frozen, make for a light ice cream that's hard in texture. Some people prefer to let it sit a while and soften up. Others, like me, enjoy it just the way it is.
Ice Cream at Nana and Pop's
My memories of homemade ice cream are closely associated with my grandparents, Homer and Irene "Faus" Hagenbuch, or as I knew them, Pop and Nana. By the time I was born, they had moved off the farm in Montour County, PA and were living nearby in a modest ranch house.
Over the years, there were many Hagenbuch family gatherings at Nana and Pop's house. However, whether we were together for Christmas, Easter, a birthday, or a wedding anniversary, there was always homemade ice cream.
Nana was an excellent ice cream maker, and Pop loved her ice cream. He used to have a bowl of it every night. She made several different flavors: chocolate, strawberry, pineapple, and of course Grape-Nut. The ice cream could be found in her kitchen refrigerator. It was a side-by-side with the freezer on the left.
The ice cream was kept in old, gallon-sized plastic buckets left over from store bought ice cream. The plastic lids on these were tight. They popped and crackled as they were pulled open. Under the lid, perhaps to improve the seal, Nana placed a large sheet of wax paper.
The ice cream was cold and hard. Thinking back, I can still see a thin layer of glimmering frozen crystals on top of the ice cream. Nana kept a few ice cream scoops near the sink. I'd find a metal one, run it under some hot water, and work at digging out some ice cream. At a family gathering, one or two people would take orders and dish for everyone. There were usually two flavors to choose from. One of these was almost always Grape-Nut.
Looking back, I cannot remember a time when there wasn't ice cream at Nana's. When I was a teenager, Nana realized that I really liked the ice cream she made. From that point forward, if I didn't request it during a visit, she would remind me that there was ice cream in the freezer and suggest that I should go get some.
Grape-Nut Ice Cream
While working on this article my father, Mark, and I became curious about the origins of Grape-Nut ice cream. We've always considered this ice cream flavor to be something unique to the Hagenbuch family, perhaps created by a relative.
Based upon our research and talking with family, this appears to be incorrect. It seems likely that Nana got the recipe for Grape-Nut ice cream from one of her local women's groups such as the Homemaker's Club or Women of the Church.
According to Wikipedia, Post began making Grape-Nuts cereal from wheat and barley in 1897. Citing an article in the Hantsport News and Views, it also credits Hannah Young with the invention of Grape-Nut ice cream in 1919. As the story goes, Young was a chef at The Palms restaurant in Nova Scotia. She ran out of fruit to put in her ice cream and, instead, threw in some of the cereal.
Along with Nova Scotia, Grape-Nut ice cream appears to be known in the following areas: New England, the Shenandoah Valley, Jamaica, and central Pennsylvania. In some places it is known as "brown bread" ice cream due to the look and texture of the Grape-Nuts.
Dry Grape-Nuts are hard and crunchy. Yet, when placed in ice cream they soften up significantly. If you haven't tried it, Grape-Nut ice cream is a like a vanilla ice cream mixed with a chewy, barley-based cereal.
---
Irene Hagenbuch's Grape-Nut Ice Cream Recipe
Makes 4 quarts of ice cream
Ingredients:
3 quarts whole milk
1 quart half and half
2 cups sugar
1 teaspoon vanilla
Pinch of salt
1 cup Grape-Nuts cereal
In a 4 quart ice cream freezer, mix together the sugar (add more to taste if needed), salt, and vanilla with a quart of the milk. Stir until all of the ingredients are dissolved.
Add the half and half. Then, pour in milk until it reaches about 1-2 inches from the top of the container. Put in the dasher, and add the Grape-Nuts. Use the dasher to stir the mixture and distribute the Grape-Nuts.
Close the ice cream freezer and follow its operating directions.
---
Family Ice Cream Memories
While researching this article, we reached out to a number of family members about their memories of Hagenbuch ice cream. These have been edited and compiled below:
Barb Huffman
I remember a very snowy cold winter with lots of snow. Mom (Irene) made Grape-Nut ice cream for the first time. This was when we lived at Pap Pap's (Clarence Hagenbuch's) farm, sometime between 1953 and 1959. Someone must have told her about it. It became a family favorite.
Bob Hagenbuch Sr.
I believe Mom (Irene) made up Grape-Nut ice cream herself. I know we made vanilla, chocolate, strawberry, and, at some point, we started making Grape-Nut ice cream. It became all our favorite.
We had a 14 quart freezer. We would go in to Milton, PA to the ice plant and bring home a 20lbs (maybe more) block of ice. We'd then put it into a burlap sack and beat it with the flat of a double-bladed ax until it was almost like shaved ice.
I distinctly remember Uncle Howard (Howard Faus is Irene's brother) having an ice cream freezer with a motor. It was around 10 quarts or so. I do remember him telling us that he made it himself. It had the electric motor hooked to a big flywheel with a belt drive. It was mounted on a wooden board, and the motor was tilted on a hinge so that its weight put enough force on the belt to keep it tight.
Elmer Faus (Irene's brother)
I don't remember an ice cream freezer attached to a motor. One of the boys (Uncle Howard or Uncle Wilson, both Irene's brothers) hooked a freezer to the tire of a car. It was 14 quarts. Irene was the first to make the recipe for Grape-Nut ice cream.
Dave Hagenbuch
We had a 14 quart ice cream freezer that was evidently Grandpa Faus's at one time (Odis Faus was Irene's father). I remember that it had a wooden slat bucket with metal rings that held it together. There was a big cast iron head on top that had the gear assembly, and the crank was attached to the end of it. It always took a lot of fiddling to get the head/crank to attach to the bucket. There were lugs on one end and a turn mechanism on the other to lock it in place.
The milk, sugar, and flavoring were put in a metal can that we called "the container." This had to be put into the bucket first; then the crank had to be attached. Finally the crushed ice and salt were put in around the container. I remember someone also poured some cold water on top of the ice to make the whole mixture start getting cold.
Next we would then start to crank, and crank, and crank for a long time. You had to watch a hole on the side of the bucket so the water would run out of it. Otherwise the salt water could get high enough in the bucket to spill into the top of the container. I think we either used our finger or a stick to keep the hole clear.
We would make vanilla, Grape-Nut, or some fresh fruit like strawberry or peach. We always used milk from our cows. I remember breaking blocks of ice that were in a burlap bag with a double bitted ax. The freezer was so big that when the ice cream started to get hard, someone would have to sit on top of it and hold it down while others turned the crank. Finally it was time to get the bowls and spoons!
Mark Hagenbuch
Mom (Irene) used to say "I scream, you scream, we all scream for ice cream!" This was the refrain of a song made popular in the 1920s by the band, Waring's Pennsylvanians (audio of this embedded above).
She made Grape-Nut, chocolate, strawberry, and raspberry ice cream. Most of the time we made these during the summer. Like Bob, I remember the ice plant in Milton and breaking the ice in a burlap bag with the flat of an ax. We had to keep the salt going to keep the ice from jamming the freezer. Sometimes we'd pour in some hot water to speed up the process. We'd prop up one side of the freezer bucket so the water would flow out the little hole near the top. The contraption had a bucket, freezer, dasher, lid, and crank.
Mom and Dad always made sure to mention that the water shouldn't get above the lid of the freezer. If it did the salty water would get into the ice cream and ruin it. This was also the purpose of the hole in the bucket. We used to peek inside the freezer to make sure the ice cream was getting hard. When doing that, you took the chance of getting salt in the ice cream.
I think it was mainly the Fauses that Mom would make ice cream for. Uncle Wilson and Uncle Howard would always talk about their sister's ice cream. Our freezer had a hand crank. We'd each have to do 100 turns before someone else would take over. You always tried to do a few more just to show your muscle!
Once ready, the freezer was pulled, rinsed off in the kitchen sink, and the lid removed. The dasher was removed and put onto a platter. It was supposed to be a treat to clean the dasher. I always thought it was a pain because you had to get between all of the little metal flanges.
I always like the hard ice cream made the Hagenbuch way.
A Hagenbuch Favorite
Family is more than just people. There are stories, heirlooms, traditions, foods, and so much more. Together these create something that might be best described as the culture of a family.
Nana passed away in 2011 at the age of 91. But her love of homemade ice cream continues to this day. When I travel home to Pennsylvania, I always make a point of requesting homemade ice cream. Sometimes we even use the old, hand crank freezer, just to see who has the most muscle (hint: it's not me)!
Whether we invented it or not doesn't really matter. Grape-Nut ice cream remains a family favorite and will be a Hagenbuch tradition for years to come.