Untangling Four Reuben Hagenbuchs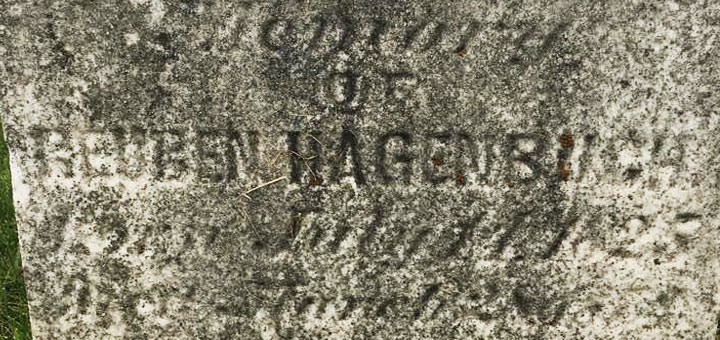 In May I received a message from a reader, Tom, who was looking for information about Reuben Hagenbuch. Tom was hitting a dead end partly because there appeared to be several Reuben Hagenbuchs born in Pennsylvania in the early 1800s.
Like Tom, I had also been frustrated by Reuben Hagenbuch over the years. I agreed that there were a few Reubens in the family, all alive at the same time. But, as I would soon discover, "a few" was actually a tangled mess of four different Reuben Hagenbuchs.
Below are the four Reuben Hagenbuchs who are believed to have been alive during the early 1800s. All of them were great grandsons of Andreas Hagenbuch (b. 1715). While the first Reuben was through Andreas's son, Michael (b. 1746), the other three were through his eldest son, Henry (b. 1736).
Reuben Hagenbuch/Hagenbaugh (b. 1803, d. 1887)
The first Reuben was born on September 28, 1803. His parents were Christian (b. 1770) and Susanna (b. unknown). Record of his birth comes from the baptism records of New Bethel Church in Albany Township, Berks County, PA. He moved to Columbia County, PA with his parents in the early 1800s and later lived in Luzerne County, PA. He appears to have married Mary Van Horn (b. unknown), and the couple had a number of children. Reuben died on March 10, 1887 and is buried in Mossville Cemetery, Fairmount Township, Luzerne County, PA with the last name "Hagenbaugh."
Reuben Hagenbuch (b. 1805, d. 1861)
The second Reuben was born on July 18, 1805 in Northampton County, PA. His parents were John (b. 1776) and Elizabeth (b. 1781). His birthdate comes from his gravestone, and he is also mentioned in his father's will. Reuben married Sarah Bauman/Bowman (b. 1808) in 1828 at Schoenersville Lutheran Church, and the couple had many children. Reuben ran an inn and tended to the locks on the Lehigh Canal at Parryville, PA. He died on May 13, 1861 and is buried at St. John's Church Cemetery in Palmerton, PA.
Reuben Hagenbuch/Hegenbaugh (b. 1812, d. 1893)
The third Reuben is believed to have been born around 1812. In 1825, he is listed as a youth in attendance of a confirmation "preparatory service" at Dryland Reformed Church in Hecktown, PA. Two other young Hagenbuchs, Elizabeth and Catherine, are marked in attendance too. Their parents are known to be Christian (b. 1771) and Elizabeth (b. 1783). As a result, Reuben is believed to be part of this family group.
He married Catherine (b. 1818) and the couple moved to Salem Township, Champaign County, Ohio by 1850. They would move again, this time around 1870 to Chicago, Illinois where he is listed as a saloonist. It is not known whether they had any children. Reuben died on June 14, 1893 and is buried in Woodland Cemetery, Dayton, Ohio with the last name "Hegenbaugh."
Reuben Hagenbuch (b. 1825, d. 1874)
The fourth Reuben was born on July 14, 1825 in Northampton County, PA. He is believed to be the son of Henry (b. 1785) and Elizabeth (b. 1792). A previous article was written about Reuben suggesting that his father was Joseph (b. 1795). This is now thought to be incorrect. The only record of Reuben's parents comes from the 1850 census which shows him living with his widowed mother, Elizabeth. He married Margaret Hummel (b. 1833) and the couple had several children. Reuben died on March 28, 1874 and is buried at Schoenersville Cemetery, Allentown, PA.
As we frequently mention, genealogy is more than just names and dates. However, sometimes we do have to get the names and dates right in order to properly tell the stories of our ancestors! By untangling the lines of these four Reubens, we are now able to connect them into the Hagenbuch family tree and better know their lives.