Making Sense of Christian Hagenbuch's Family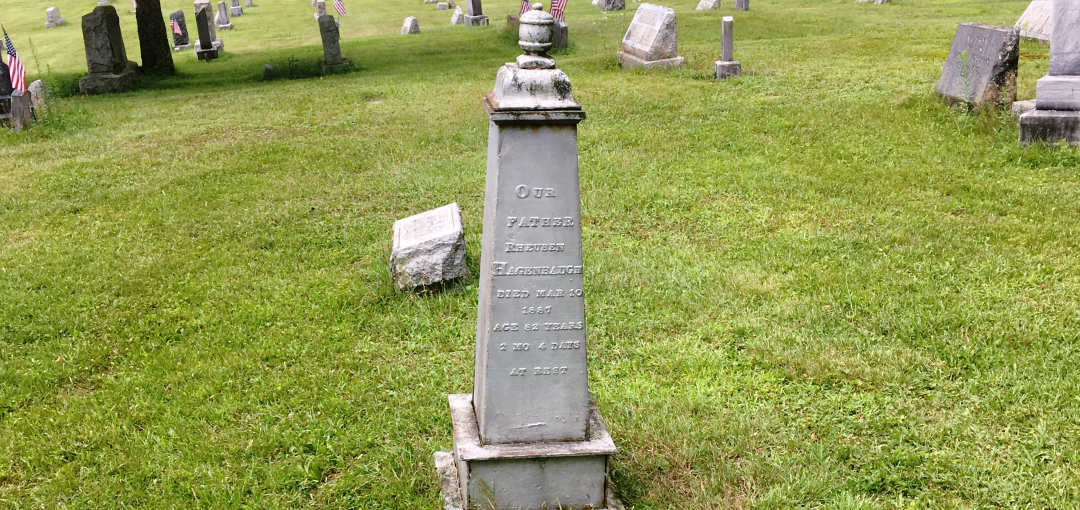 Last year, we explored how two Christian Hagenbuchs of about the same age were living in Ohio during the mid-1800s. These were Christian (b. 1770) who was the son of Michael (b. 1746) and Christian (b. 1773) who was the son of Henry (b. 1737). While the latter Christian's family is reasonably well-documented, the other lacks key information and sources, such as a will or gravestone. As a result, genealogists often mismatch children between the two families. This article attempts to make sense of what we know about Christian (b. 1770) and his distinct family group.
Christian Hagenbuch was born about 1770 to Michael and Eva Elizabeth (Kunz) Hagenbuch at the Hagenbuch homestead in Albany Township, Berks County, Pennsylvania. He was a grandson of Andreas (b. 1715) and was likely named after his uncle, Christian (b. 1747).
Little is known about Christian's (b. 1770) early life. The first account of him doesn't even appear until 1796 in the New Bethel Church records. These show that on October 1, 1796 Christian Hagenbuch and Maria Eva Stahler were the parents of a baby girl, Salome. What makes this entry unusual is that the mother's maiden name, Stahler, is noted. Only a few other entries at New Bethel Church list the mother's birth name, indicating that the child may have been born out of wedlock.
Two years later, in 1798, Christian appears again as a father and is now married to Susanna. (Her maiden name is unknown.) Some genealogists have thought this to be his uncle Christian (b. 1747), who married Susanna Driesbach (b. 1756). However, we know that the late 1700s that Christian (b. 1747) was living in Northampton County, PA. Christian (b. 1770) and Susanna are found in the New Bethel Church records two more times, as well as in the 1800 Census for Albany Township, Berks County, PA.
Around 1804, Christian (b. 1770) followed his siblings Henry (b. 1772) and Andrew (b. 1785) to Bloom Township, Columbia County, PA. Here, he and Susanna had more children. Using census records from 1800–1830, it is possible to estimate that the couple had 12 children together: seven sons and five daughters. Enoch Hagenbuch (b. 1814) also documents five of Christian's sons in his work, Descendants of Andrew Hagenbuch.
In the late 1830s, Christian and Susanna moved west to Ohio. They appear on the 1840 Census living in Sharon Township, Media County, OH, near the family of their son, Caleb (b. 1810). Below is a list of Christian's children, all of whom were born to Susanna except for the first:
Salome Hagenbuch (b. 1796, d. unknown)
Salome was born on October 1, 1796. As described above, her birth is documented in the New Bethel Church records. Her mother was Maria Eva Stahler, who may never have married Christian. It is unknown what happened to Salome or when she died.
Joshua Hagenbuch (b. 1798, d. unknown)
Joshua was born on May 29, 1798, according to the New Bethel Church records. He is the first of Christian's children born to Susanna and is not mentioned in Enoch's history, suggesting that he may have died young.
Michael Hagenbuch (b. 1800, d. unknown)
Michael was born on July 25, 1800, per the New Bethel Church records. He was named after his grandfather, Michael (b. 1746), who was his baptism sponsor along with his grandmother, Eva Elizabeth. Michael seems to have died young and another of Christian's sons given the same name. This was known to happen, and there are several documented cases of the practice within the early Hagenbuch family.
Mary (Hagenbuch) Ruckel (b. 1802, d. 1827)
Mary was born on May 10, 1802, according the burial records at Hidlay Church. She first married a man with the last name of Herring, and they had a daughter. Mary was widowed shortly after the birth. Next, she married Peter Henry Ruckel (b. 1798), and the couple had a daughter. Mary died on April 25, 1827. Peter remarried and moved to Medina County, OH, where he lived near other members of her Hagenbuch family. His grandson, Arthur B. Ruckel, documented information about Mary in 1904, enabling us to place her within Christian's line.
Reuben Hagenbuch/Hagenbaugh (b. 1803, d. 1887)
Reuben was born on September 28, 1803, as noted in the New Bethel Church records. He married Mary Van Horne (b. 1807), and they started a family in Luzerne County, PA. One of their children, Shadrach L. Hagenbaugh, was featured in an article about Andersonville Prison. Reuben died on March 10, 1887.
Joseph Hagenbuch (b. 1808, d. unknown)
Joseph's 1808 birthdate is an estimate. In the 1890s, Enoch Hagenbuch wrote: "[Christian] had five boys—Reuben, Joseph, Elias, Caleb, and Michael." This is the only record of Joseph and suggests that he was born after Reuben. Otherwise, no other information about his life or death has been found.
Caleb C. Hagenbuch/Hagenbaugh (b. 1810, d. 1890)
Caleb was born in 1810, which comes from a death record noting he was 80 years old when he died. He married Phebe Ann Youngs (b. 1814), and they had several children, including Dennis (b. 1851). Genealogist and Hagenbuch.org reader, Carrie Wick, traces her husband John's line through Dennis. Caleb's family moved to Michigan in 1855, and he died on August 25, 1890.
Elias Hagenbuch (b. 1813, d. 1875)
Elias, who went by "Eli", was born around 1813, according to census records. Enoch lists him as Christian's son, tying him to this family. Eli married Hannah (b. 1820)—her maiden name is unknown. The couple had a number of children and appear to have separated in the 1850s. Hannah took the youngest children to Philadelphia, while Eli remained in Columbia County, PA. He died sometime around 1875.
Michael Hagenbuch/Hagenbaugh (b. 1815, d. 1892)
Michael was born in 1815, as noted in census records, and was the youngest of Christian's sons. This means that his younger brother, Michael (b. 1800), died sometime before 1815. Michael moved to Ohio with his parents during the 1830s. He married Catharine Smith in Summit County, OH in 1839. The couple settled there and raised a family. Michael died in April of 1892, and his nephew Milo White was the executor of his will.
Esther (Hagenbuch) Chrisman (b. 1821, d. 1883)
Esther was born in July of 1821. She married Gideon R. Chrisman (b. 1811) in 1837 in Medina County, OH. The couple's marriage record records her maiden name as Hagenbaugh, and the 1850 Census shows the Chrismans living beside her older brother, Caleb. Esther had a number of children and died in July of 1883.
Martha (Hagenbuch) White (b. 1822, d. 1893)
Martha was born on October 25, 1822, according to her gravestone. The History of Summit County, Ohio documents that she was the daughter of Christian Hagenbuch of Medina County, OH and married Abia White (b. 1816) in 1844. The couple had five children, though only one was still living in the 1880s. This was Milo White, who later served as executor for his uncle Michael's will. Martha died on December 24, 1893.
In total, Christian Hagenbuch was the father of thirteen children: one daughter with Maria Eva Stahler and seven sons and five daughters with Susanna. That said, only three of his daughters with Susanna have been found, meaning that two remain to be discovered.
While the graves of Christian and Susanna have not been located, census data suggests that Christian died around 1845 in Medina County, OH. Susanna outlived him and died there about 1855. Groups of their descendants can be still be found in Pennsylvania, Ohio, and Michigan. Through future articles, we hope to continue exploring Christian's descendants and keep adding them to our Hagenbuch family tree.