The Mysterious Peter Hagenbuch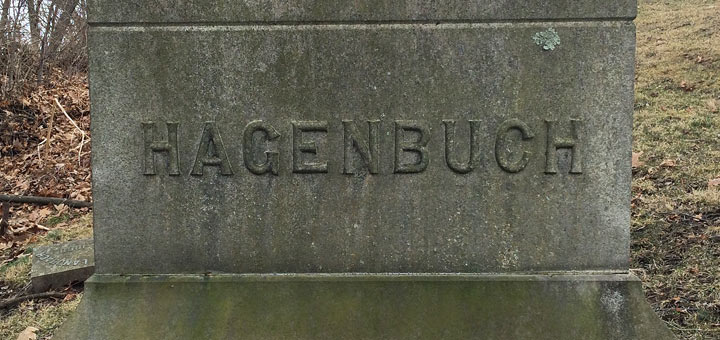 When I was about 13 years of age, I began my journey of learning about and researching our family history. I had a copy of the family tree which William Hagenbaugh of California had sent to our family here in Pennsylvania, and I had learned about our family connections in Montour County—my cousins, my great aunts and uncles, my grandparents, my great grandparents, and my great great grandparents. As I have written in previous articles, this learning experience was a result of attending the family church, Oak Grove Lutheran; walking through the church cemetery many times with my great Uncle Perce; and living on one of the family farms in the Montour County Hagenbuch kingdom!
Around this time, my parents took me on a day trip to Gettysburg. After driving around the National Military Park there, standing at Little Round Top, crawling around the rocks at Devil's Den, visiting the wax museum (my father's favorite), and gazing across Pickett's Charge from the General Lee Monument, we came to the impressive Pennsylvania Monument. With over 34,000 names on it, I was motivated to find any Hagenbuchs listed that would have been at Gettysburg on those fateful days in July of 1863.
With a lot of searching, I found Peter F. Hagenbuch. (There is also William Hagenbuch, 28th Regiment, who has yet to be identified. The 28th Regiment was raised in Philadelphia in 1861.)
When we got back home, I looked through the family tree from William Hagenbaugh and found Peter Hagenbuch who was a first cousin to my great great grandfather, William (b. 1808). Peter's line is: Andreas (b. 1715) > Michael (b. 1746) > Andrew (b. 1785) > Peter (b. 1819). Being the only Peter I could find on the family tree (which William Hagenbaugh compiled in the 1940s), I assumed this was the Peter from the Pennsylvania Monument. However, recent research disproves that for some very obvious reasons.
But, let me back up a bit, because Peter has been on Andrew's and my radar for quite a while. In the mid 1800s, Peter owned land just north of Lewisburg, Pennsylvania and also land just north of Milton, Pennsylvania. We believe that when Peter died in 1875, the Milton property may have been purchased or rented to my great grandfather, Hiram Hagenbuch (b. 1847), whom several articles have been written about. We believe that Hiram named his daughter Julia after Peter's wife, Julia (Landbach) Hagenbuch (b. 1815). There was certainly a relationship between these two Hagenbuchs who shared an ancestor back only two generations.
Peter and Julia are buried at Milton Cemetery. Back in the 1980s, I had found the grave site tucked into a corner of that sprawling cemetery, and I was curious about Peter's relationship with my own family. Because of the visit to Gettysburg several years earlier, I also believed he had been a Civil War soldier which made his importance in our history impressive. As I compiled the Hagenbuch genealogy during those early years, I did not find any children listed for this Peter Hagenbuch, and I assumed that he and his wife Julia were childless. Keep in mind this is before census records, cemetery records, death certificates, and other genealogical information were readily available online. In fact, at that time, there was no "online"!
Up until a few months ago, Andrew and I had this perception that Peter Hagenbuch, a well-to-do landowner in Pennsylvania's Northumberland and Union counties, was a Civil War soldier, and that he had no descendants. Then, as happens often, a bit of information is found which blows the lid off what we think to be true. In looking through the 1870 census records of Union County, Andrew found Peter and Julia Hagenbuch listed with three children: Emma (age 18), Harry (age 10), and Isabella (age 8). I received a phone call from him with the question, "Dad, why did you ever think that Peter and Julia had no children?"
I gave him the answer that I alluded to above. First, I never found any children listed for Peter and Julia in the early family trees compiled by William Hagenbaugh (of which we do find mistakes). Second, there are no Hagenbuchs buried in the Union and Northumberland counties areas that are associated with Peter and Julia. Finally, there are no Hagenbuchs in biographical volumes that could not be identified. Before the online information was available, I did research by interviewing Hagenbuch descendants, contacting other genealogists, and visiting cemeteries. There were never any children to be found for Peter and Julia by these means.
During the last few months we have found some information on the children listed in the 1870 census with Peter and Julia: Emma, Harry, and Isabella. However, a note attached to the census reads "inferred parents" which might mean they were adopted. We know more information about Emma and Isabella than we do about Harry, whose Christian name is Henry Clay Hagenbuch.  We know that he attended at least one year of college at Bucknell University in 1878, but nothing is known of him after this. A future article will ferret out more information on these three people who have curiously appeared after years of research of our Hagenbuch family.
Now, as to Peter Hagenbuch's record of service in the Civil War. As I began to write this article, I decided to check which regiment Peter Hagenbuch was in during the Battle of Gettysburg. Again, thanks to online information, I easily found it. Listed on the Pennsylvania Monument, as I saw it more than 50 years ago, is Peter F. Hagenbuch, 135th Pennsylvania Regiment. A bell went off in my head (especially now since I am more genealogically savvy than I was when I was 13 years old). We know of no middle initial of Peter Hagenbuch (b. 1819). I quickly searched where the 135th Regiment had been raised and I found this to be Northampton County, Pennsylvania. I realized this could not be the same Peter!
I searched my old paper records and, indeed, I found Peter F. Hagenbuch from the Northampton County area. (As a side note, Andrew and I are now researching Peter F. as we have little information on him.) Glancing at Peter's birth date, I saw 1819—meaning he would have been 44 years old during the Battle of Gettysburg. Finally, these facts burst the bubble of Peter's service during the Civil War. A successful middle-aged landowner would not have joined up to fight in the Civil War, and thinking back to Peter and Julia's grave site at Milton Cemetery, there is no Civil War veteran's flag beside the stone.
We still do not know as much about Peter Hagenbuch (b. 1819) as we would like. But, we now know that he did not serve in the Civil War, and he and Julia had three children living with them in 1870, As with so many of our Hagenbuch ancestors, there is so much more to learn, so many more interesting facts to unearth, and so many more records to document for posterity.