Gold Fever: The Journal of J. C. Hagenbuch, Part 4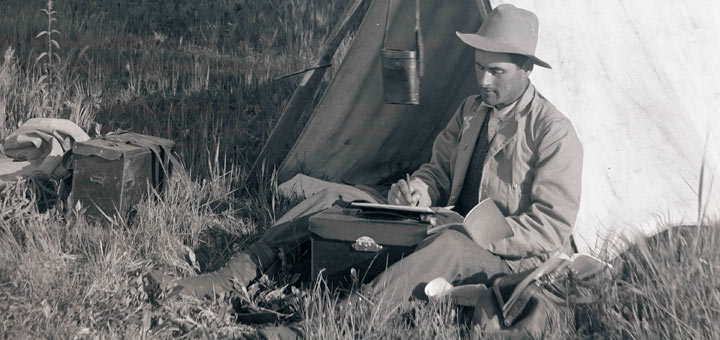 At the end of Part 3 in this series, J. C. Hagenbuch (b. 1862) and his uncle John "Jack" Hagenbuch (b. 1857) were camped near the mouth of Ukonom Creek, California. On August 11, 1905, Jack went in search of information about the location of a quartz mine, but he came back empty handed. Their Klamath River adventure continues in Part 4. You may view previous installments here: Part 1, Part 2, and Part 3.
---
JOURNAL OF J. C. HAGENBUCH
Part 4: August 12, 1905–August 29, 1905
---
Saturday, August 12, 1905
Jack started out this morning with a look on his face (I will find it) that said much. But when he came back, he was almost discouraged. In the meantime, I had quite a long talk with that Indian and got quite a good description of how to find [the mine]. So after I told Jack, he felt quite a good deal better.
[Ukonom Creek, California: View Map]
---
Sunday, August 13, 1905
Today Jack says is a day of rest, so all he did was build a rocker1 and take it down to the river about two hundred yards and work 3 or 4 hours. We got some pretty good prospects, but hardly enough to satisfy Jack in spending his time working at that steady.
[Ukonom Creek, California]
Monday, August 14, 1905
Jack started out with a better idea of where to look and just what little stream to take up to find the lead. He took grub enough along so in case he wanted to stay all night, he would have something to eat with him. I waited until almost dark. Then I had to get supper and eat alone for Jack did not come home today.
[Ukonom Creek, California]
---
Tuesday, August 15, 1905
Jack came in at 12:30 noon and brought some very rich samples along with him—also a big story about deer.
[Ukonom Creek, California]
---
Wednesday, August, 16, 1905
[We] both stayed in camp and worked the rocker. We made as much as 25¢ in gold2. Jack is looking at the river with a view of putting in a wing dam3.
[Ukonom Creek, California]
Thursday, August 17, 1905
Jack started out with the intention of looking at some rock a little closer to home. He brought in some samples, but we have not panned them yet because he killed a four prong buck4, and he is out now getting the Indian to go along in the morning to fetch it in.
I took a small piece down to the Indians, and they acted just like little children at a Xmas tree—tickled to death. So I came back, and Jack said we would take them the head after he cut the horns off. So after we had supper, we took the head down to them, and they made about the same fuss while the old Buck Injun took the head in his hands and stroked it. In a little while, he sat with his knife and commenced to cut around the eyes. I thought he was going to skin out the head, but he just dug around the eye to loosen it. It did not come loose quick enough, so he took hold of it with his teeth and pulled it out and ate it raw. It nearly made me sick. We did not stay long.
Talk about pretty horns. They are in the velvet. I do not know whether I can keep them or not, but if I can I will surely bring them along home.
[Ukonom Creek, California]
---
Friday, August 18, 1905
Jack started out with the Indian after the buck. [They] started at 6:30AM. Jack got home at 11:30AM, while the Indian did not get in until 2:30PM. It was so hot; they were both all wet with sweat. After Jack came, we cut some sirloin steaks and had them cooked for dinner. They were as tender as any spring chicken you ever ate. When the old Injun came, he stopped awhile and was telling us in his broken way about getting off the trail and being so tired he laid down lots of times. After dinner Jack and I panned the samples but did not get a color. Tomorrow we are going to rest by staying in camp.
[Ukonom Creek, California]
Saturday, August 19, 1905
Both in camp. That is near it. Jack did not go out to prospect, but we are going to try and put in a wing dam so we can work part of the river bottom. Today we started by putting in two logs and a whole lot of brush there as the creek divides up so much. We worked mostly all day trying to open one channel large enough to carry it all. [We] just about completed it when we discovered we were tired and hungry, so we called off work until Monday morning.
[Ukonom Creek, California]
---
Sunday, August 20, 1905
We did nothing today in the mining line. We stayed around camp all day, while Jack tried his hand at jerking5 some venison. [He did] not make a complete success on account of yellow jackets. They are so thick here that we had to use brush to keep them away, and then they [still] got the largest part [of the meat]. To form some idea how thick they really are: We had a dish with some trout in it for breakfast and, of course, we put salt in the water [in the dish]. Well, we took out of that water one pepper box6 full of dead jackets, and by the numbers left, you could not notice any decrease [around camp].
Start the boys letter this page7.
[Ukonom Creek, California]
Monday, August 21, 1905
We put in the whole morning on the wing dam. In the afternoon, we opened up the channel of the creek to make it all come one way, but so far a little still gets away.
[Ukonom Creek, California]
---
Tuesday, August 22, 1905
We started in this morning with a change of program, as we are going to quit the dam until we see whether we can get bedrock or not. So we finished changing the stream, then went down along where the creek runs and dug a hole. But [we] could not get a sight of bedrock8, so we have given up the idea of making our fortunes from this spot in the river bed.
[Ukonom Creek, California]
Wednesday, August 23, 1905
Jack went prospecting this morning again. [He] came back early with lots of quartz, but there was nothing in it. While he was gone, I tried my hand at panning moss9, and I only found a few colors so I gave it up.
[Ukonom Creek, California]
---
Thursday, August 24, 1905
Hello. Jack and I went prospecting together. While we were gone we killed 2 rattlesnakes, 1 big jackrabbit, and saw some wild porkers. I almost shot at one when they started out of a little creek through the brush. One was black, and until I saw one that was spotted, I was watching close for a chance to shoot the black one. But then it was all off, for we had meat aplenty. As hot as it is yet, but now the nights are quite cool.
[Ukonom Creek, California]
Friday, August 25, 1905
Both tending camp today. We panned what rock we brought in but failed to find a color.
[Ukonom Creek, California]
---
Saturday, August 26, 1905
Jack and I wrote a couple letters today, that is this morning, and Jack went once to the store10 to have them sent on the first chance. On his way back, he stopped at a cabin and, on finding it had no notice on it, he inquired of an Indian who it belonged to. He said no one. So as there was very good looking gravel for the chance of gold returns and [as we could] get under roof with our things, we moved this afternoon. I am nearly dead, what with packing stuff to the boat, then from the boat to the cabin, and that trail is a hard one—almost straight up. Jack had to take the pick and make steps so we could get up.
[Coon Creek, California: View Map]
---
Sunday, August 27, 1905
We were busy all day fixing up and packing stuff from the boat until almost dark. But we are getting nicely fixed. Only a few old boards at the boat, and we are going to take our time to bring those up.
[Coon Creek, California]
Monday, August 28, 1905
Both of us [are] as full of business as a snail on the go all the time, but not doing much. [We] made a couple tables and shelves and stools. Among other good work, I killed two scorpions11. For a description, think of a crab with a slim tail and a stinger— something like a bee's looks when pulled from the bee—pointed with a bulb to it. They are poisonous, but how much so I do not know.
[Coon Creek, California]
---
Tuesday, August 29, 1905
I still have the same job. That is to stay in camp. But we expect soon to have a padlock. Then we can both go out together and, in that way, both have company. Lots of travel today. 7 people—all Indians—going down the river and 5 going up. Those going up stopped about 15 minutes: 3 squaws and 2 little boys. One peculiar thing about the old squaws is they have their chins all tattooed, while some of the younger ones have only 4 lines from the mouth to down under the chin12.
[Coon Creek, California]
---
Footnotes
A rocker is an implement that is rocked back and forth to separate gold from dirt. Rockers are also known as cradles for this reason.
25¢ in 1905 is about $7 today.
A wing dam is a partial dam that does not fully span a watercourse. It is used to redirect the flow of water away from one area of a river or stream, making it easier to prospect for gold.
The "four prong buck" that J. C. refers to is likely a pronghorn antelope—an unfamiliar sight to someone from Pennsylvania.
Jerking refers to the process salting meat and drying it in the sun.
A pepper box compliments a salt cellar. It is a small container used to store pepper.
J. C. makes a note to use the entry from August 20th in a letter to "the boys." These are probably "the boys on the hill" who were mentioned earlier in the journal.
Placer gold tends to collect along bedrock in rivers and streams. It appears that J. C. and Jack were hoping to use a wing dam to expose the Klamath River bed near the mouth of Ukonom Creek, then dig in this location to bedrock. Unfortunately, they discovered that the bedrock was much too deep to reach by hand, decreasing their chances of finding gold there.
As water flows over moss, it sometimes deposits fine pieces of gold into it. The gold can be extracted by panning the moss, which is what J. C. tries without success.
Jack went to the store in Cottage Grove, California.
Northern scorpions, native to this part of California, only sting with a mild venom.
Traditionally, a Karok woman had a chin tattoo known as a moko.